StartUp Kitchen Chopping Block Competition
Description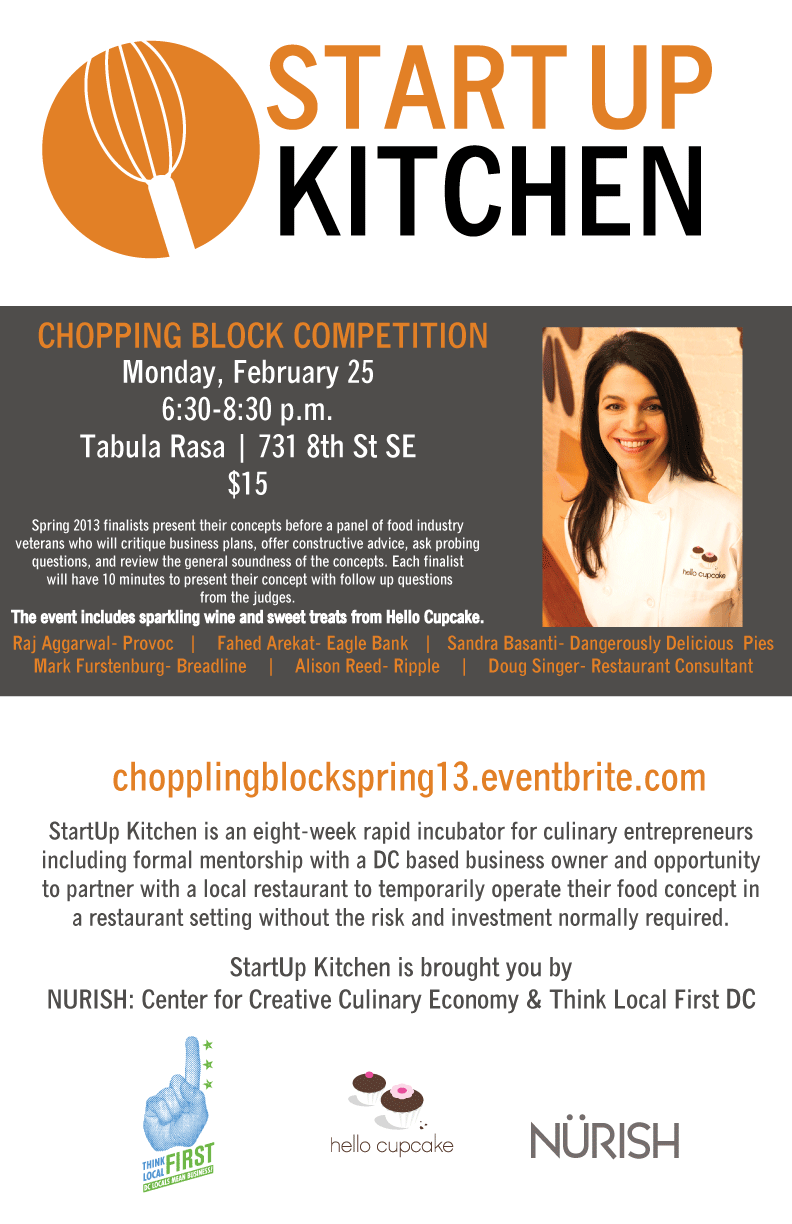 Hear the three Start Up Kitchen Spring 2013 finalists present their concepts before a panel of food industry veterans who will critique business plans, offer constructive advice, ask probing questions, and review the general soundness of the concepts. Each finalist will have 10 minutes to present their concept with follow up questions from the judges. The winner will be offered an 8-week incubation and mentorship program with Penny Karas of Hello Cupcake in her Barracks Row location.
The event includes sparkling wine and sweet treats from Hello Cupcake. The space is sponsored by Tabula Rasa
Judges:
Raj Aggarwal- Provoc
Fahed Arekat- Eagle Bank
Sandra Basanti- Dangerously Delicious Pies
Mark Furstenburg- Breadline
Alison Reed- Ripple
Doug Singer- Restaurant Consultant
Harold Pettigrew- DSLBD

Agenda:
6:30 - 7 p.m. Cocktails and Networking
7 p.m. Introduction of Program and Judges
7:10- 8:30- Chopping Block Competition
_______________________
Thunder Pig Confectionery
Entrepreneur: Meg Murray
Thunder Pig Confectionery is a catering company that specializes in providing local businesses and individuals with high quality, organic and local confections, including marshmallows, caramels, toffee, brittle, bark, chocolates and other fine candies. Thunder Pig is currently housed in the brand new Union Kitchen space, located in the growing NoMa neighborhood.
S'mores Amore
Entrepreneur: Nadia Mitchem
S'mores Amore is a line of dessert treats centered around different flavor combinations of a graham cracker, marshmallows and a chocolate ganache. The treat is inspired by the traditional campfire classic, with a modern twist-natural ingredients and no gelatin in the marshmallows.
Baked By Yael
Entrepreneur: Yael Krigman
Baked by Yael is a woman-owned small business based in Washington, DC and specializing in cake pops, bagels, rugelach, black and white cookies, and other delicious baked goods. Krigman's goal is to be DC's first brick-and-mortar cakepoppery with the most delicious cake pops and other baked goods in town.
Judges will rate concepts based on streghth of business plan, financial competency, viability in the DC market, personal passion for concept and quality of product. Judges include Raj Aggarwal- Provoc, Alison Reed- Ripple, Doug Singer- Restaurant Consultant, Fahed Arekat- Eagle Bank, Sandra Basanti- Dangerously Delicious Pies, Mark Furstenburg- founder of Breadline/Marvelous Market and Harold Petigrew- Department of Small and Local Business Development.
___________________________________________
StartUp Kitchen is an eight-week rapid incubator for culinary entrepreneurs including formal mentorship with a DC based business owner and opportunity to partner with a local restaurant to temporarily operate their food concept in a restaurant setting without the risk and investment normally required.
Through a competitive process modeled on the Kauffman Foundation's StartUp Weekend, food entrepreneurs will be given the opportunity to present their concepts before a panel of food industry veterans who will critique their business plans, offer constructive advice and review the general soundness of the concepts. The selected winner of the competition will be given access to an existing restaurant during its off hours, mentorship of the incubating business owner as well as assistance marketing and running a ticketed Pop-Up of their concept for six weeks. The restaurateur will receive 75% of ticket sales from restaurant as well as feedback from the consumers dining.
The long-term goal is the growth of StartUp Kitchen incubators citywide. StartUp Kitchen is a joint partnership between Think Local First DC and NURISH: Center for Creative Culinary Economy.
Organizer of StartUp Kitchen Chopping Block Competition
The Office of the Deputy Mayor for Planning and Economic Development (DMPED) assists the Mayor in the coordination, planning, supervision, and execution of economic development efforts in the District of Columbia with the goal of creating and preserving affordable housing, creating jobs, and increasing tax revenue. DMPED pursues policies and programs that create strong neighborhoods, expand and diversify the local economy, and provide residents with pathways to the middle class..
Think Local First DC,
since
our formation in 2006, we have been dedicated to supporting local independent businesses in our nation's capital. Our mission is to transform Washington, D.C.'s economy by developing and implementing solutions that strengthen the local independent business community and improve its ability to make D.C. a more equitable, inclusive, and vibrant place to live.