StartUp Kitchen at Hello Cupcake: Thunder Pig
Location
Hello Cupcake
705 8th St SE
Washington, DC 20003
Description
StartUp Kitchen Dessertery: Thunder Pig
Incubating in Hello Cupcake
An initiative of NURISH and Think Local First DC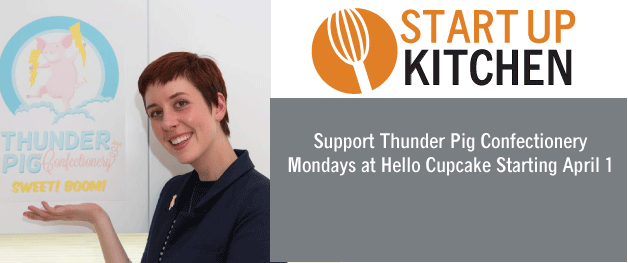 Meet the winning baker and get a chance to shape the final concept!
$18 a person - Sweets Only
$25 a person- Candy and Cocktails
Thunder Pig will preform hour-long sweet shows on Mondays from April 8-April 29. Circus attendees can have their sweets and drinks at 6 p.m., 7 p.m. or 8 p.m.
*Menus are subject to change with customer feedback.
As a part of the StartUp Kitchen incubation, foodentreprenuers receive the chance to run a restaurant out of an existing establishment. Limited tickets are sold to give customers a chance to sample and critique the winning concept. Customers will have the opportunity to meet the operating restaurateur and provide feedback in real-time to help enhance the final concept.
Thunder Pig's Flying Circus
A Candy and Cocktail Event of Epic Sweetness
Thunder Pig is appearing at Hello Cupcake Monday evenings, starting in April...and he's a Pig
with grand plans. Thunder Pig's Flying Circus will feature tons of sweet treats for circus-goers.
Upon arrival, you'll enter Thunder Pig's Big Top and be treated to three rings of delicious treats.
In Ring Number One, marshmallows in a variety of flavors, mallow cakes, and moon pies.
Ring Number Two features a selection of candies including handcrafted caramels, fruit gels,
chocolate bark, truffles, marzipan, and meringues. In Ring Number Three, Thunder Pig
will treat you to biscotti and premium coffee.
And, because Thunder Pig likes to party, he'll also be offering a specially
crafted cocktail, the Sideshow, just for his friends at the circus.
Sweet Selections - a weekly rotating selection of organic, handcrafted sweets from Thunder Pig Confectionery.
Marshmallows – flavored marshmallows, mallowcakes, and moon pies.
Caramels – in rotating weekly flavors
Candies – pate de fruit, marzipan, and meringues
Chocolates – chocolate bark and chocolate truffles
Brittle and Toffee
Biscotti – served with premium Illy coffee
________________________________________________________________________
This initiative brought to you by NURISH: Center for Creative Culinary Economy and Think Local FIrst DC. StartUp Kitchen is an eight-week rapid incubator for culinary entrepreneurs including formal mentorship with a DC based business owner and opportunity to partner with a local restaurant to temporarily operate their food concept in a restaurant setting without the risk and investment normally required.