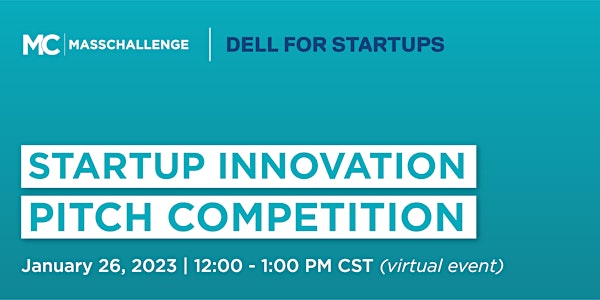 Startup Innovation Pitch Competition (Virtual Event)
Join MassChallenge and Dell for Startups where we tap startup communities across the U.S. to compete for $500K+ in prizes!
About this event
🏆 RSVP to the Startup Innovation Pitch Competition, Hosted by Dell for Startups and MassChallenge, where various startup communities across the U.S. are tapped to compete for $500k+ worth in prizes.
The 1st place winners of the virtual and in-person competition will move on to the next round of pitching for a chance to win another $100k in prizes.
Applications to pitch have closed.
MassChallenge's proven methodology hyper-focuses on helping founders identify goals and key initiatives, providing access to a meaningful network of experts and mentors, while also providing connection to a deep peer network from across the global community. All for no equity and no strings attached.

About MassChallenge
MassChallenge is the global network for innovators. Headquartered in the United States with seven locations worldwide, MassChallenge equips bold entrepreneurs to disrupt the status quo and to create meaningful change. Since launching in 2009, more than 2,900 startups have participated in a MassChallenge program and non-profit has awarded over $17M in equity-free cash prizes. Learn more about MassChallenge at masschallenge.org.

About Dell Technologies
Dell for Startups helps startups grow and scale through technology. Dell provides startup expertise from dedicated technology advisors and scalable solutions to ensure your business is always ready to grow through partnering with startup ecosystems, programs, and organizations across the U.S. to host events, conferences, workshops and more.
Let us know how we can support you by visiting www.dell.com/startups or email us at startups@dell.com