Description
Jordi Miró, Wuaki.tv
NOTE: This event is going to be conducted in English. A good knowledge of Spanish and/or Catalan is advised to make the most out of the event. Also, happy 2016 everyone!
Jordi is now working as CTO at wuaki.tv (acquired by Rakuten Group). Joined the company when it was about 10 people and has lead the Engineering team since then (120 employees beginning 2015, 50 on Engineering) Helped to grow the business, technology and operations, and during the acquisition by Rakuten in summer 2012.

Several years in IT Consulting, focusing in banking and telecom. Started working in PwC Consulting (later acquired by IBM BCS), moved to DMR Consulting (actually Everis) and later to Venezuela and USA. Jordi was the co-founder of Mixsic LLC, a web technology company that built weall.tv (a content delivery network in Latin America) and Feedtrace, a real-time recommendation engine for digital content that was sold to Real Time Media in 2011. He joined Wuaki.tv in April 2011.

Experience in developing businesses, leading teams in different project's phases, building architectures and businesses solutions, managing client's relationships, finding capital... Serial Internet Entrepreneur.

Angel Investing and Start Up Advisor.

Specialties: New media, Internet strategies, IT Consulting, business development, project management, Social Media, web 2.0, Entrepreneurship
Agenda 18:30 Open mic & keynote 19:30 Fireside Chat 20:30 Networking and food
Hosted By
Àlex Rodríguez Bacardit, Barcelona Chapter Director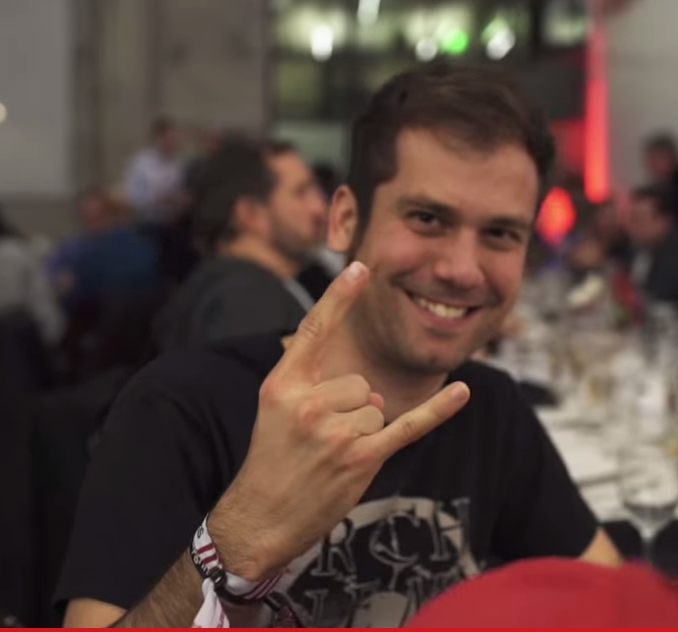 Level 28 multiclass: Co-founder & CMO at MarsBased & Chapter Director at Startup Grind BCN & Regional Director (Portugal, Spain, Italy, Switzerland, Austria). Natural-born developer (ex-Deloitte, VASS), converted to the dark side: sales. Focused on helping everyone to get stuff done, and learning languages (speaks Catalan, Spanish, Italian, German, English & Greek). Volunteered for ESN, the largest exchange student network in Europe, for over four years both in Munich and Barcelona. Other interests include: running, Nietzsche, travelling, science of learning, tequila, productivity, rock music, blogging & tacos.

Email: abacardit@startupgrind.com | Twitter: @lexrodba
Hosted By
Alex Gonzalez, Director of Startup Grind Barcelona
Born Software-Engineer, raised Sales and Business Professional. Alex has devoted his last years to selling tech products and services, and has developed and implemented Growth Hacking techniques, tools and methods to enhance the Direct Sales Process. Besides being founder of AIM, a Sales Hacking Agency, Alex has several ongoing projects in the mobility and SAAS space. Alex is driven and eclectic: pizza, photography, dancing salsa, playing Heavy Metal... with such a crazy mixture he cannot be normal. Twitter: @AlexGlezGarcia Linkedin: https://es.linkedin.com/in/alexgg

Email: alexgg@startupgrind.com
Hosted By
Carlos Cruz, Barcelona Co-Director
Born nearby Barcelona 27 years ago, Carlos loves to wake up early in the morning and make the most out of the day. Co-director at Startup Grind Barcelona and founder at Iyiyim, spends the day designing experiences to connect people. As a former ESN'r, few things satisfy him more than organising an event to make people happier. The rest of the time, you can find him playing sports or Microsoft Excel. Twitter: https://twitter.com/CCruzRastrojo Linkedin: es.linkedin.com/in/cruzcarlos

Email: ccruz@startupgrind.com
Global Partners
Google is committed to empowering entrepreneurs around the world through programs, partnerships, and our products.
Local Partners
Upcoming events you should attend!
What is Startup

Grind

?
Startup Grind is a global startup community educating, inspiring, and connecting entrepreneurs. We host monthly events in more than 150 cities and 65 countries featuring successful local founders, innovators, educators and investors who share personal stories and lessons learned on the road to building great companies. Our monthly fireside chat interviews, startup mixers and annual conferences provide ample opportunities to connect with amazing startups and the people behind them, tap into a strong support network, form meaningful connections and gain inspiration for the startup journey ahead. For more information visit StartupGrind.com or follow us on twitter @StartupGrind.
Disclaimer: Startup Grind event ticket sales are non-transferable, non-refundable, and final. If an event is cancelled due to weather, speaker availability, or any other unforeseeable event you will be refunded automatically. If a speaker moves the event date you will have 48-hours to request a refund if you are unable to make the new event date. Please direct any additional ticketing issues to customerservice@startupgrind.com.