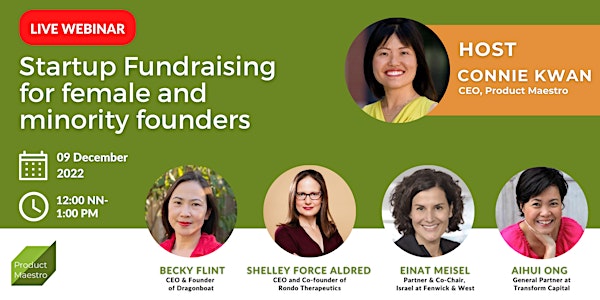 Startup Fundraising for female and minority founders
Learn from a panel of female and minority founders who have together raised over $100 million, and invest as angels and VC.
Refund Policy
Contact the organizer to request a refund.
Eventbrite's fee is nonrefundable.
About this event
Startup fundraising is hard, especially in this economy, and especially as female and minority founders. Get a behind-the-scenes look from both sides of the table. Hear from female and minority founders who have together raised over $100 million, and have invested as angels and VC. In this panel we present Shelley Force Aldred, Becky Flint, Aihui Ong, and Einat Meisel. They are founders, angel, VC and legal counsel, who have all pitched, been pitched to, and closed startup investment deals. Your panel host is Connie Kwan, who teaches Storytelling for Startup Founders raising Seed.
Your panelists:
Aihui Ong
[Aihui Ong](https://www.linkedin.com/in/aihui/) (pronounced i-we) was a software engineer turned entrepreneur turned investor. She is a General Partner at [Transform Capital](https://www.transform-cap.com/) - a VC with a philanthropic difference where 50% of the general partners' profits are donated to philanthropic causes their investors and portfolio founders care about.
Prior to Transform Capital, she founded EdgiLife - an AI consumer insights platform that predicts consumer trends for CPGs by analyzing consumer feedback collected via a snack subscription box called LoveWithFood. Her company was named, "INC 50 fastest-growing, female-led companies in America". Her company got acquired in 2018.
Aihui is also a partner at [XFactor Ventures](https://www.xfactor.ventures/) - an early-stage fund started by 20 female founders investing in the next generation of female founders.
Shelley Force Alfred
Shelley Force Aldred is CEO and Co-founder of Rondo Therapeutics, an emerging preclinical stage biopharmaceutical company developing bispecific therapeutic antibodies that enable controlled activation of the immune system to fight cancer.  In addition, Dr. Force Aldred is an adviser for Stanford's SPARK translational medicine program and serves on the Board of Governors for the Stanford Medicine Alumni Association.  Previously, Dr. Force Aldred served as VP for Preclinical Development at TeneoBio, a highly successful multispecific therapeutic antibody company.  Dr. Force Aldred was formerly director of worldwide R&D for Active Motif following the acquisition of SwitchGear Genomics in 2013.  In 2006, she co-founded SwitchGear Genomics, a venture-backed functional genomics platform company, and she served as its COO and Board Member.  Prior to founding SwitchGear Genomics, Dr. Force Aldred was a Scientific Director on Stanford's ENCODE Project and received her Ph.D. from Stanford University.
Becky Flint
Becky Flint is the CEO & Founder of Dragonboat, a portfolio platform that helps product executives speed up product time to market, maximize contribution to OKRs and improve portfolio allocation decisions. Prior to Dragonboat, Becky built the portfolio practice and tools for PayPal, Shutterfly, and Bigcommerce. Dragonboat has raised over $15M in funding led by Insight Partners and attracted 1000s of top-caliber customers including the 5th largest bank in the US, Procore, Tealium and Chime in over 60 countries.
Einat Meisel
As a partner in Fenwick's corporate group and a leader in the Israel Practice, Meisel advises tech clients in the US and abroad on venture capital financings, business combination transactions, public offerings and private placements, spin-outs, recapitalizations and joint ventures and strategic alliances. In her role she has seen thousands of deals. She handles formation, founder-related matters, seed investments and venture capital financings for early-stage companies, and continue to represent these companies throughout their lifecycle, including in later-stage financings, strategic transactions (M&A, joint ventures, etc.) and corporate governance matters as they mature into large global entities.
Your host:
Connie Kwan
Connie Kwan is a Storyteller and CEO of Product Maestro. Her 17 years of Product Leadership experience spans AI, crypto and blockchain, digital health, energy, hard tech, and software (Atlassian, MSFT, CY, SPWR). She was previously the CPO at Khosla-funded startup Pivot, and at Chartbeat. She now advises Startup CEOs and teaches Storytelling for Startup CEOs raising seed https://www.productmaestro.com/storytelling-class-founder. Telling a great story starts with knowing your storyteller type. Find your storyteller type at https://www.productmaestro.com/storyteller.