Description
If you are interested in understanding how new generations are tackling social problems through entrepreneurship, join us for our upcoming panel discussion on social entrepreneurship on September 28th at 5:30 p.m. at Parkview Hall on FIU's main campus.
This event will expose you to the stories behind four rising social entrepreneurs from Miami whose goal is to solve complex social problems in our societies using business concepts.

Why Social Entrepreneurship?
If we wish to continue growing as a sosciety, we must find sustainable solutions to the most pressing issues our generation faces. From access to clean water and food, to creating companies with a culture of social responsability and employee development - social entrepreneurship will allow us to scale solutions like no other generation has experienced before.
Agenda:
5:30 p.m. - Meet & Greet
6 p.m. - Introductions
6:15 p.m. - Panel
7 p.m. - Q&A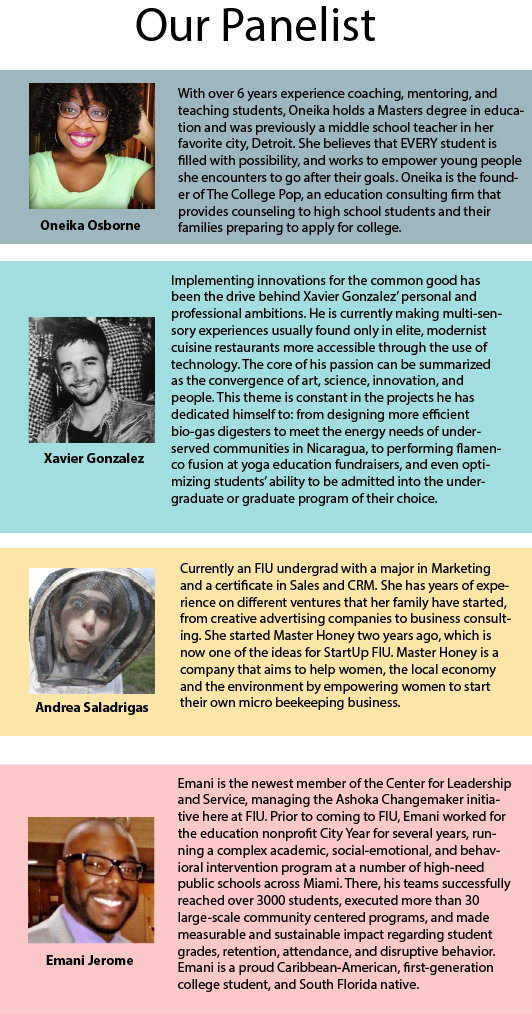 What is StartUP FIU?
StartUP is an initiative focused on creating traditional and social entrepreneurship among students, faculty, staff, alumni and community members. We help create and grow social enterprises, high-tech ventures, and traditional companies.
Who should attend?
Our panel is open to students, faculty, staff, alumni and community members who are interested in learning about startups and social entrepreneurship. It is also an excellent opportunity for early-stage startups to familiarize themselves with StartUP FIU, our community and the different accelerator programs we offer.
Location: Park View Hall Multipurpose Room
Where to Park?
Caution - there will be tailgating today at the FIU stadium and respective parking lots. For the easiest place to park and avoid traffic, use PG3 (Panther Garage).

You can then walk South and head towards Park View Hall (PVH). If you don't want to walk, feel free to use the Safety Tram (golf cart) that picks you up on the first floor of PG3 and tell the driver you are going to Park View Hall.
If you get lost, feel free to dial 954-812-2777 or 786-218-4052