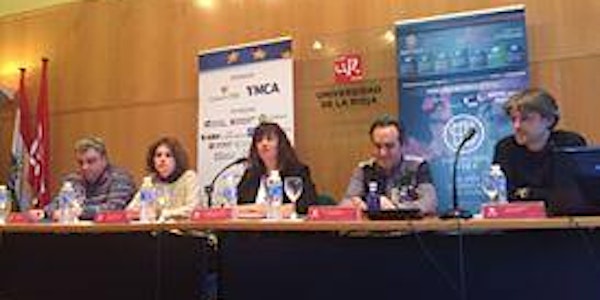 Startup Europe Week Logroño 2017 - Emprendimiento en el Sistema Educativo.
Location
Logroño
Universidad de La Rioja
Avenida de la Paz 93
26006 Logroño
Spain
Description
Apertura institucional
Startup Europe Week – Europa Ámbito de Desarrollo en el Emprendimiento
D. Jorge Ruiz Chicote y D. Jorge R. López Benito, Co-organizadores Startup Europe Week
Proyecto FutURemprende
Dña. Pilar Vargas Montoya, Directora de la Catedra de Emprendedores
D. Josep Dalmau. Promotor del proyecto "FutURemprende"
Máster y Doctorado: un trampolín para Emprender
D. Héctor Busto Sancirián, Director Escuela de Máster y Doctorado
Experiencias de aprendizaje en nuevos espacios educativos
Dña. Nieves Fernández Vicente. Directora de San Felix Ikastetxea
y vicepresidenta de UNESCO Etxea, centro UNESCO del País Vasco.
Proyecto "Stories of Tomorrow - Students Visions on the Future of Space Exploration"
D. Jorge R. López Benito, Partner en proyecto Horizon2020 financiado por Comisión Europea
Innovación Social, Intraempredimiento y Formación en Nuevas Tecnologías – Proyecto HUB
D. Jorge Ruiz Chicote, Promotor del proyecto y Director de YMCA Rioja
D. Txerra Ordeñana, NegoBide Círculo Empresarial. Programa Intraemprendizaje con el apoyo de La Caixa.
Mesa Redonda – Presente y Futuro de la Educación como llave al Emprendimiento
Cierre de la Jornada