Location
Ibis Styles Heraklion Central Hotel
71201 Heraklion
Greece
Description
Στο φετινό Startup Europe Week Crete, οι ομιλίες και τα δρώμενα που θα λάβουν χώρα θα επικεντρωθούν σε ουσιαστικά ζητήματα γύρω από τις έννοιες της νεοφυούς επιχειρηματικότητας, της αξιοποίησης της ιδέας, των startups και της καινοτομίας. Ιδιαίτερη έμφαση θα δοθεί στους βασικούς πυλώνες ανάπτυξης που μπορεί να έχει η περιφέρεια Κρήτης, Τουρισμός, Εξαγωγές, Υψηλή Τεχνολογία.
Θα μας τιμήσουν και φέτος με την παρουσία τους εκπρόσωποι τοπικών φορέων, ακαδημαϊκών ιδρυμάτων, κοινωνικών οργανώσεων αλλά και διεθνώς επιτυχημένοι επιχειρηματίες, startuppers, επιστήμονες, επενδυτές, business angels, εκπρόσωποι θερμοκοιτίδων και Venture Capitals όπως και σύμβουλοι επιχειρήσεων. Στο πλαίσιο του συνεδρίου θα διεξαχθούν ομιλίες, συζητήσεις στρογγυλής τραπέζης, παρουσιάσεις εργασιών, εργαστήρια, live events και networking / party events.
---
Speakers
---
Panagiotis Partsinevelos - Associate Professor at Technical University of Crete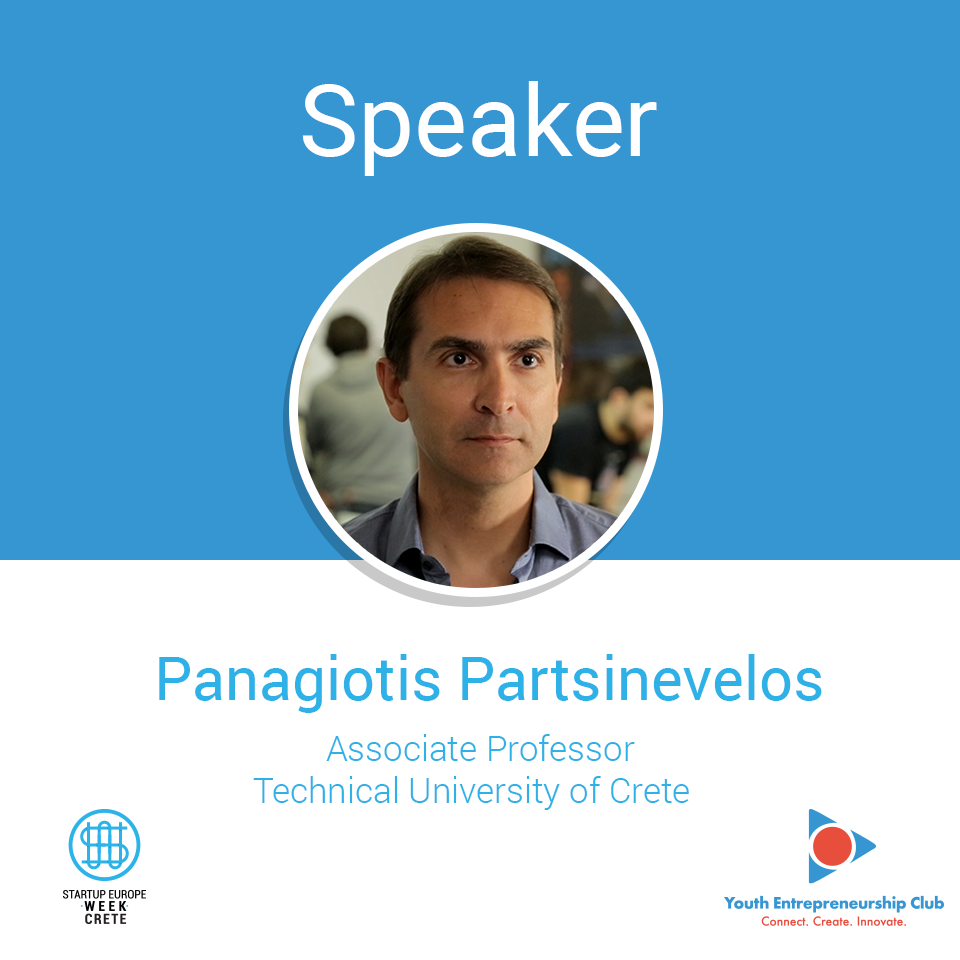 Dr. Partsinevelos is an Assistant Professor in the areas of Geographic Information Systems (GIS), Space informatics including Satellite Remote Sensing and Unmanned Aerial Systems (UAVs) in the Technical University of Crete. He received his PhD in Spatial Information Science & Engineering from the University of Maine, part of the National Center for Geographic Information and Analysis (NCGIA) in USA and in a NASA sponsored center of excellence Remote Sensing Laboratory. He holds a Dipl. Eng. degree in Surveying Engineering from the National Technical University of Athens.
Dr. Partsinevelos directs the Space Informatics Research Team (SenseLab) comprising of more than 30 multi-disciplinary undergraduate and postgraduate students. Senselab research interests besides drones include Location-based services, tangible GIS, gestural interfaces, spatial database querying, satellite image processing, cognition, spatiotemporal data management, visualization, algorithms, etc. SenseLab managed to become a world leading Research Group in the areas of UAVs and Geoinformatics, which is certified by a series of prestigious international awards and distinctions during highly competitive contests.
---
Manos Moschous - CTO at AbZorba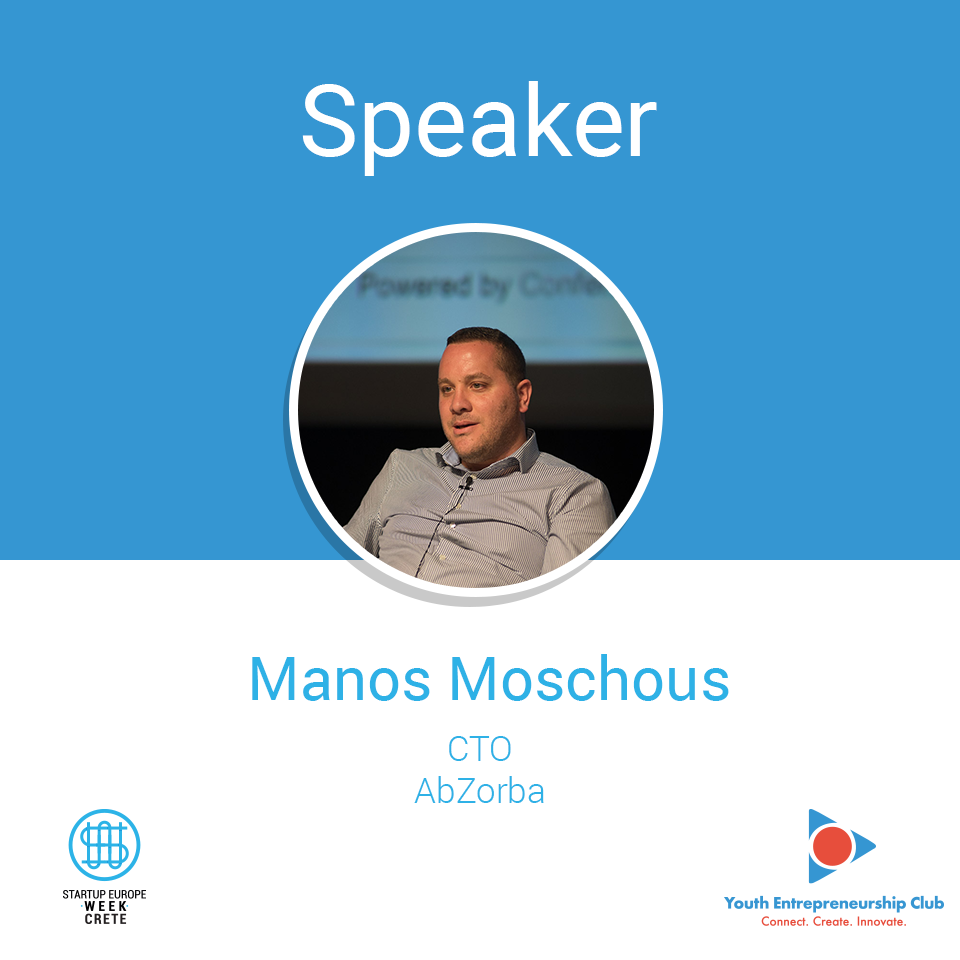 Manos is a co-Founder and the CTO of AbZorba Games! AbZorba Games was founded in 2011 and managed to raise funds by a British high net worth individual in 2012 and after three years of a great run it was acquired by Novomatic in 2015, one of the biggest gaming companies in the world. Manos was the creator of AbZorba's flagship casino title 'Live BlackJack 21′ on Android which attained Top 10 US App Store ranking in 'Cards & Casino Games' category. Previously, Manos was a Co-Founder and the CTO of a successful Greek start-up MVNS which was a pioneer in creating Mobile Social Games and Value-Added Services targeting Carriers in Europe.
Manos has graduated from the computer science department of University of Crete in 2003 and received his master degree from the same department, two years later. After that, he held the position of staff member at the Distributed Computing Systems Laboratory (FORTH-ICS) while participating in many research industrial projects. His research interests mainly include Device Independence for Mobile Devices.
---
Nikos Varvadoukas - Chief Omnichannel Officer, Cosmos Sport S.A.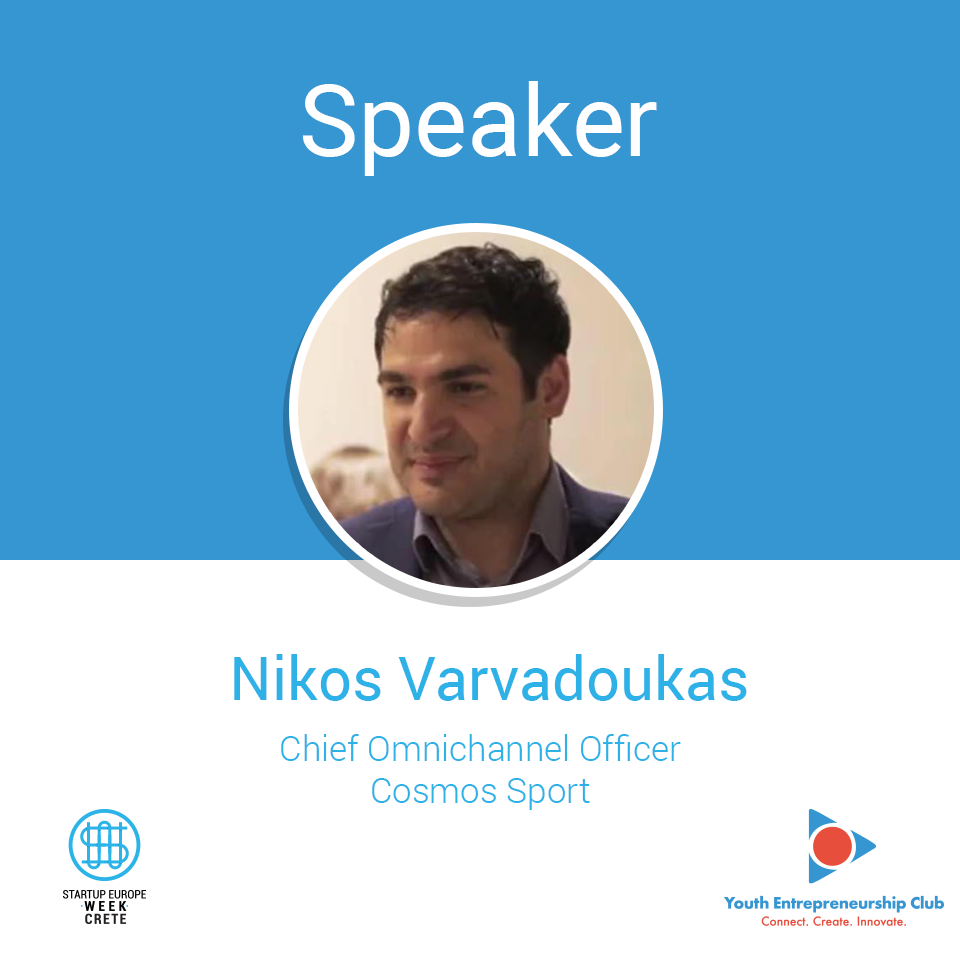 Nikos Varvadoukas is one of the most recognized Omnichannel Marketing & Commercial executives in S.E. Europe with vast experience in Versatile Roles & Industries. He has a proven track record of delivering results in regional Retail (GERMANOS, PUBLIC), world-leading FMCG brands (DIAGEO, APIVITA) & pure e-Commerce Start Ups (Getitnow.gr, e-Satisfaction.com, Gatoskilo.gr & Athenda.com). Acknowledged for his ability to "transform" teams/companies to demonstrate more entrepreneurial spirit , winning attitude & customer passion in order to achieve business growth or operational efficiencies. He has been VP of GRECA (Greek eCommerce Assocation) and has represented Greece in European eCommerce Awards both as candidate and as member of Jury Committee.
Today he is Chief Omnichannel Office at COSMOS SPORT S.A., advices top organizations (PAPASTRATOS & METRO) in key Digital Transformation Retail & Customer Experience Projects and serves as Board Member in Small/Medium Companies.. He is often guest speaker in industry conferences & trainer in Relation to eCommerce, Retail Transformation & Business Growth. Favorite motto "Sky is not the limit when there are footsteps on the moon"!

---
Yiorgos Kalomoiris - Founder & Curator of TEDx Anogeia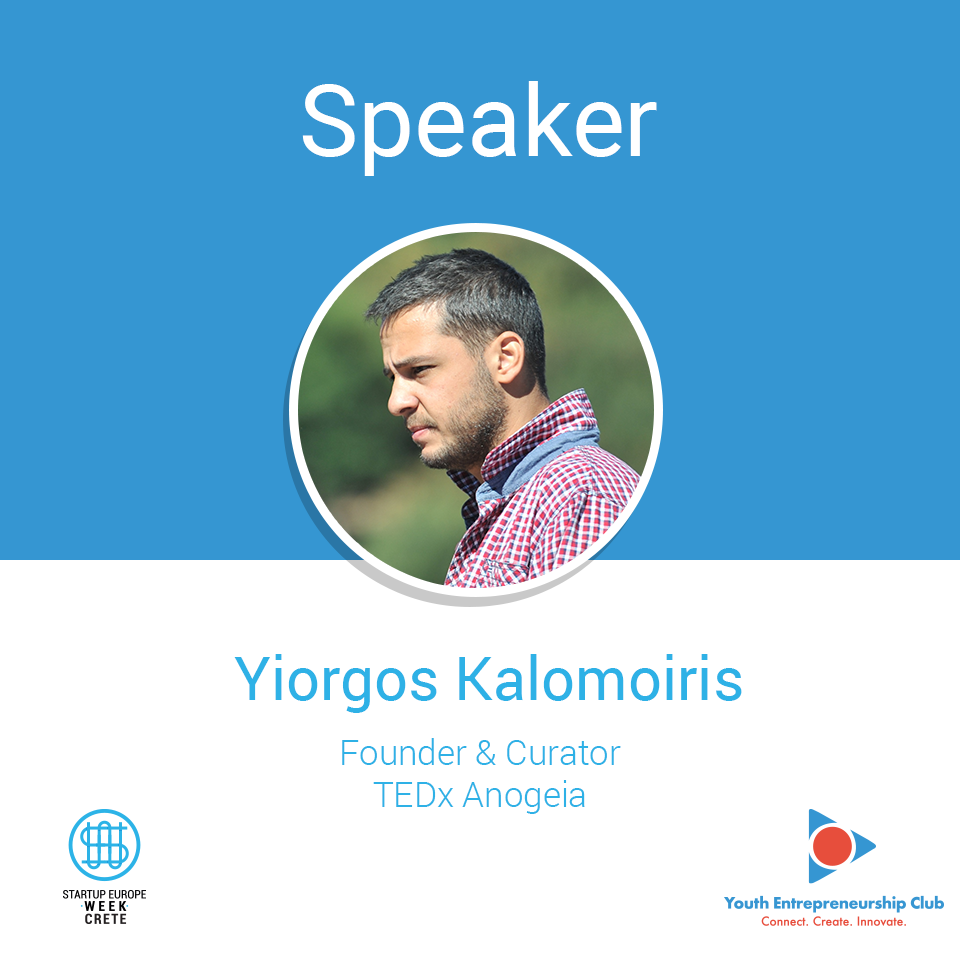 Yiorgos Kalomoiris was born in Anogeia of Crete. He graduated from the Department of History & Archeology at the University of Crete. He continued his studies at the National and Kapodistrian University of Athens and at the Open Hellenic University, in the department of Management of Cultural Organization (MSc). He has been a member of the Zominthos excavation team since 2008.
He is also Curator and Founder of TEDxAnogeia and Androidus Project Tank, the next step after Tedx. He also participates as a co-builder to the World Human Forum in Delphi and as member in Hellenic Company of Cultural Heritage. Yiorgos as archaeologist learn himself by excavation and he believes that this method is the anatomy of time and the psychographic of Humanity. Investing in culture for Yiorgos is the way to discover our best self.
---
Κατανοώ και αποδέχομαι τους Γενικούς Όρους.
---