Description
Στο φετινό Startup Europe Week Crete, οι ομιλίες και τα δρώμενα που θα λάβουν χώρα θα επικεντρωθούν σε ουσιαστικά ζητήματα γύρω από τις έννοιες της νεοφυούς επιχειρηματικότητας, της αξιοποίησης της ιδέας, των startups και της καινοτομίας. Ιδιαίτερη έμφαση θα δοθεί στους βασικούς πυλώνες ανάπτυξης που μπορεί να έχει η περιφέρεια Κρήτης, Τουρισμός, Εξαγωγές, Υψηλή Τεχνολογία.
Θα μας τιμήσουν και φέτος με την παρουσία τους εκπρόσωποι τοπικών φορέων, ακαδημαϊκών ιδρυμάτων, κοινωνικών οργανώσεων αλλά και διεθνώς επιτυχημένοι επιχειρηματίες, startuppers, επιστήμονες, επενδυτές, business angels, εκπρόσωποι θερμοκοιτίδων και Venture Capitals όπως και σύμβουλοι επιχειρήσεων. Στο πλαίσιο του συνεδρίου θα διεξαχθούν ομιλίες, συζητήσεις στρογγυλής τραπέζης, παρουσιάσεις εργασιών, εργαστήρια, live events και networking / party events.
| Συνδιοργανωτές: ΚΕΠΠΕΔΗΧ - ΚΑΜ και Περιφερειακή Ενότητα Χανίων |

---
*Η γλώσσα στην οποία θα γίνουν οι ομιλίες και το πάνελ συζήτησης στo Startup Europe Week Crete 2018 | Chania είναι η Αγγλική.
---
Speakers
---
Steve Vranakis - Executive Creative Director, Google Creative Lab
Steve heads up Google's Creative Lab in London and is also the President of D&AD for 2018. Some of his projects include: Assembly of Youth, an installation giving youth a voice at the UN, Inside Abbey Road - a virtual tour of the iconic music studios, Project Jacquard - an interactive fabric for wearables and Chrome Web Lab, an installation connected live to the internet from the Science Museum in London.

Most recently Steve worked on the launch of project Bloks, a physical coding platform that teaches kids to code and bringing dinosaurs back to life in VR at the Natural History Museums in London and Berlin. In 2015 Steve went to the island of Lesvos to build a mobile information site (refugee.info) to help Syrian refugees fleeing civil war keep safe.
Steve's work has been recognised by the D&AD, Cannes Lions, ADC, One Show's, Campaign Big Awards, Webbys, Lovies, BTA's, The FWA, Clio's, London International and the Andy's.
His work has been featured in WIRED, The New York Times, Telegraph, Wall Street Journal, Creative Review, Huffington Post, FT, Design Week, Adage, and he's written columns for Adweek, Marketing, Campaign and conducted interviews with the BBC, CNN, CNBC Europe, Lürzer's Archive and Shots.
In December 2012 Steve spoke at TEDx in Athens about 'Making technology matter'.
---
Vassilios Makios - General Director, Corallia Clusters Initiative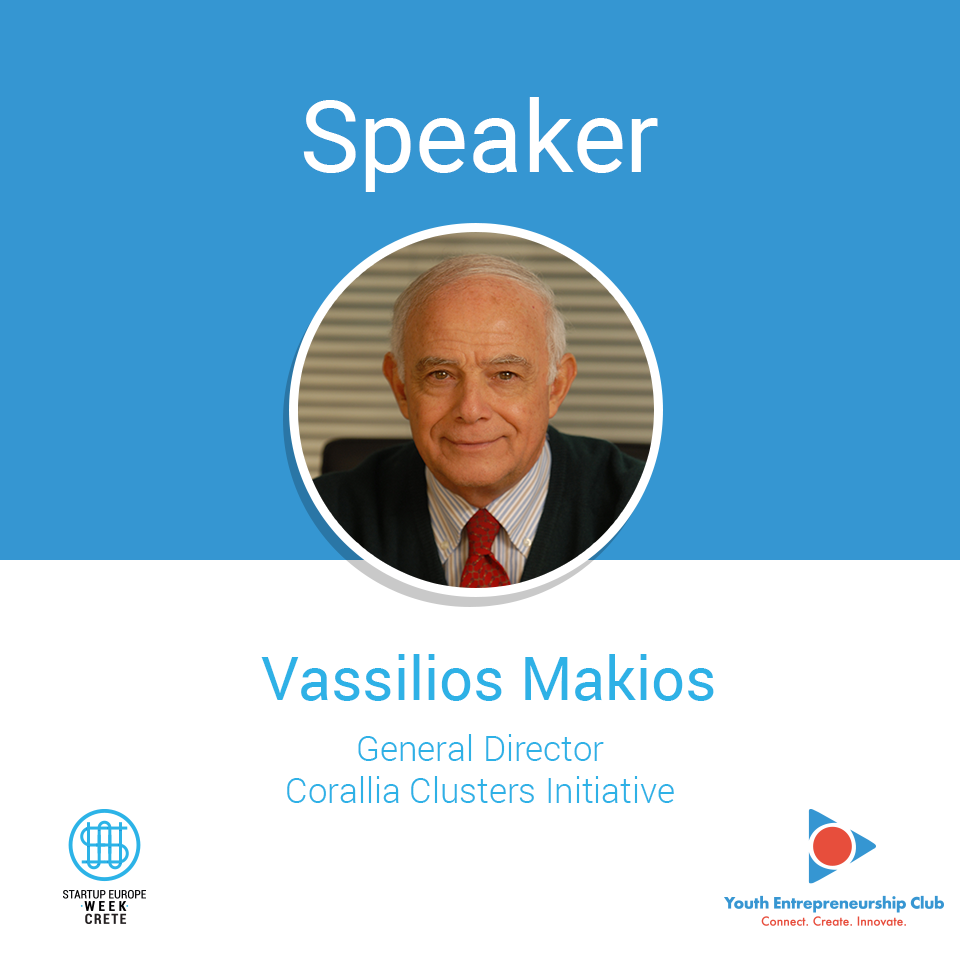 Vassilios Makios received his electrical engineering degree (Dipl. Ing.) from the Technical University in Munich and the Ph.D (Dr. Ing.) from the Max Planck Institute for Plasmaphysics and the Technical University in Munich in 1966. From 1962-67 he was Research Associate in the Max Planck Institute for Plasmaphysics in Munich, where he was associated with microwave interaction studies on plasmas. He served as assistant professor 1967-70, associate professor 1970-73 and full professor 1973-77 in the Department of Electronics, Carleton University in Ottawa, Canada, where he was involved with teaching and research in microwave and optical communications, radar technology, remote sensing and CO2 laser development. From 1977 he is an honorary research professor of Carleton University. From 1976 he was a professor of engineering and director of the Laboratory of Electromagnetics in the electrical engineering Department of the University of Patras in Greece, where was is involved in teaching and research in microwave and optical communications, data communication networks, with emphasis on efficient hardware implementations and rapid prototyping. He was also involved in antenna research and computational electromagnetics for wireless communications systems and in photovoltaic systems' research. The laboratory he directed actively participated in EU ACTS & ESPRIT R&D projects e.g. In 1986-87 he spent his sabbatical year at the R&D laboratories of SIEMENS in Munich. In the year 2000-01 he spent his sabbatical in the University of Berkeley, California and FOKUS, Berlin.
He has published over 140 papers and numerous patents in the above fields. He has participated in the organizing committees of numerous IEEE and European Conferences. He has received the silver medal (1984) and the golden medal (1999) of the German Electrical Engineering Society (VDE) and has also received the IEEE 2000 Chester Sall Award for the 2nd place Transaction Award Paper. He is a senior member of the IEEE, member of the Canadian Association of Physicists, the German Physical Society and the VDE, Professional Engineer of the Province of Ontario and the Greek Technical Chamber. He served as Dean of Engineering of the University of Patras from 1980-1982 and from 1997 - 2000. From 1992 to 2005 he served as the Vice president of the research committee of the University of Patras.
In 2003 he was appointed President of the Research Center Athena, a position he held until 2005. From 2005 to 2008, he was Vice President of the Research Center Athena. In 2006, he co-founded the Hellenic Technology Clusters Initiative - Corallia, and is up to date the Head of the Unit. He has been influential in the establishment of hi-tech companies in Greece and abroad, aiming to enhance innovation in certain areas where Greece can attain international acclaim, by bringing together all key innovation players in a sustainable ecosystem (SMEs, academia, R&D centers, government, suppliers, customers, financial institutions, VCs, etc). He plays an instrumental role in the design and implementation of interventions introduced by Corallia with a vision "to sustain a Greek environment with the right framework conditions to allow sciences, innovation and entrepreneurship to flourish again" and ultimate goal "to establish the brand Innovation Designed in Greece".
---
Minos Garofalakis - Director, Information Management Systems Institute (IMSI), ATHENA Research & Innovation Centre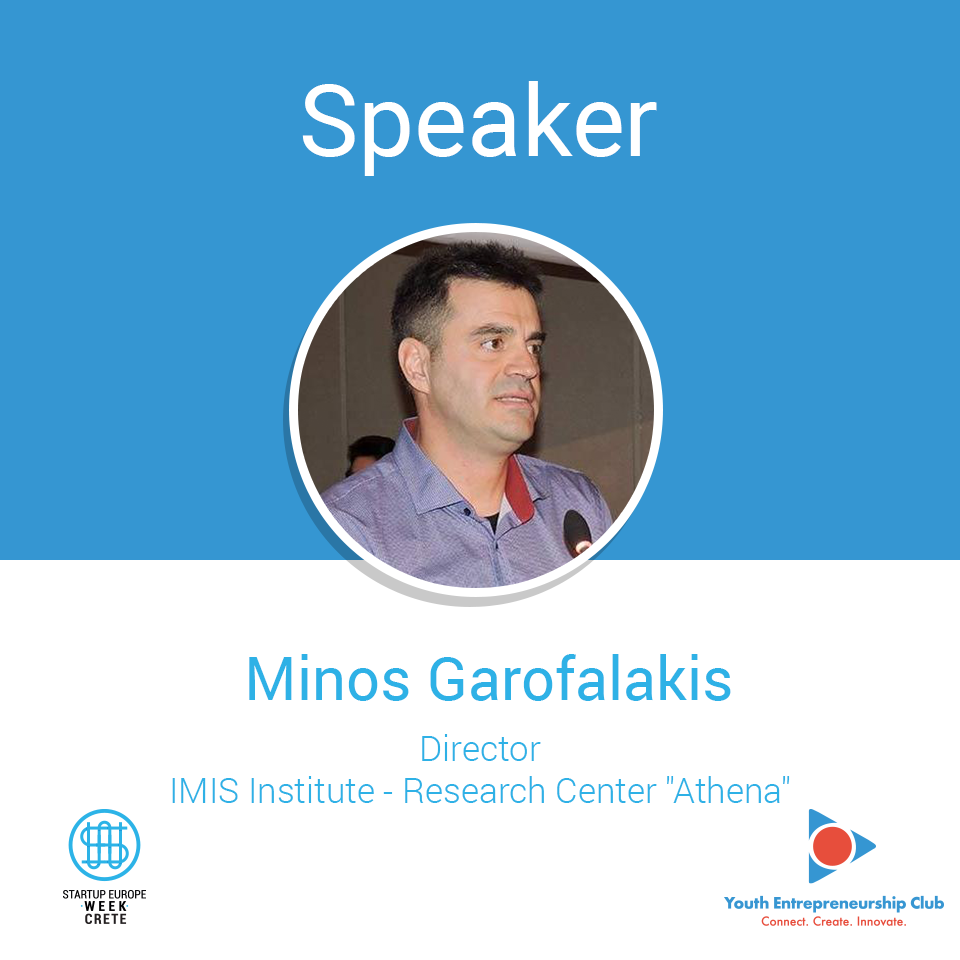 Minos Garofalakis is the Director of the Information Management Systems Institute (IMSI) at the ATHENA Research and Innovation Centre in Athens, Greece, and a Professor of Computer Science at the School of Electrical and Computer Engineering of the Technical University of Crete (TUC), where he also directs the Software Technology and Network Applications Laboratory (SoftNet). He received his PhD in Computer Science from the University of Wisconsin-Madison in 1998, and has held positions as a Member of Technical Staff at Bell Labs, Lucent Technologies in Murray Hill, NJ (1998-2005), as a Senior Researcher at Intel Research Berkeley in Berkeley, CA (2005-2007), and as a Principal Research Scientist at Yahoo! Research in Santa Clara, CA (2007-2008). In parallel, he also held an Adjunct Associate Professor position at the EECS Department of the University of California, Berkeley (2006-2008). His research interests are in the broad areas of Big Data analytics and large-scale Machine Learning. He has published over 160 scientific papers and is an inventor on 36 US Patent filings (29 patents issued) for companies such as Lucent, Yahoo!, and AT&T. GoogleScholar gives over 12.000 citations to Prof. Garofalakis's work, and an h-index value of 60. He is an IEEE Fellow (Class of 2017, 'for contributions to data streaming analytics'), an ACM Distinguished Scientist (2011), and a recipient of the TUC 'Excellence in Research' Award (2015), the Bell Labs President's Gold Award (2004), and the Bell Labs Teamwork Award (2003).
---
Manolis Lerakis - CEO, Avoel | Premium Avocado Products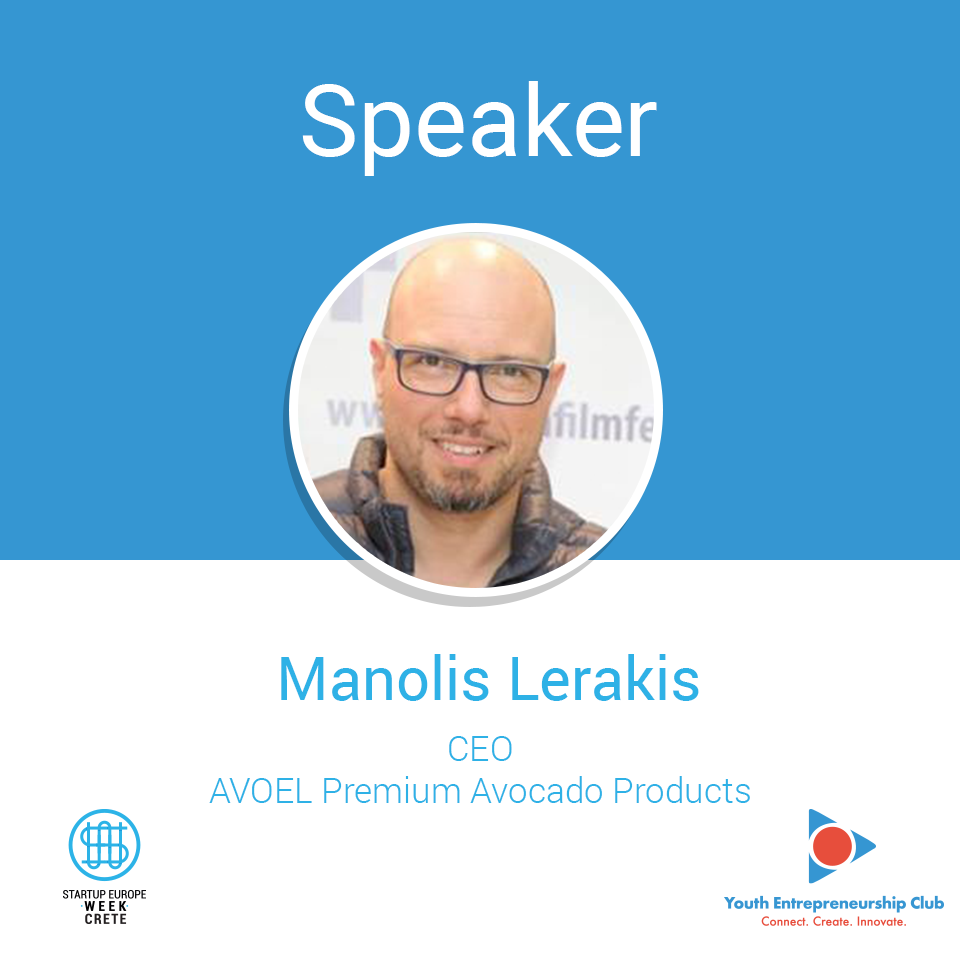 Manolis Lerakis is a PhD student at the School of Production Engineering & Management (PEM), Technical University of Crete. He holds a Diploma in Engineering Management Systems and a Master degree in Engineering Management Systems from Technical University of Crete. He is a certified inspector of the Hellenic Accreditation System in fields related to mechanical engineering. He is also an accredited trainer of continuing vocational training and adult learning from the National Accreditation Centre for Continuing Vocational of Greece. He has been the scientific advisor and director of studies of the training center Expertin- an educational organization implementing computer training seminars. He has also extensive consulting experience in business planning and management. Finally he is planning his own business startup in the domain of added value agricultural products.

---
Κατανοώ και αποδέχομαι τους Γενικούς Όρους.
---