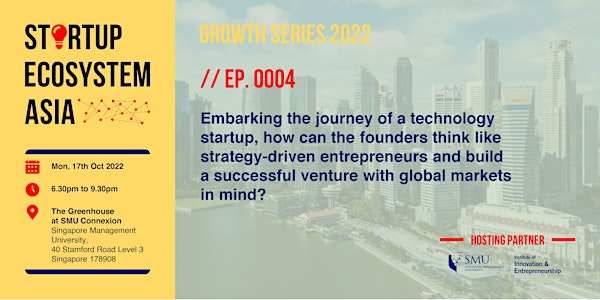 Startup Ecosystem Asia | Growth Series 2022 EP. 0004
how can the founders think like strategy-driven entrepreneurs and build a successful venture with global markets in mind?
When and where
Location
The Greenhouse at SMU Connexion 40 Stamford Rd, Level 3 SMU Connexion, Singapore Management University Singapore, 178908 Singapore
About this event
Growth Series 2022 is a series of topics curated by Startup Ecosystem Asia that focus on opportunities, problems and issues faced by technology startups not only in Singapore but across Asia. This is presented through in-personal events.
Embarking the journey of a technology startup, how can the founders think like strategy-driven entrepreneurs and build a successful venture with global markets in mind?
Three speakers are invited to discuss and share their experiences at our hosting partner, Institute of Innovation & Entrepreneurship at Singapore Management University.
Topic 01: How to Think Like an Strategy-Driven Entrepreneur by Mr Ranford Neo
Someone always say a simple sentence, "Let's set up a business, shall we?" What is Entrepreneurship and What Does it Mean to You?
How do we really define the entrepreneurial mindset that allow us to embark new journey? Are there any strategic skillsets that allow us to continue to manage ourselves better in order to manage the new startups? In fact, there are. Whether you are an entrepreneur or inspiring entrepreneur, let's revisit and relearn these key skillsets together.
TOPIC TAKEWAYS
Understand the definition of entrepreneurship and uncover what entrepreneurship means to you. Evaluate your entrepreneurial mindset and learn important skillsets to start and grow your technology startup strategically.
Topic 02: Venture Engineering – Building Business for Success by Mr Andy Wee
In the world of technology startup ecosystem or traditional businesses, do business successes run counter with established engineering principles? Business successes can be built on based on engineering principles. How many startup founders do really know about these principles?
Mr Andy Wee will share the key elements for business success, based on sound engineering principles and new concept on Venture Engineering. Technology startup founders wanting to create more values in their venture and enhance creativity in their business will find this sharing useful.
TOPIC TAKEWAYS
The engineers can be good entrepreneurs if they extend on their structured thinking into business creativity. Business-driven founders can benefit from structured thinking and processes from engineering philosophy, thus solving internal contradictions resulting in enhanced corporate value.
Topic 03: Go-to-Market Strategies for Global Growth by Mr Damien Cummings
It is always a challenge as Singapore is a small market comparing with many other Asian markets. If the startup founders have began their entrepreneurial journey in Singapore, How can they think out of the country (not the box this time) to grow their startups further into the new territories across Asia?
Mr Damien Cummings provides an overview of go-to-market strategy roadmaps that are suitable for start-ups and allow the participants to better understand segmentation approaches and personas that are common in practices. Together with right sales and marketing strategies, participants can seek alternative approaches to review their global or regional expansion approaches.
TOPIC TAKEWAYS
The participants can learn certain action plans for go-to-market strategies for startups with certain sales and marketing tactics to help their startups grow faster.
EVENT AGENDA
6.30pm - Registration
7.00pm (sharp) -
Opening Address by Mr Adrian Tong, Organising Chairman, Startup Ecosystem Asia
Topic 01: How to Think Like an Strategy-Driven Entrepreneur by Mr Ranford Neo, Author, Speaker and Lead Trainer of Storyaire Academy, Storyaire Pte Ltd
Topic 02: Venture Engineering – Building Business for Success by Mr Andy Wee, General Manager, IES-INCA Pte Ltd
Topic 03: Go-to-Market Strategies for Global Growth by Mr Damien Cummings, CEO, Inner Circle Pte Ltd
8.00pm - 1-min Self-Introduction.
8.30pm - Open Networking
9.30pm - End of Event
NOTE
1. Please note that you need to be fully vaccinated to attend. The event will adhere to health advisories in Singapore.
2. Please register on this page by 6pm on Monday, 17th October 2022.
3. You agree to videography and photography, which will be taken for training, education and marketing purposes. Do inform the organiser if you prefer to opt-out.

Mr Ranford is the author of two books: "BOLD; Stories of Entrepreneurs from Temasek Polytechnic" and "The Instant Entrepreneur; 10 Surefire Strategies to Guarantee Your Startup's Success".
He is passionate about life and advocates that everyone should live to the fullest potential, share their unique gifts and talents to help others and make this world a better place. He enjoys learning and growing as a person and believes the best way to do so is through entrepreneurship and humanitarian work.
He is also the lead trainer of Storyaire Academy, a company which helps freelancers and solopreneurs build their personal brand though the art of telling a story. He strives to educate, equip and empower individuals through education and storytelling, with the hope of creating the next generation of learners, leaders and educators who will do the same and pay it forward.
His mission is to effect positive change and leave a lasting legacy by creating a better future for society and the people around him.

Mr Andy Wee is General Manager at IES-INCA, an incubator cum accelerator at Institute of Engineer Singapore and works with deep tech, hardware and platform startups specially to scale them up. With a strong engineering background, having spent 13 years in Hewlett Packard in Product Design R&D, Andy has a keen interest in making technology work to create better life for everyone.
In 2014, Andy took time off to pursue a Masters in Technology Entrepreneurship and Innovation at NTU's Nanyang Technopreneurship Centre, achieving a Director's List award for outstanding performance.
Andy's interest in technology spans from web and mobile app, electric transportation machines, online and offline data storage backup solutions, medical health supplements, natural fertility, and beyond.

Mr. Damien Cummings is the Chief Executive Officer of Inner Circle, an upcoming startup that empower experienced professionals to share right skillsets, knowledge and experience to their peers.
Damien is one of Asia Pacific's most recognised digital transformation leaders. He is highly awarded, being honoured with a Doctor of Philosophy in Management (honoris causa) from KEISIE University, Korea in October 2017. He's also been awarded "Global Top 50 Digital Marketing Leaders 2016", "Financial Services Marketer of the Year 2016", "Digital Marketer of the Year 2016", "Most Influential CMO 2015", "Marketing Professional of The Year 2012" and the "Brand Leadership Award 2011".
Damien is currently the Chief, Digital Strategy & Leadership practice at the National University of Singapore (NUS-ISS). Prior to that he was the founder & CEO of HR tech/SaaS company, Peoplewave Pte Ltd. Before entrepreneurship, he was Global Head of Digital Marketing at Standard Chartered Bank and Chief Marketing Officer at Philips APAC. Damien has also worked at major global brands such as Samsung, Dell, Ogilvy, Coca-Cola and McKinsey & Company.
He has been a judge for many awards and a top-ranked keynote speaker, chairman or commentator on digital transformation, marketing and people management. Damien has held industry leadership positions including APAC Board Director of the Mobile Marketing Association, APAC Advisory Board of the CMO Council and the Global Executive Committee of the World Federation of Advertisers.