Description
Join Toronto's Startup Community for an evening of networking, open pitches, and of course drinks and pizza
TorontoStarts Startup Drinks Toronto's famous entrepreneur networking event is back
TICKETS AVAILABLE AT THE DOOR
Startup Drinks is TorontoStarts flagship & longest standing Startup community events. Startup Social is not only a monthly ritual for many of the city's local Startups, VCs, small business owners it is also the gateway event to many new entrepreneurs, professionals, and students looking to learn more about Startups in Toronto.
We are adding open pitch allowing community startups to pitch The Startup Coach will give you from 15 seconds up to 2 min allowing for a speaker or short presentation to drive the already great conversation & networking that we are famous for.
Did I mention the open bar?
YOUR $30 - TICKETS GETS YOU
FREE BEER, WINE, PIZZA, & PITCHES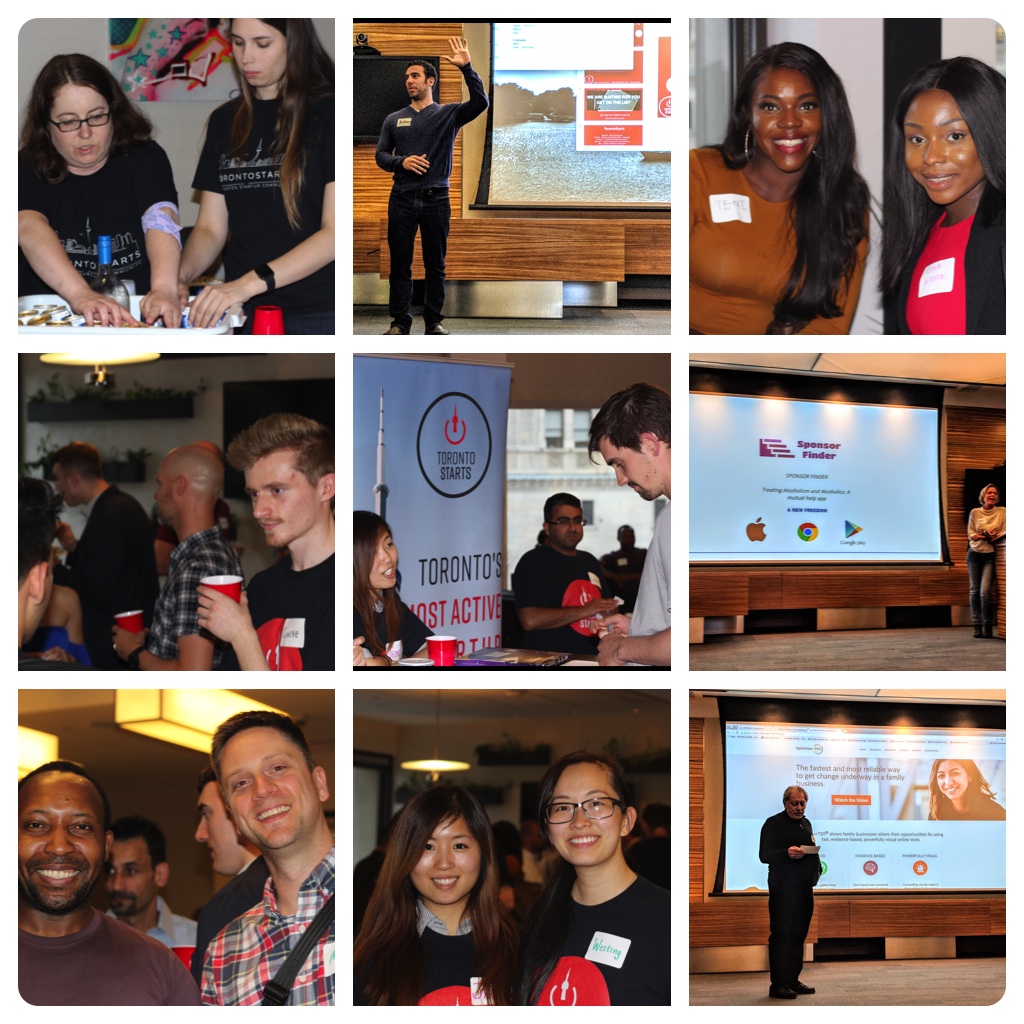 OPEN PITCH DETAILS:
A Timer counts down the Open Pitches - If you are pitching don't ramble!
you will be cut off when your time runs out to ensure, everyone has a chance and to force you to focus.
Want to pitch? Talk to Craig once you arrive to get on the list!

Startup Drinks is a casual gathering that fosters grassroots relationship building where startup founders, partners and enthusiasts come together to exchange ideas, share knowledge, discuss challenges and learn from one another
Come for a drink, make some new connections and talk shop with developers, designers, marketers, community organizers, writers, artists, etc. Meet some of our leaders and find out about our upcoming events and activities. Join our volunteer program and one our teams.
BROUGHT TO YOU BY:
TorontoStarts Toronto's Entrepreneur & Startup Community - Join Toronto's Most Active Startup Community
Startup Launch 8 Week Accelerator Program - Now taking applicants for the next Cohort
Startup Social Open Pitch Open Bar Open Network (formerly Startup Drinks)
Startup Pitch - Toronto's Premiere Quarterly Entrepreneur & Startup Pitch event
Startup Coach - Workshops and One on One Entrepreneur Mentoring with The Startup Coach
Workhaus - Coworking Space, Services, an Awesome Community & More
Other Great Resources
Toronto Events – Find out what's happening in Toronto
The Startup List – Get your Start up on the list!
Startup Drinks – Monthly Toronto Entrepreneur Open Pitch Open Bar event
Startup Talk Podcast Toronto's Startup Podcast
Ultimate Startup Funding Course for Canadian Entrepreneurs
Disclaimer: By signing up for a TorontoStarts event, you agree that TorontoStarts may record or photograph the event, (including you, your likeness, voice and any guest you bring), and use it publicly or privately in any form of media, including for commercial purposes. By attending, You consent to the recording and photographing and grant TorontoStarts an unrestricted, perpetual, non-exclusive and sublicensable license, to take, use, display, perform, distribute or exploit for any lawful and commercial purpose any recordings or photographs.