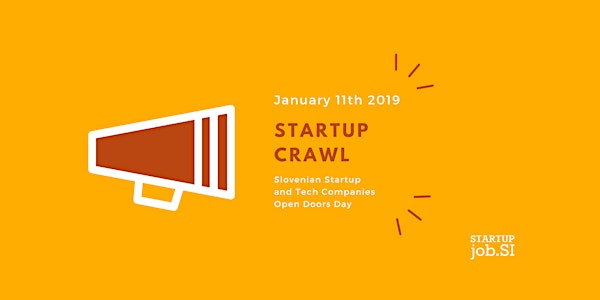 Startup Crawl 2019: Klevio
When and where
Location
Klevio Šmartinska 106 1000 Ljubljana Slovenia
Description
Doors open and the famous discipline of the tech walkabout begins!
This year more than 40 tech and startup companies around entire Slovenia are opening doors of their offices, just for you! Come and take a look behind the scenes and meet the masterminds, teams and kitchens of our tech scene. Ask questions, get answers and make new friends.
More about this event and other participating companies: STARTUP CRAWL 2019
It's really easy:
Make a schedule (check all open door slots in ticketing options) so you can see as many tech companies in one day as your brain can handle and RSVP for a ticket through Eventbrite page.
Find a walkabout buddy or make room for some introspection if you startup crawl alone.
Come in and become a true startup crawler by saying the magic words: "Hi, I found your company on the Friday startup crawl list, are your doors still open?"
Klevio makes smart access systems allowing people to open doors with their phones. The systems are developed in Slovenia and used in UK market. Our users include homes, offices, coworking spaces, building managers, and even music studios!
More about this company: Klevio Info
Open door slots:
10:00 - 12:00
14:00 - 16:00
16:00 - 18:00
---
Vrata se odprejo in panoga pohajanja od tehnološkega podjetja do tehnološkega podjetja se prične!
Pridite in si poglejte zakulisja mladih tehnoloških podjetij, spoznajte veleume, ekipe in kuhinje naše IT scene. Sprašujte, iščite odgovore in najdite svojo sorodno dušo.
Več o dogodku in ostalih udeleženih podjetjih: STARTUP CRAWL 2019
Preprosto je:
Pripravite si urnik in si rezervirajte karto preko Eventbrite strani, da boste lahko obiskali toliko tehnoloških podjetij, kolikor jih še prenesete.
Povabite še prijatelja ali pa bodite samemu sebi najboljša družba, če se na pohod odpravite sami.
Uporabite magične besede: "Živijo, vašo firmo sem našel/-a na petkovem seznamu za pohajanje od podjetja do podjetja, so vaša vrata še odprta?"
Več o podjetju: Klevio Info
Termini ogledov:
10:00 - 12:00
14:00 - 16:00
16:00 - 18:00