StartUp Business Basics: SCORE Delaware and YWCA WAND Program
Description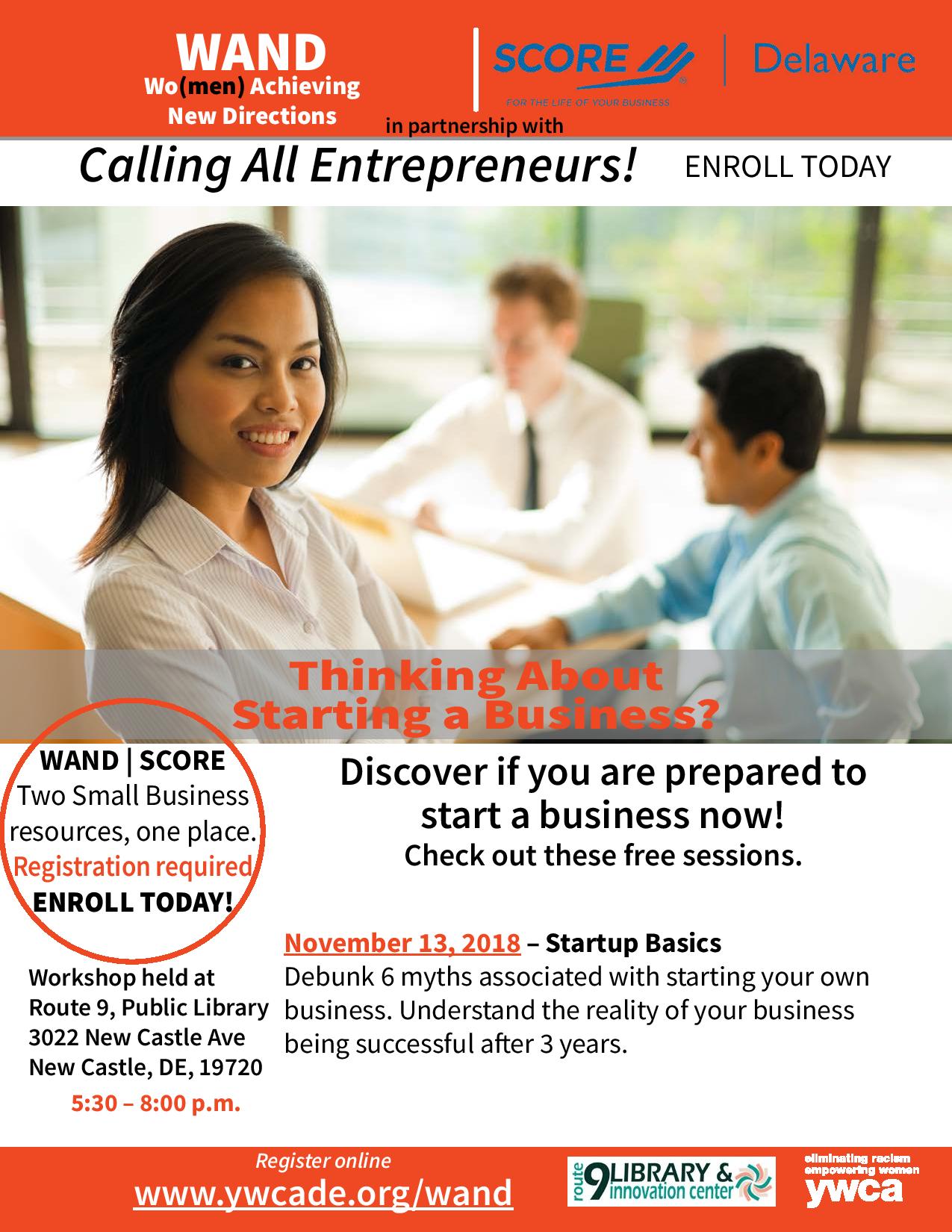 Introduction - Start-Up Basics & Business Concepts (WAND Partnership)
This is an introductory course for potential and new entrepreneurs thinking about starting a busiess on their own. We will debunk 6 myths assoicatged with starting a business. You will understand the risks and the reality of success after 3 years in business. The personal character traits that are necessary to support success will be explained. As a small business owner, you have to 'do it all'. This workshop will explore the myriad of tasks you will need to master (ex: bookkeeper, salesperson, Customer Service Represnetitive, etc). Just being skilled at a trade doesn't insure success. This workshop should open your eyes to what it means to be a business owner.
Fee: Free (must register)
Instructor: Certified SCORE Delaware Mentors
---
WHO WE ARE:
-Delaware SCORE has been mentoring new and existing businesses for over 50 years and has a network of over 40 volunteers who donate their time to help entrepreneurs start new or improve existing small businesses and non-profits.
As highly successful and experienced business professionals and entrepreneurs, DelawareSCORE mentors deliver valuable, timely, and practical advice. Whether you are a start-up, an existing business, or a non-profit, our mentors will help you and your business open new markets, reach new customers, and achieve new goals.
Delaware SCORE mentors will help you start and grow your business through free and confidential business advice online and in person. This advice will be coordinated with local and national workshops, and a social media network providing real-time access to local partner events that will enhance your chance for success.
Questions? Connect with fredrick.lentz@scorevolunteer.org or visit the website: CLICK HERE
-
Wo(men) Achieving New Directions (WAND)
Our Wo(men) Achieving New Directions (WAND) program offers work readiness and 21st century job search skills to those with barriers to employment and self-employment strategies to emerging business owners who need the tools to position their business for success. WAND helps program participants increase their household income, support their family, pursue their dreams and build a legacy for future generations.
Questions: Connect with the WAND Program - Troy Farmer and Vanity Constance - Empower@ywcade.org and visit the website: CLICK HERE