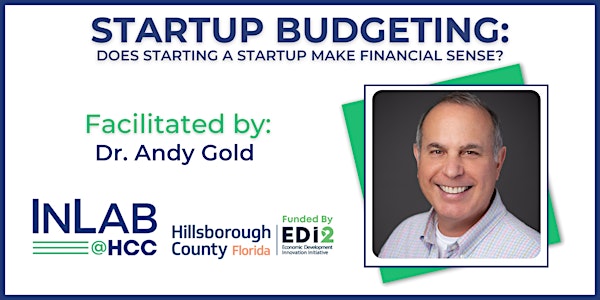 Startup Budgeting: Does starting a startup make financial sense?
This workshop is designed to help the early stage entrepreneurs figure out if starting the business makes financial sense.
About this event
Starting a business is not easy. Fifty percent of all businesses fail within five years. Of that group, 82% state that the reason they failed was poor financial planning and cash flow challenges.
About your facilitator:
Dr. Andy Gold is a longtime social entrepreneur, educator and cofounder of The InLab@HCC and Operation Startup. Dr. Gold is a full-time business faculty member at Hillsborough Community College, and teaches in the graduate school at the University of Tampa, and the University of South Florida. He is also a co-founder of the HCC Innovation and Entrepreneurship Program, serving as an internal entrepreneurial evangelist at HCC.
(This workshop is delivered virtually, live through Zoom. Please note that the Zoom link will be sent by EventBrite. Make sure to check your junk mail folder.)