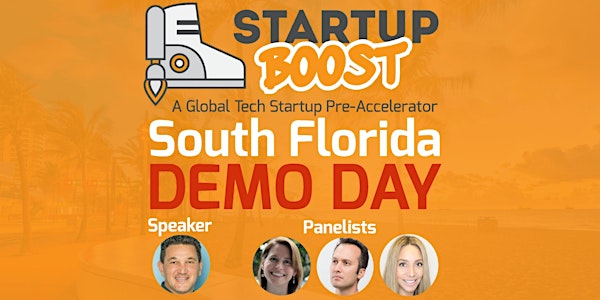 Startup Boost South Florida Spring Session Demo Day June 9th 2021
Join us as we showcase the startups from our 2021 Spring Session cohort online on June 9th 2021.
Refund Policy
Contact the organizer to request a refund.
Eventbrite's fee is nonrefundable.
About this event
Summary:
Join us for our South Florida 2021 Spring Session Cohort's virtual Demo Day on June 9th.
Enjoy Entrepreneurship Remarks by our featured speaker Felipe Sommer, co-founder of Nearpod which was just acquired for $650 millions.
A virtual pitch showcase experience will follow with expert-level Q&A led by 3 seasoned panelists: 1 Entrepreneur Dan Abbate (TheBigDA), 1 Angel Investor Sarah Lucas (New World Angels) and 1 Accelerator Director Roxette Miranda (South Florida Founder Institute, Numa NY).
These segments will be followed by a dynamic networking session offering you the opportunity to chat and connect directly with our startup founders, program directors, global team, and our amazing group of mentors who have helped the startups grow substantially over the course of the program.
Agenda:
6:00 | Networking
6:10 | Kickoff
6:15 | Remarks by Felipe Sommer of Nearpod
6:30 | Pitching
7:30 | Announcements
7:35 | Post Pitch Networking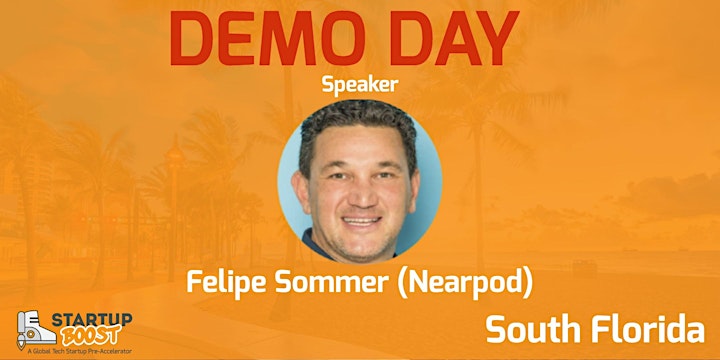 Speaker: Felipe Sommer
I am the founder and COO at Nearpod, a mobile platform empowering educators to create learning experiences that engage and inspire millions of students around the world.
I got a BA in economics from the University of Buenos Aires, Argentina, and received an MBA from the University of California, Berkeley Haas School of Business.
For ten years, I invested my time in management consulting for financial services and start-ups at Accenture. In 2004, as an entrepreneur, I moved to Miami and founded Livin' Interactive which focused on custom experiential marketing solutions. My passion for technology and education fueled my desire to empower teachers and engage students with a mobile platform. In 2012, I founded Nearpod and began an amazing journey in the Edtech space significantly increasing the engagement of millions of students and around the world.
I am a philanthropist at heart and I do care about improving the quality of life for others, be it through education, entrepreneurship or community service. Family is my number one priority. I take pride in being an Argentinian, a father of three boys, and a husband to my beautiful wife, Paula. My hobbies include world travel, sports and mentorship.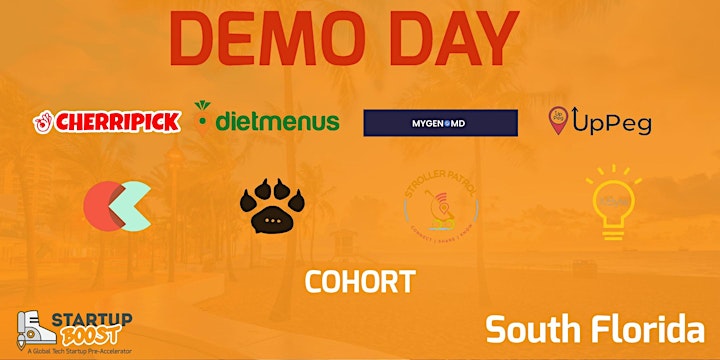 Cohort:
Presenting the 2021 South Florida Spring Session Startups:
The presenting startups will join the ranks of other Startup Boost alumni who've gone on to raise over $56 million and been accepted into the top accelerators globally.
Please note: You will receive an email before the event including the unique event link for our Demo Day.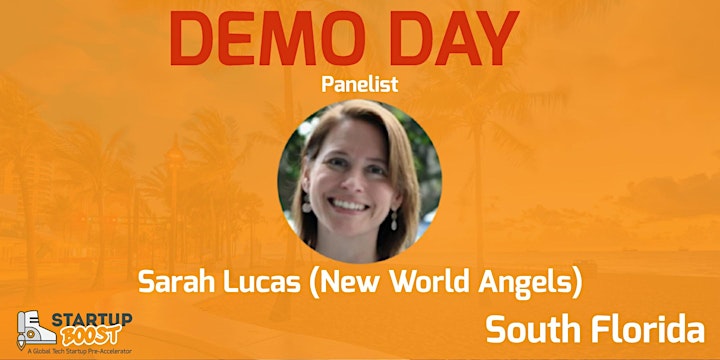 Panelist: Sarah Lucas
Sarah Lucas is the Chief Operating Officer of New Word Angels, a network of accredited private investors dedicated to providing equity capital to early-stage entrepreneurial companies with a strong presence in Florida. She has been an adjunct professor of entrepreneurship in the College of Business and Management at Lynn University and College of Engineering at Villanova University. Sarah graduated from the University of Connecticut with a B.A. in African American Studies and earned an MBA from Harvard Business School. With a background in policy, communications and strategic planning, Sarah's past professional roles include the White House Domestic Policy Council, a Fortune 500 corporation, the United States Senate and House of Representatives, and a privately held financial services firm. Additional professional experience also includes working at the FAU Tech Runway business accelerator and as the CEO of a start-up business. Sarah's current civic and volunteer interests include Vice Chair of the City of Delray Beach Green Implementation and Advancement Board, executive board member and start up committee chair of Tech Hub South Florida, board member of Second Chance Initiative, and mentoring start up companies through the Venture Mentoring Team and Babson College WIN Lab. Sarah lives in Delray Beach, FL.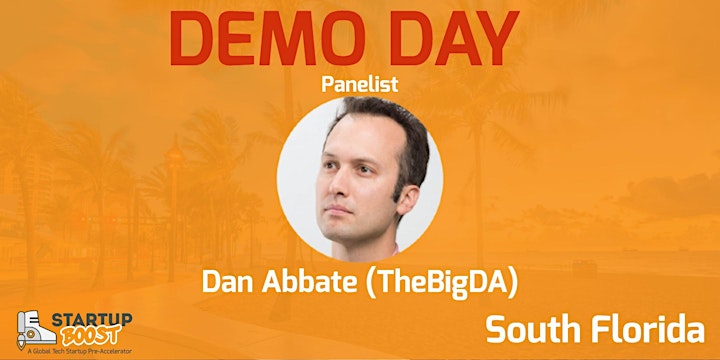 Panelist: Dan Abbate
is an entrepreneur, thought leader, and investor with a career-long focus in business process optimization and automation using advanced technology, organizational development, and continuous improvement. Dan has a heavy transaction background including startup financing, mergers and acquisitions, and turnarounds.
In the late '90s, while he was still in college, Dan started an internet company which serviced and eventually sold to Wall Street-funded .coms. Between the years of 2003 and 2013, he started/developed or acquired/improved and sold eight companies serving various markets and industries with a total market value of over $100,000,000 and were funded using private and public capital markets. He has experience in both B2B and B2C companies and enjoys advising and leading high-level operational initiatives, including infrastructure design, process re/engineering, and reorganization to deliver extraordinary results in growth, revenue, operational performance, and profitability. From 2013 onward Dan has focused on growing his personal knowledge base to scale his unique value-driving skills and experience as a silent and lead investor and advisor to a number of technology (including blockchain and cybersecurity) and mainstreet companies. This dedication and focus has placed Dan in a unique leadership position in the cross-section of technology, finance, and business.
Dan holds a degree from DePaul University in Philosophy and Business, has studied Operations and Financial performance at The Wharton School and Math and Physics at the University of New Mexico, will graduate with a Masters in Finance from Harvard University in 2021, presented his prophetic talk "How Not To Be Replaced By A Robot" at TedXBoca in 2015, and his book "Automation Manifesto" was published and is available via Amazon and other retail book outlets.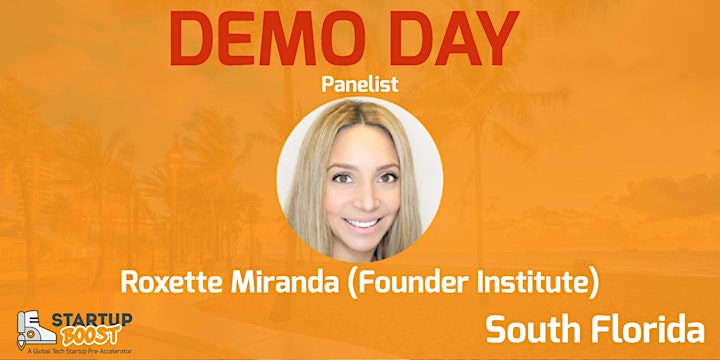 Panelist: Roxette Miranda
I'm passionate about helping people find their focus and connecting like-minded individuals in order to create a strong network of people who can find value in every meeting.
Currently, I'm the Managing Director at The LAB, the epicenter for entrepreneurship. Miami's members range from freelancers, early-stage startups, and nonprofits to corporations. By supporting creative, tech, and social enterprises we, as a community, will be able to transform Miami into a premier startup hub.
Also, I'm the Director of the Founder Institute Florida cohort, an accelerator that helps pre-seed startups get funding through a structured program. Through the program, I run workshops, panels, and round tables on diverse topics such as funding, pitching, and more in various spaces across Miami. I'm Program Manager at Numa for a project helping growth stage Costarican companies expand into the US. When startups need more tailored aggressive growth strategies on a 1-1 basis 305 Works is a private consulting arm to help them achieve their goals in a more customized approach.
Founder of Pitch Night MIA, a monthly pitch competition showcasing local startups. The monthly event consists of a 5-minute pitch, judges will do a Q&A, give feedback, a winner is selected, and participants win prizes to help with their business. Pitch Night MIA is a way to collaborate and bring innovative ideas to the Miami ecosystem.
About:
About the Startup Boost Global Pre-Accelerator program:
Startup Boost is a global tech Startup Pre-Accelerator program that finds promising early stage startups and prepares them for accelerators, investment, and revenue. The Pre-Accelerator program takes no equity or fees from the startups that are accepted. Fall 2021 programs took place in Detroit, Kenya, L.A., Pittsburgh, South Florida, Toronto, U.K., Vancouver, and Washington D.C.
In four years, Startup Boost has selected over 300 startups from over 4200 applicants globally to participate in the pre-accelerator. Our alumni, have raised over a combined $56 million and have been accepted into the top accelerators around the world. Global partners include Techstars, Global Accelerator Network, and F6S.
Each program takes place over a 6-week period and brings in the best speakers and mentors to work with selected early stage tech startup teams to prepare them for accelerators, investment, and/or revenue generation.
Additionally, Startup Boost is able to support hundreds more startups through their FoundersBoostX online platform. FoundersBoostX helps early stage founders anywhere take the best next step in building their company through community, workshops, perks, office hours, and more -- it even powers the Pre-Accelerator Alumni Platform.
If you would like to know more about our other cohorts, Startup Boost, or FoundersBoostX, please email gene@startupboost.org or signup for our monthly mailer here. To sign up for early updates on when application dates open, please click here.