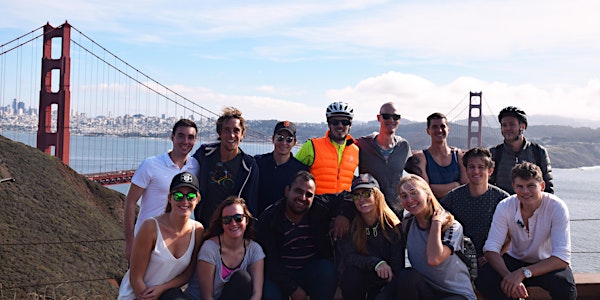 Startup Bike Tour Across the Golden Gate Bridge
When and where
Location
San Francisco Bicycle Rental 425 Jefferson Street San Francisco, CA 94109
Description
Join the Startup Basecamp community for a fun, leisurely day biking across the Golden Gate Bridge.
We invite all entrepreneurs, hackers, founders, and innovators in the Bay Area to join us for this chance to see the most iconic structure in San Francisco up close with other entrepreneurs! You'll have the chance to migle with other entrepreneurs, share ideas, and network all while exploring the beautiful Sausalito.
It's free to join, but be sure to bring at least $30 for the bike rental and extra for lunch. You can get more information about what kind of bike you can rent + prices here. We'll be stopping for lunch at Bar Bocce, in Sausalito & then stopping by the boat houses in the area.

If you are interested in taking the ferry back to San Francisco, you can find the ferry schedule here. One way tickets cost around $12.
Schedule:
11:30 am: Meet at San Francisco Bicyle Rentals (The Cannery, 425 Jefferson St.)
12:00 pm: Depart San Francisco Bicycle Rentals towards Sausalito with stops for photos
12:30 - 1:30 pm : Bike over the Golden Gate Bridge to Sausalito! (Estimated time: 45 minutes)
1:30 - 3:00 pm: Lunch at Bar Bocce in Sausalito!
3:00 - 4:00 pm: Explore Sausalito & the boat houses (they are beautiful!)
4:00 - 5:00 pm: Head back towards San Francisco: choice of ferry or biking back
5 pm: Back to San Francisco Bicycle Rentals to return bikes