Description
*** Note, this course is being offered at multiple locations across Idaho *** This is the registration for the Caldwell, ID site. For a list of other course locations and more details about the course, please visit www.cultivatingsuccess.org/syssf.***
Course Description
This course helps new and aspiring farmers take the first steps toward setting goals, assessing resources available (physical, financial, and personal), and exploring enterprises that are the best fit for you and your land. You'll leave the course with a better understanding of how to make your farm a success. Participants will be exposed to a variety of farming and ranching systems, network with other participants, get exposure to local resources, hear from experienced farmers, and visit local farms (please see the complete schedule below). This course will be offered in multiple locations throughout Idaho.
Target Audience
Beginner! This course is for those who have decided to make some or all of their livelihood from farming and are actively planning to start or expand their sustainable farm within a few years. You do not, however, need to have land or know what you will grow. Exploring the opportunities is what we want to help you do.
Course Format & Dates
Your time in this course will be evenly split between in-class sessions and online assignments. First, participants will log in to a live webinar from their personal computers on Monday, January 8th from 6 pm - 7 pm PST/7 pm - 8 pm MST (if you need access to the internet contact your local site host to arrange a local viewing). Then, 3-full day in-class sessions will be offered at the location where you register on Saturday, January 13th, Saturday, February 3rd, and Saturday, March 3rd, 2018. An end of class potluck will be scheduled for March 29th at each local site. Additionally, at least two farm tours will be scheduled in the spring at farms & times to be decided. Local site facilitators will work with participants to determine these tours based on interest and scheduling availability. The full schedule is in the chart below. Participants are expected to attend all events and individual registration is not available.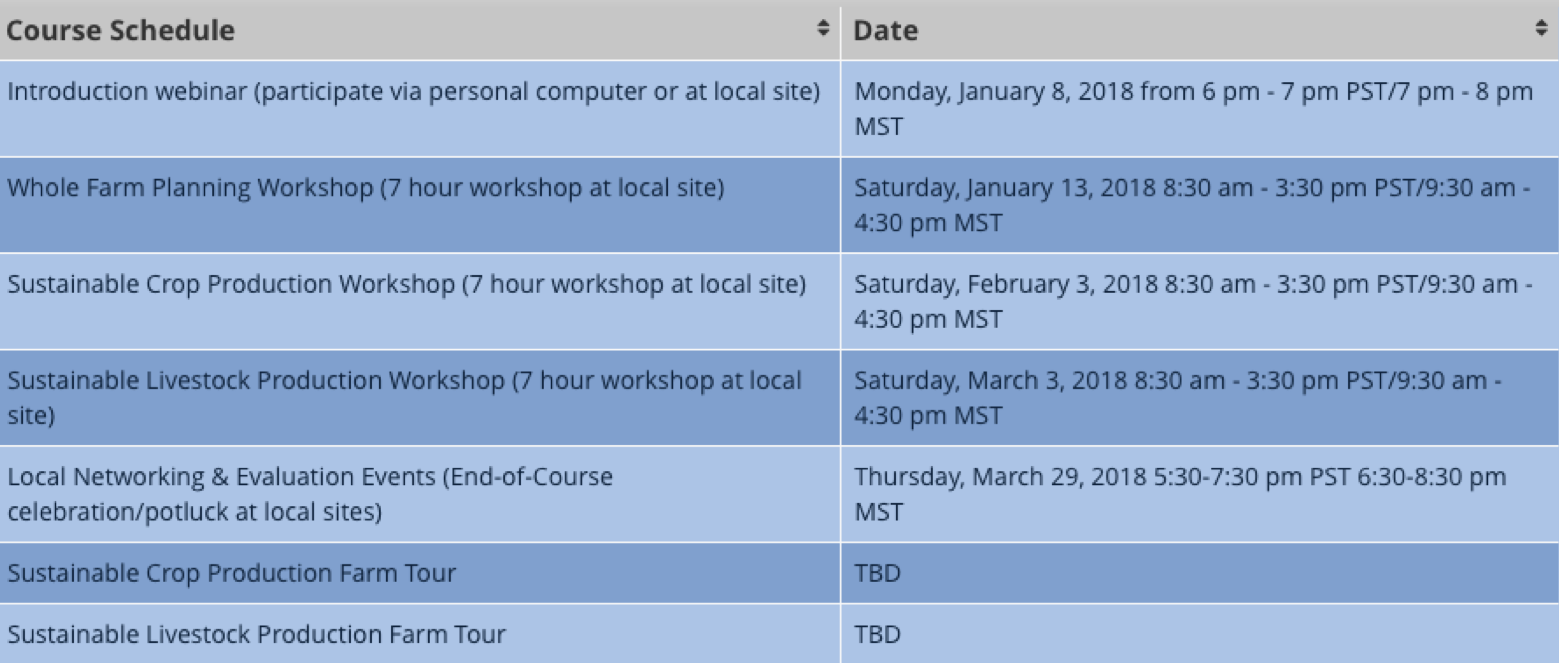 Course Fee

The course is $115 for the full series, which includes course materials, books, and farm tours. Spouses, partners, or additional adult family members can take the course for an extra $35 but will receive only one copy of materials and meals. Additional youth registrations are $5. Registration is required by January 6th, 2018 so that participants can receive pre-workshop content and further instruction. *** Rural Roots Members may receive a 20% discount. Please email info@cultivatingsuccess.org to receive your discount code. For more information about becoming a Rural Roots member: http://ruralroots.org/join-rural-roots/ ***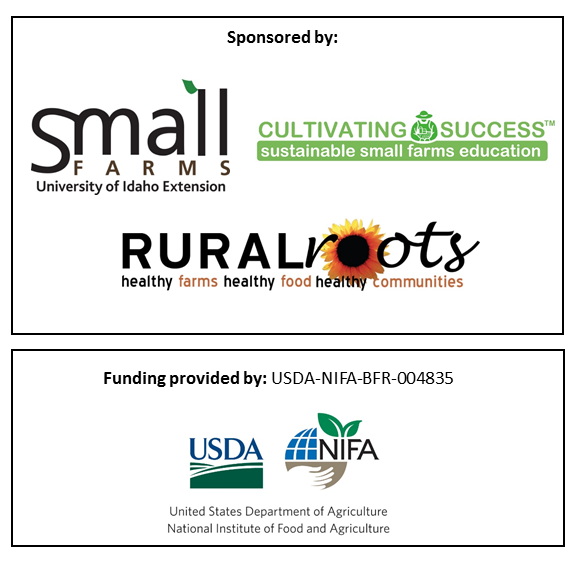 To enrich education through diversity the University of Idaho is an equal opportunity/affirmative action employer and educational institution. The University of Idaho and U.S. Department of Agriculture Cooperating, in compliance with the American Disabilities Act of 1990, anyone attending this program that requires auxiliary aids or services should contact Amanda at least two weeks prior to the event.