Starting with R - 8 May 2017

Monday, May 8, 2017 from 12:30 PM to 2:30 PM (EDT)
Event Details
The Seminar
Starting with R is a two-hour seminar that provides an introduction to R, RStudio, and R programming for refining, visualizing, modeling, analyzing, and reporting data. This seminar is oriented toward the needs of the new R user. 
What are R and RStudio?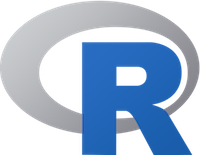 R is a programming language and environment for statistical computing and graphics. R is free software that compiles and runs on a wide variety of UNIX platforms, Windows, and MacOS. R is paired with RStudio to provide a complete graphic user interface for conducting a wide range of data analysis tasks.


RStudio is a set of integrated tools designed to help you work more efficiently with R. It includes a console, syntax-highlighting editor that supports direct code execution, as well as tools for plotting, history, debugging and workspace management. RStudio is the premier integrated development environment for R. Like R, RStudio is available for free in an open source edition and runs on Windows, Mac, and Linux desktop/laptop computing systems.
The R user community is large and growing, and R is a popular open source alternative to such integrated data management and analysis systems as SPSS, SAS, Stata, and MiniTab. In Penn State's Workforce Education and Development academic program, R is the software chosen to support a course in data science fundamentals.
R applications span the universe from theoretical computational statistics and the hard sciences such as astronomy, chemistry and genomics to practical applications in business, drug development, finance, health care, marketing, medicine and much more. Because R has over 10,000 packages (libraries of functions) many of which are dedicated to specific applications, so you don't have to be an R genius to begin developing your own applications.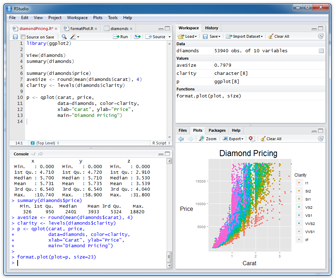 RStudio Interface with R
What can seminar participants learn?
In this seminar, participants receive a tour of capabilities to (a) install R and RStudio on their personal computers, (b) use basic R commands and syntax, (c) navigate the RStudio user interface, and (d) run simple R scripts to perform data analyses, and (e) create and display online reports from data analyses. Participants receive access to a curated set of bookmarks to resources about R and RStudio. This seminar is especially useful preparation for Penn State students who will enroll in WF ED 540, Data Analysis in Workforce Education and Development, during Fall Semester 2017 (Penn State class number 7707 and course ID 043839).
Who will lead the seminar?

David L. Passmore, Distinguished Professor of Education at Penn State, will facilitate this seminar. Passmore has taught classes in data science at various institutions of higher education for the last 48 years, although he adopted R only in the previous five years.
Attendee List
Sort by:

Date

|

First Name
When & Where

Room 313 J. Orvis Keller Building
Fischer Road
Penn State
University Park, Pennsylvania 16802


Monday, May 8, 2017 from 12:30 PM to 2:30 PM (EDT)
Add to my calendar
Organizer
Penn State Workforce Education & Development
Workforce Education and Development is an academic program at Penn State. The mission of the program is to promote excellence, opportunity, and leadership among professionals in the field of workforce education and development, including professionals employed in secondary and postsecondary education institutions, social services, employee organizations, and private sector businesses.
Faculty in Workforce Education and Development strive to attain a cost-effective academic program that is recognized nationally as among the best of its type in scholarship, leadership, and professional preparation.
Faculty, students, and alumni are proud of the Workforce Education and Development program, which consistently ranks in the top three of its type in national assessments of program quality.
Starting with R - 8 May 2017