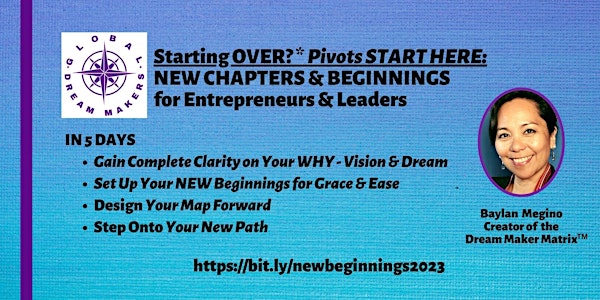 Multiple dates
Starting Over? Pivots Start Here: New Chapters for Leaders & Entrepreneurs
It's a time of NEW Chapters and Beginnings - Baylan will guide you thru a Transformational Journey toward Your Life Worth Living
Date and time
January 16 · 12pm - May 15 · 10am PST
Refund Policy
Contact the organizer to request a refund.
About this event
Starting over? New Beginnings & Pivots
START HERE: New Chapters for Leaders & Entrepreneurs
with Grace & Ease:
A Transformational Journey
It's the Beginning of a New Chapter!
Time to Create YOUR LIFE YOUR WAY
***
Every Program tells you to Start with your Dream, your Why, your Vision that will get you up every morning no matter what.
But they don't really tell you How to Define your Dream Fully, and to make sure you've got it Right - For YOU.
Here you'll learn how to take your Inspiration and
Ripple it out into ALL Areas of your life - 5 areas, 6 levels deep.
You'll design YOUR Dream Maker Matrix(tm) - Unique to You.
You'll see how One Decision impacts that entire area, and your Whole Matrix.
In these 5 hours You Will
>> Learn to Design Your Life Framework that Supports Your Life Success and Happiness (we'll use my proprietary Dream Maker Matrix(tm) )
>> Learn How to Turn Your Endings into Inspiring New Beginnings  and
Finally Get on Track to
* Create the Life You Love To Live Every Day *
********************
WHO THIS IS FOR
********************
You're the Entrepreneur or Leader who maybe:
* Is Starting a New Chapter
* Has Reached Your Goals (or are Almost There)
* Has Worked Really Hard to Get Where You Are but Don't Feel Fulfilled
* Has Wondered - Is This All Worth It?
* Has Sacrificed your Time to Make the Business Work
* Has to have Multiple Cups of Coffee (or other energy beverage of your choice) to Get Going
* Has Everyone Relying on You to Make the Decisions
* Has A Desire for Better Business Relationships with A Lot of Upside Potential
* Has an Intimate Relationship that is Not Supportive in the Ways You Need
* Has Such a Busy Schedule that You Miss Important Personal Events
* Is Successful and Uninspired in Your Life
* Is facing an ending - divorce, end of long-term job, empty nest
* Or you're coming out the other side and Don't Know Where To Begin
* Wants MORE - Impact, Love, Meaning, Fulfillment, Prosperity
Is Your Life Turning Upside Down and You Don't Know Where to Begin?
OR
Is your Life BLAH? Is the Excitement Gone?
LET'S TURN THIS AROUND!
Maybe you've tried to Move Forward 
BUT
Life keeps giving you hiccups, brain fog and you're just not clear on
WHAT'S NEXT!?!?
The Road Forward looks bumpy.
Your Vision for Your Life is NOT CLEAR.
Whatever your current situation, I invite you to 
JOIN ME  for ONE HOUR each day on this 5-Day Journey to
* Clear Your Path to Create Your Dreams *
* Complete your current Life Chapter / Year
* Harvest the Treasure
* Close Those Doors
* Tap into Your Dreams
* Move Forward with Clarity
It's my life's mission to help you
Get Clear
on What Will Make You Happy in All Areas of your life
and how to bring Your Dreams Into Reality
- to Finally feel Meaning in life that You Crave!
- to Finally be able to Make Decisions with EASE :-)
- to Finally feel Fulfilled with your work <3
- to Finally feel Empowered in your relationships
- to Finally Create Your Life Worth Living!
And this short Journey definitely will get you started on your path.
Don't stand at Your Summit wondering why you are NOT Happy!
Did you know -
Your Dream has a Structure that is Unique To You!
Did you know that when you Align with What is True For You,
Your Vision CAN Become Your Reality
and People, Places and Resources
Can Manifest with Ease and Grace?
* * *
Let me show you how!
It all begins with 
- Gathering Lessons and Wisdom
- Closing Chapters
- Getting Clear on Your Vision
- Designing Your Map and
- Stepping Onto Your New Empowering Path
For Just 1 hour each day
That's what we'll be doing during this 5-day Journey!
I'VE BEEN WHERE YOU ARE
When my life fell apart
- the looming housing crash was killing our Business
- my Relationship was on life support
- I was speaking with bankers Every Week to Avoid Foreclosure
- I was not being the Role Model I wanted my daughter to follow
- and my normal 8 hours of deep Sleep had dwindled to 5.
I knew My Life HAD to Change.
So I started to look for Answers.
Perhaps you've studied and experienced many different ways To Do and To Be - I know I did!
I explored esoteric teachings, ancient arts, different healing systems, mind-body practices, healing practices from other cultures, sound healing, martial arts and more.
I delved deeper into entrepreneurship, speaking, business communications, multimedia, leadership, and so much more.
At some point, I started to get confused, but the information was so compelling that I soaked it up and figured it would make sense once I knew the landscape.
So there I was, well informed, but without a clear understanding of how to organize it all to support me in manifesting my dreams!
Then I followed a particular thread, and finally it all snapped into place! I understood
How to take Inspiration and ripple it into All areas of my life in a way that is natural, organic, and organized.
No more wondering if I'm doing it right.
No more anxiety that I'll miss something, or forget a step.
No more feeling down when things didn't go as planned.
No more acting out on a limb wondering if anyone would notice.
No more wondering if I am going in the right direction, doing the right things.
Instead, I intuited a LIFE FRAMEWORK that provides newfound clarity and makes decisions simple.
I call this framework the Dream Maker Matrix(tm). Simple to understand, profoundly powerful in its simplicity, and engaging an organic way of moving through all areas of your life.
Now, when I need to make a decision, I ask myself, "What do I want?"
Looking back, I remember how difficult it was to find my own answers to that simple question.
Maybe you can relate - You see, I had been living my life based on everyone ELSE's answer to that question!
Does it get me closer to living the life that will make me happy?
Yes? or No?
And to be truthful, there is NO wrong decision! Isn't that a surprise!
We simply make decisions that will bring us on a different path toward the same goal. And we'll arrive with a different set of experiences.
THAT'S ALL. No drama. No blaming. No giving away power. No breaking boundaries.
And we get to be as connected to Spirit and to self and to others as we want.
So I'd like to help you with the first steps of shifting your life to move in the direction of your dreams.
Are you interested?
Join me and check it out!
My mission in life is to help you create the life of your dreams.
Hi, I'm Baylan Megino!
I'm an executive coach and the founder of Global Dream Makers.
Have you noticed that that sometimes when we go for a goal and get near the top - or perhaps we're already there - we look around and realize,
"This isn't quite what I expected"
or we wonder,
"Did I climb the wrong mountain?" 
Or perhaps we have dedicated years to a job, a project, a business, a relationship, and suddenly life turns and we're "free to pursue our future" - whether we want to or not?
In these times, I find there is a period when it feels like we've lost our sea legs, when the world is fuzzy and we're in a kind of fog.
We are Unfocused, Unclear, Unhappy, Uncertain
and
Don't have a Clue about where to begin.
That's where I can help.
I specialize in helping bring Clarity and Organization to the Chaos.
That's why I created this 7-day Journey.
You don't have to keep trying to move forward, but end up taking 3 steps forward and 2 steps back.
While I know each person's situation is unique, I've been is so many life situations and transition - for far too many more times than I'd like to admit, with:
- Relationships, Marriages, Parenting
- As an Employee, and an Employer
- Through Beginnings, endings, and transitions to new chapters,
- Finding what is True for Me and What Works to make me Happy
- Connecting and Aligning with my Spirit
- Accessing Ancient Wisdom
- Learning and Engaging Universal Laws and Principles
- Creating the World I Envision
I've Been There.
My life experience includes being in many worlds and roles:
* Small Business, Corporate, Entrepreneurship, Community Leader
* Architecture/Design, International Finance, Venture Capital,
* Construction/Design-Build, Alternative Healing, Coaching
* Speaker, Podcast Host, Summit Host, Wife and Mother
I've done all that and found a way through to the other side!
In navigating my way through, I've discovered
there are certain principles and ways of shifting and organizing our thinking that make the transition a better experience.
When you follow a specific pattern in a specific way, moving forward you have
Clarity. Focus. Happiness.
Even Peace!
And these can be your experience too!
I'm here to tell you that there is a way through this unsettling, uncertain time.
And I'm ready to guide you through.
Are YOU Ready to Shift Gears and
Get Back on Track
with your Life and Your Dreams?
***
Sign up to join us on this 7-day journey and we'll send you the email and information!
My mission is to help more people create the life of their dreams
- Are You Ready?
See you soon!
Abundant Blessings,
Baylan
About the organizer
Global Dream Makers are part of a Movement started to support people in creating their dreams. Founded by Baylan Megino, our talks, workshops and retreats help you define and design your answer to the question, "What's Your Dream?" You Have a Choice!