Description
Course Overview for Staing a Nonprofit 101 Class
This course is scheduled to run in Salisbury, MD Monday evenings from 9/7-10/12
Below is an outline of the course overview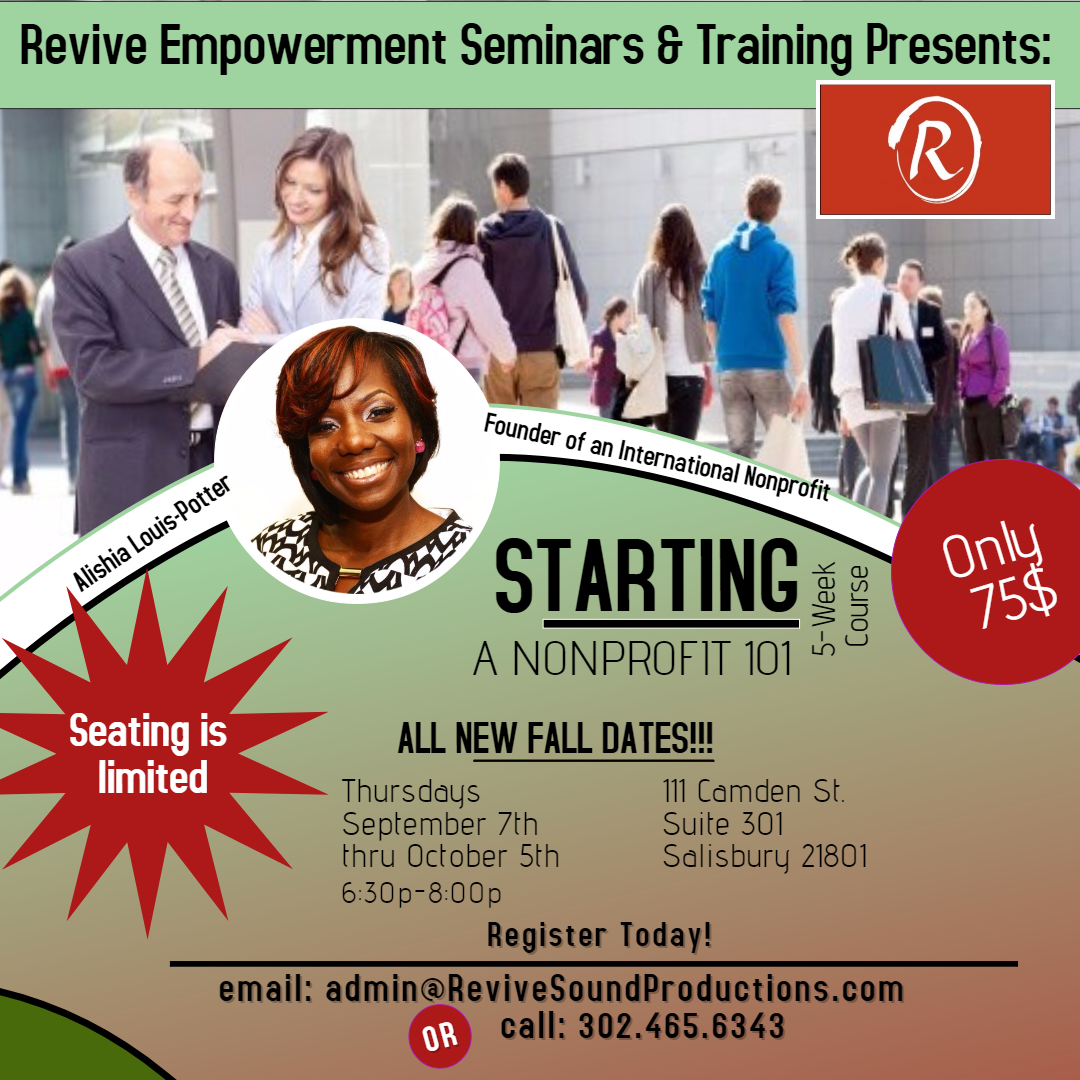 Starting a Non-Profit Organization 101
Instructor: Alishia Louis-Potter, MS
This class' objective is to teach students the basic foundations of starting their own non-profit organization from the foundation up. Students will learn how to create a Mission and Vision Statement, how to create a Board of Directors, and an Advisory Board, and what is required by Internal Revenue Service in order to obtain true non-profit status with the Federal Government.
Lesson 1
Exploring your passions for starting a non-profit organization: Whether you are a person whose passion lies in creating an organization that helps in an emergency, someone who longs to engage and encourage the human spirit or the one who wants to educate while shaping values and goals, this exploratory lesson will engage and ignite your enthusiasm. Or then again, maybe your special talent lies in promoting places, people, and things. Whatever brings you to creating your own non-profit, we are here to guide you along the way. In this first lesson, we'll go over some basic nonprofit language. And take a look at why you want to start a nonprofit. We will conclude with ways to obtain your goals. Our goal is to help you to be able to speak exactly and professionally in the language of your peers.
Lesson 2
Do you know what your organization's mission statement will be? What exactly is a mission statement? Is a mission statement different or the same as a vision statement? Do you even need a vision statement? In this lesson you will get those questions answered. And you will also discover the keys to developing a clear and concise mission statement that will get people excited about what your non-profit is doing and buy in to its vision.
Lesson 3
It is important when developing your non-profit organization to understand how to set up a viable and working non-profit board of directors. You will come to understand the importance of the work your board is called to do and the role you will play in helping the board you select to be greater than they thought they could ne. This lesson will uncover some of the myths about board expectations, and create a meaningful and productive team.
Lesson 4
In this lesson you will learn the governing documents of a nonprofit are its tools of control. Every nonprofit must use two main documents: Articles of Incorporation and bylaws. These documents set the ground rules by which your members and the board of directors must operate. If your organization is ever taken to court for IRS violations, these are the standards that the courts will judge you on. Today, you'll create your very own bylaws and articles. In this session you will start writing your personal narrative to the IRS, a requirement piece of the initial application for tax-exempt status.
Lesson 5
This lesson's focus is on understanding fundraising, and understanding why you need a fundraising strategy, and why the board of directors, the executive director, members, and volunteers all have a place in the fundraising program. We will discuss the importance of developing a budget. Nonprofits are expected to spend carefully, honoring the trust others have placed in them. As a result, you need to be especially brilliant when it comes to budgeting and living within your means. Developing budgets that work is a critical part of your upcoming responsibility, and you'll explore exactly how to do that in today's lesson.
Lesson 6 (Optional)
One-on-one to strategically review your personal narrative to the IRS.
Date and Time
Location
Refund Policy