Startender's Club: Bartending & Mixology Course 101 ( August 17th 2pm-5pm)

Multiple Dates
Event Details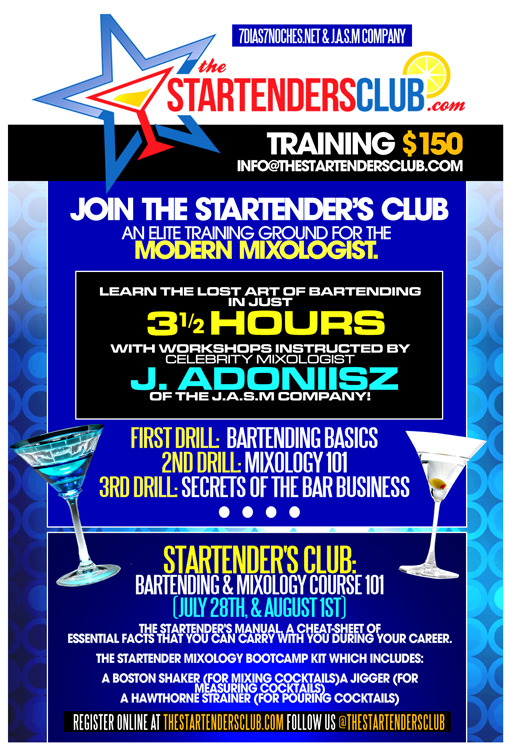 WELCOME TO THE
STARTENDER
S CLUB's MIXOLOGY BOOTCAMP!
Did you know that Federal Law doesn't require you to have a so-called Bartender's License?  So why pay $500+ to get one and waste months of your time?
Now for the first time train to become a professional bartender in just 3 and a half hours...for half that price and become a SMB
STARTENDER
! 
With the
Startender
's Mixology Bootcamp you can train with celebrity mixologist J. Adoniisz founder of NYC's Luxury Cocktail brand: the J.A.S.M Company, to become a pro behind the bar and
start
concocting world class libations with ease!
In our hands-on Startending Drills and small groups, you can skip the boring history lessons and mob of students and touch upon the essentials of becoming a mixologist right away.
First Drill:  BARTENDING BASICS
Covers basic bartending skills and terminology.  This workshop also helps to familiarize apprentices with the anatomy of the bar and bar tools.  This workshop touches upon the basics of spirits, liquors and wine.
2nd Drill: MIXOLOGY 101
Touches upon cocktail construction, pouring, classic cocktails from around the globe and exotic cocktail mixology.  This course also offers insight on developing your palette and flavor pairing and a concise history of the world's best known cocktails.
3rd Drill: SECRETS OF THE BAR BUSINESS
Involves the mathematics behind a successful beverage program.  Bottle pricing, profit margins,  the structure of bar promotion, public relations campaigns and management skills are also touched upon.  The profit structure of a bar is discussed in detail here.
And that's it.  Right away you'll receive:
-The
Startender
's Manual, a cheat-sheet of essential facts that you can carry with you during your career.
-The
Startender
Mixology Bootcamp Kit which includes: 
A Boston Shaker (for mixing cocktails)
A Jigger (for measuring cocktails)
A Hawthorne Strainer (for pouring cocktails)
Our STARTENDER's DRILLS are in very small groups, space is very limited. Reserve your seats now!
MUST BE 18 YEARS OLD or OLDER

Have questions about Startender's Club: Bartending & Mixology Course 101 ( August 17th 2pm-5pm)?
Contact 7dias7noches
Startender's Club: Bartending & Mixology Course 101 ( August 17th 2pm-5pm)