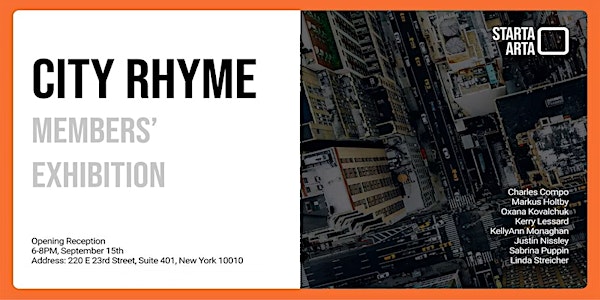 StartaArta Exhibition CITY RHYME
Join us for the opening reception on September 15th, 6-8PM
When and where
Location
220 E 23rd St 220 East 23rd Street Suite 400 New York, NY 10010
About this event
Exhibition CITY RHYME at Starta
New York is visually stimulating. Each neighborhood comes together to define the city and is made of unique character and fabric. New York can be chaotic or orderly, frenetic or calm or all of these at once woven into an incongruous tapestry. The vastness of the Manhattan scope is balanced by the intimacy of each individual's vision within it. Every person making up the city mosaic has their own independent version of New York. This condition is celebrated in this exhibition.
Open from September 15 to September 23
Reception: September 15, 6pm-8pm
The exhibition is curated by Anna Fateeva. The artists featured are Charles Compo, Justin Nissley, KellyAnn Monaghan, Kerry Lessard, Linda Streicher, Markus Holtby, Oxana Kovalchuk and Sabrina Puppin.
StartaArta fosters an environment of trust where artists at all levels of their career can share their art, gain exposure to new opportunities and make connections to different communities and industries.