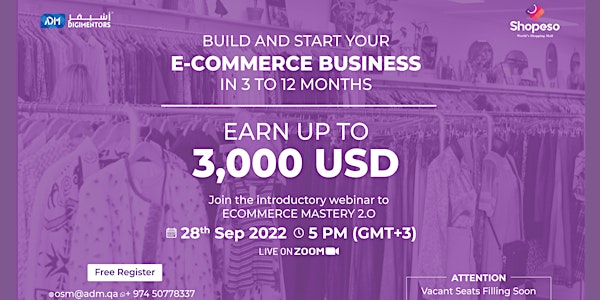 Start Your Dream Ecommerce Business From Scratch
Do you want to embark on your own business venture but don't know where to start? Take this opportunity to turn that dream into a reality!
About this event
Attend the Introduction To Ecommerce Mastery 2.O Webinar and set your path to a successful and profitable Long Term Ecommerce Business in 2022.
Here's your chance to learn the key to starting an online business with the right resources, skills & connections at your disposal, to help you figure out a low-cost path to a sustainable and profitable new business.
Receive the proper guidance and support from our side to venture into your entrepreneurship journey.
Take the first initiative and join the meeting on the 28th September 2022 at 5:00 PM GMT +03 and discover how to start an ecommerce business from scratch and build it into the business you desire and dream of.
For more information on this webinar visit our website at osm.qa/ecommercemastery and book your seats!