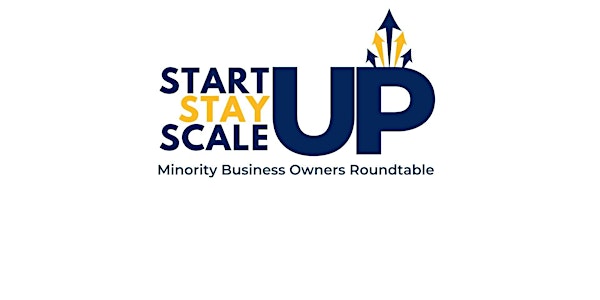 Start Up, Stay Up, Scale Up Monthly Minority Business Owners Roundtable
Come join us for this free in person roundtable! Each month we discuss topics that uniquely impact the minority business owner.
When and where
Location
Bessie Smith Cultural Center 200 M L King Blvd Chattanooga, TN 37403
About this event
Come join us for the last Minority Business Owner Roundtable of the year !!!
We invite you to come celebrate and share your successes since being a part of the roundtables. We also want you to invite new and aspiring minority business owners to come and find out about the new and exciting plans for the upcoming year!!!
There will also be a time for all the attendees at the roundtable to share information and introduce their businesses and to share the impact that these roundtables have made in establishing relationships and building the essential social capital necessary to move their businesses forward!
Of course ,as always, we will have an extensive question and answer as well as comment period so please feel free to come prepared to ask questions and to share your business experiences with your fellow minority business owners and gain peer to peer knowledge as well.
Remember this is your business community and we are always stronger together!
Again, the roundtable is free and open to the public. Please invite your friends and other aspiring business owners to register to attend with you.
Doors open at 5:45pm and the roundtable will begin promptly at 6pm! Please be on time and come prepared to make phenomenal connections!
Featured Entrepreneurial Spotlight: Chanda Chambers, Chamber Welding & Fabrication Corp.
A light meal will be provided by Tacia Taylor, Owner: Nola Girls Gumbo
This is a Supplier Diversity Initiative.
Monthly General Roundtable Description:
The purpose for the Start Up, Stay Up, Scale Up, Monthly Minority Business Owners Roundtables will be to address topics each month that focus on the different stages of business- Start Up, Stay Up, and Scale Up and how these topics uniquely impact the minority business owner . The topics identified will be based on the needs of the attendees and the goal will be for business owners to leave with tangible tools that will make them feel inspired, supported and empowered to move their businesses forward!
Each Roundtable will feature:
A consultant led topic around the Start Up, Stay Up and Scale Up phases of business that uniquely affects the minority business owner.
A time for participants to register their businesses with the City of Chattanooga's Supplier Registry on site and sign up for Doing Business with the City Sessions. Also, other entities will be invited to be on site periodically to talk to attendees and to enroll in their supplier diversity programs as well.
An Featured Entrepreneurial Business Owner Spotlight, discussing their journey, business and their products. Products will be given for registered attendees to sample as are applicable and available.
A question and answer period so that we can tailor what is presented to the needs of the attendees.
A socially distanced, Covid conscious, in person environment that will feature a free evening snack or lite meal as available.