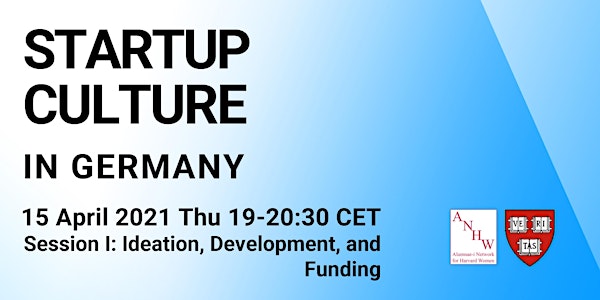 Start-Up Culture in Germany: Ideation, Development, and Funding
The Alumnae-i Network for Harvard Women Germany & Harvard Club of Munich present a panel discussion on Germany's start-up environment
About this event
The Alumnae-i Network for Harvard Women Germany and Harvard Club of Munich are hosting a panel discussion series on the start-up environment and culture in Germany. Our goal is to gather leaders and stakeholders in the start-up space together with a virtual audience of the Harvard Community to discuss the start-up scene and important topics within the field.
Session 1 - Ideation, Development, and Funding: The first panel discussion series features leaders and stakeholders involved in start-up ideation, development, and funding. This panel will feature stakeholders from incubators, accelerators, investors, and funding organizations. Featured panelists include:
The session will be moderated by Jeewon Paek and Lauren Tonti.
15 April 2021 | 19:00 - 20:30 CET