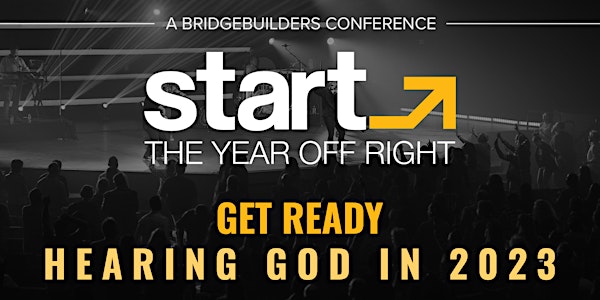 Start the Year Off Right 2023
Cindy Jacobs, Dutch Sheets, Gene Bailey, Lance Wallnau, Isaac Pitre, & Chuck Pierce will be sharing what God is saying for 2023.
When and where
Location
Zion City (formerly Victory Worship Center) 2561 Ruthrauff Rd Tucson, AZ 85705
About this event
Don't Miss a Single Session of This Unforgettable Gathering!
January 19-21
General Conference Sessions Only (Thursday & Friday nights / Saturday morning) — FREE
Thursday and Friday nights - 7:00 to 10:00 PM / Saturday morning – 9:00 AM to 12:30 PM
• Be part of the Southwest's most exciting regional gathering as we come together to hear the word of the Lord for 2023 on Thursday and Friday evenings and Saturday morning with Cindy Jacobs, Isaac Pitre, Dutch Sheets, and Chuck Pierce
• Encounter the Lord in intimate worship and be refreshed for the coming year!
• REGISTRATION REQUIRED even though the general sessions are free.

FULL Conference Package: $49 (Lunch Included)
General Sessions + Friday Morning Prophetic Summit and Afternoon Workshops
January 20
8:30 AM to 3:30 PM
• Friday morning is a special prophetic session with Dr. Lance Wallnau on "Hearing God in Tumultuous Times."
• These extended sessions will help you make sense of the current worldwide shaking.
• You will discover your role and the role of the church in this season. Come expecting to get a fresh revelation of what God is calling you to do in the future.
• These sessions will encourage and empower you, and launch you into 2023 with fresh momentum!
• Lance is well-known for his poignant illustrations and drawings that will help you see God's patterns and will bring you clarity and hope in these chaotic times.
• Passionate worship with Nestor Gonzales and the Zion City team, where they are experiencing a fresh outpouring of God's Spirit
• Book signings and refreshments at the break; afternoon workshops you don't want to miss!

Special Saturday Evening Worship and Prophetic Night — (Pizza included)
January 21
6:30 to 8:30 PM
• Prophetic ministry by Cindy Jacobs
• Teaching by Isaac Pitre on "Discover Your Divine Identity"
• Worship along with other youth and young adults
• One-on-one time with speakers
For Ages 12-22 | Free Pizza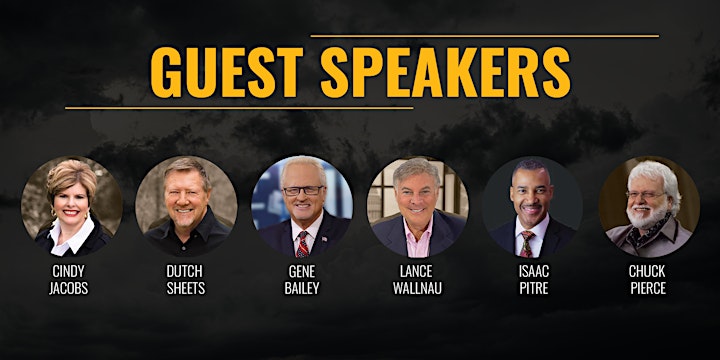 Cindy Jacobs is an author, teacher, and pioneer of the intercessory prayer and prophetic movements. She and her husband, Mike, are co-founders of Generals Int'l, a ministry taking Cindy to more than 100 nations where she has spoken before hundreds of thousands, including heads of nations. She has been recognized by Charisma magazine as one of 40 People Who Radically Changed Our World. She is the author of eight books, including the bestselling Possessing the Gates of the Enemy, The Voice of God, The Power of Persistent Prayer, and her newest book, Reformers Arise.
Dutch Sheets is an internationally recognized author, teacher, and conference speaker. His "Give Him15" daily devotional is watched and listened to by nearly 500,000 followers. He is a messenger of hope for America, encouraging believers to contend for awakening in our day and reformation in our lifetime. Dutch has written more than 20 books, many of which have been translated into 30 languages. His international bestseller, Intercessory Prayer, has sold more than 1 million copies worldwide. His book, An Appeal to Heaven, has launched a movement to pray for America to return to her godly roots.
Gene Bailey is best known as the host of FlashPoint and Revival Radio TV on the Victory Channel. Dr. Bailey is the author of FlashPoint of Revival: The Third Great Awakening and the Transformation of Our Nation. His award-winning Revival Radio TV series explores the history of spiritual awakenings and Christian revivals, past and present. He serves as executive director of Kenneth Copeland Ministries.
Lance Wallnau is an in-demand executive coach and corporate consultant, having worked with the United Nations, Fortune 100 companies, governments, and non-profit agencies around the world. Lance blends his background as an executive and entrepreneur with experience as a dynamic pastor to coach believers in how to expand God's Kingdom in their sphere of influence. His anointed presentations captivate his audiences by humor, illustrations, and fresh vocabulary, which penetrate the heart with incredible authority, clarity, and personal application.
Chuck Pierce is an international speaker known for his accurate prophetic gifting, which helps direct nations, cities, churches, and individuals in understanding the times and seasons in which we live. He is the author of 22 books, including The Future War of the Church, God's Unfolding Battle Plan, A Time to Triumph, and his newest book, Prayer Altars. Chuck is president of Glory of Zion International, Kingdom Harvest Alliance, and Global Spheres, Inc. These three ministries are housed at the Global Spheres Center in Corinth, Texas.
Isaac Pitre is a prophetic teacher, conference speaker, and brilliant author. His newly released book, Take Back Your Authority (Destiny Image), will be available at the conference. He is President of Isaac Pitre Ministries, Inc., Founder and Apostolic overseer of Christ Nations Church, Inc., and the leader of II Kings Global Network based in Dallas, Texas.

Thursday, January 19
Evening Conference Session
6:00 PM -- Check-in and Walk-in Registration
6:30 PM -- Doors Open & Worship Begins
7:00 PM - 10:00 PM -- Worship and General Session w/Cindy Jacobs and Isaac Pitre. Be sure to bring your whole family to this opening session.
Friday, January 20
Prophetic Summit Special Sessions
7:30 AM - 8:30 AM -- Check-in and Walk-in Registration
8:30 AM - 12:00 PM -- Prophetic Summit w/Lance Wallnau: "Hearing God in Tumultuous Times "
12:00 PM - 1:30 PM -- Lunch Break
1:30 PM - 3:00 PM -- Speaker Panel: "What is God Saying for 2023 and How Should We Respond?" Cindy Jacobs : "Consensus of What Prophets Around the World are Saying."
3:00 PM - 4:00 PM -- Gene Bailey: "What Will It Take to See the Third Great Awakening and the Transformation of Our Nation?"
Break
4:00 PM - 6:30 PM -- Dinner Break
Evening Conference Session
6:00 PM --Check-in and Walk-in Registration
6:30 PM -- Doors open - Worship Begins
7:00 PM - 10:00 PM -- Worship and General Session w/ Dutch Sheets and Chuck Pierce
Saturday, January 21
Morning Conference Session
8:00 AM - 9:00 AM -- Prophetic Prayer and Worship facilitated by Zion City, culminating their 21-day fast leading up to Start the Year Off Right.
9:00 AM - 12:30 PM -- General Sessions w/ Dutch Sheets, Chuck Pierce, and Isaac Pitre
6:30 PM - 8:30 PM --"BRANDED by God" Worship & Prophetic Night - Youth & Young Adults with Cindy Jacobs and Isaac Pitre (ages 12-22) Everyone welcome!

Country Inn & Suites Tucson City Center - 705 N Freeway Rd
(Approximately 6 miles to Zion City)
Reservations Link: Country Inn & Suites STYOR 2023
Rate: 1 King bed - $149 / 2 Queen beds - $169 (Parking and full breakfast included) (Rate ends January 4)
Only a few rooms left.
Questions: Call 520-867-6200 (Mention "BridgeBuilders)
________________________________________________________________________________
Hampton Inn & Suites - 6300 West Marana Center Blvd
(Approximately 9 miles to Zion City) (Convenient hotel for those traveling from the Phoenix area, with easy access to I-10)
Rooms may still be available at the standard rate. To inquire, call 520-572-1010)
________________________________________________________________________________________
JW Marriott Star Pass Resort & Spa - 3800 W Starr Pass Blvd
(Approximately 10 miles to Zion City)
Rate: $229 per night + $35 nightly resort fee (Rate ended DECEMBER 23). Rooms may still be available at the standard rate.
Reservations Passkey Link: JW Starr Pass Marriott/STYOR 2023
Reservations Center: 888-527-8989 (Mention "BridgeBuilders Intl")
7 days cancellation policy