Description
The stArt of Cool Jazz Camp is now accepting applications for music students grades 5-12 for our upcoming jazz camp at NCCU June 24th-28th. This partnership program will enroll beginning players to advanced players for one week with a final recital to conclude the week's instructional activities at 5pm on Friday June 28th in BN Duke Auditorium. The camp will run from 9am-4pm Monday-Friday with the final performance being a mandatory activity for all students. Instruction ends at 4pm and aftercare is available until 5:30pm. All students must be picked up no later than 5:30pm.
Daily activities for the camp include an introductory class where instructors will perform the week's music for students. Next the class will be divided into small performing groups (i.e., combo groups) based on experience level. After meeting with their combo groups, students will have their first group lesson with an instructor who specializes in their instrument. At the conclusion of the lunch hour guest teaching artist(s) may be invited to perform and conduct a workshop on a range of topics including the performance history of artists like Nina Simone, music production and beat making. (Please see sample schedule below)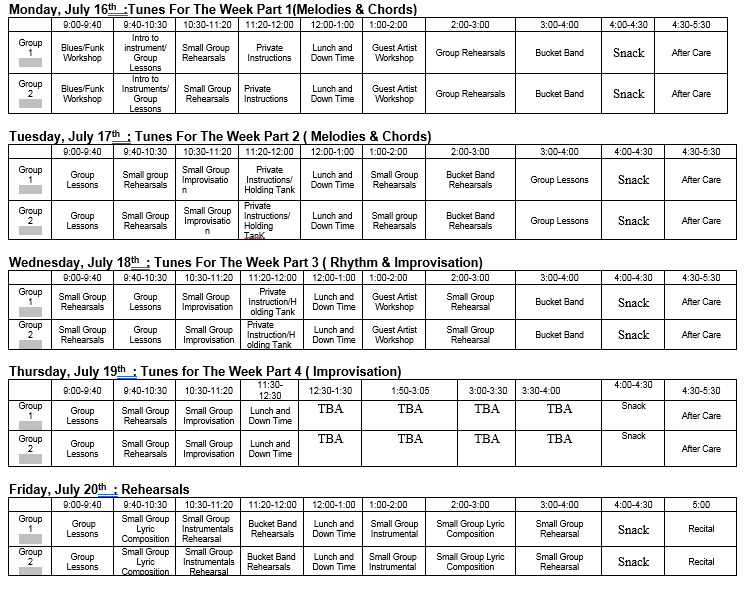 The camp schedule is subject to change throughout the day based on the needs of the camp and students as they prepare for the final recital.
Experienced players who have instruments are encouraged to bring those instruments to camp. Based on the questionnaire that is available at payment checkout, instruments will be provided for beginning students who do not yet own or rent their own instruments.

Students will be asked to eat breakfast before arriving and bring their own packed lunch and a few snacks. Some snacks and food will be provided through local sponsorships throughout the week but the expectation will be that campers will bring lunch and snacks.
Special Thanks to:
Art of Cool Project Team of Cooligans
Music & Arts
Dr. Cicely Mitchell
NCCU Music Department & Jazz Studies Program
Eric Waters Photography (photo credit)
Susan Rosenthal and Michael Hirschfield
Marion Wing
Quince Brinkley