Description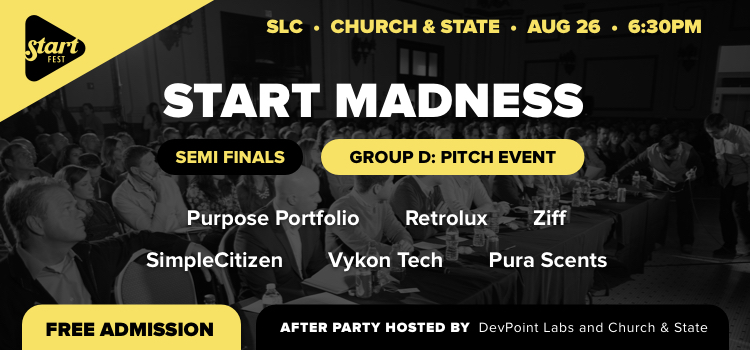 6:30pm: Food truck roundup and networking
7pm: Pitches will begin
8:15pm: Winners announced
AFTER PARTY - Presented by DevPoint Labs and Church & State
---------------
Start Madness, a $150K startup competition running in conjunction with StartFEST, is off to a great start. We had more than 160 startups enter, and 100 of those made it to the qualifying round.
Over the past month, all qualifying startups have presented in front of 12 of Utah's most respected venture capital firms for a chance to make it past the qualifying round and into the semi-finals.
Only six startups from each of the four groups have advanced to the semi-finals. Group A will do live pitches during this event. Two startups will advance from Group A to the Start Madness Finale.
Semi-finalists from Group B include:
Purpose Portfolio
Retrolux
Ziff
SimpleCitizen
Vykon Tech
Pura Scents