Description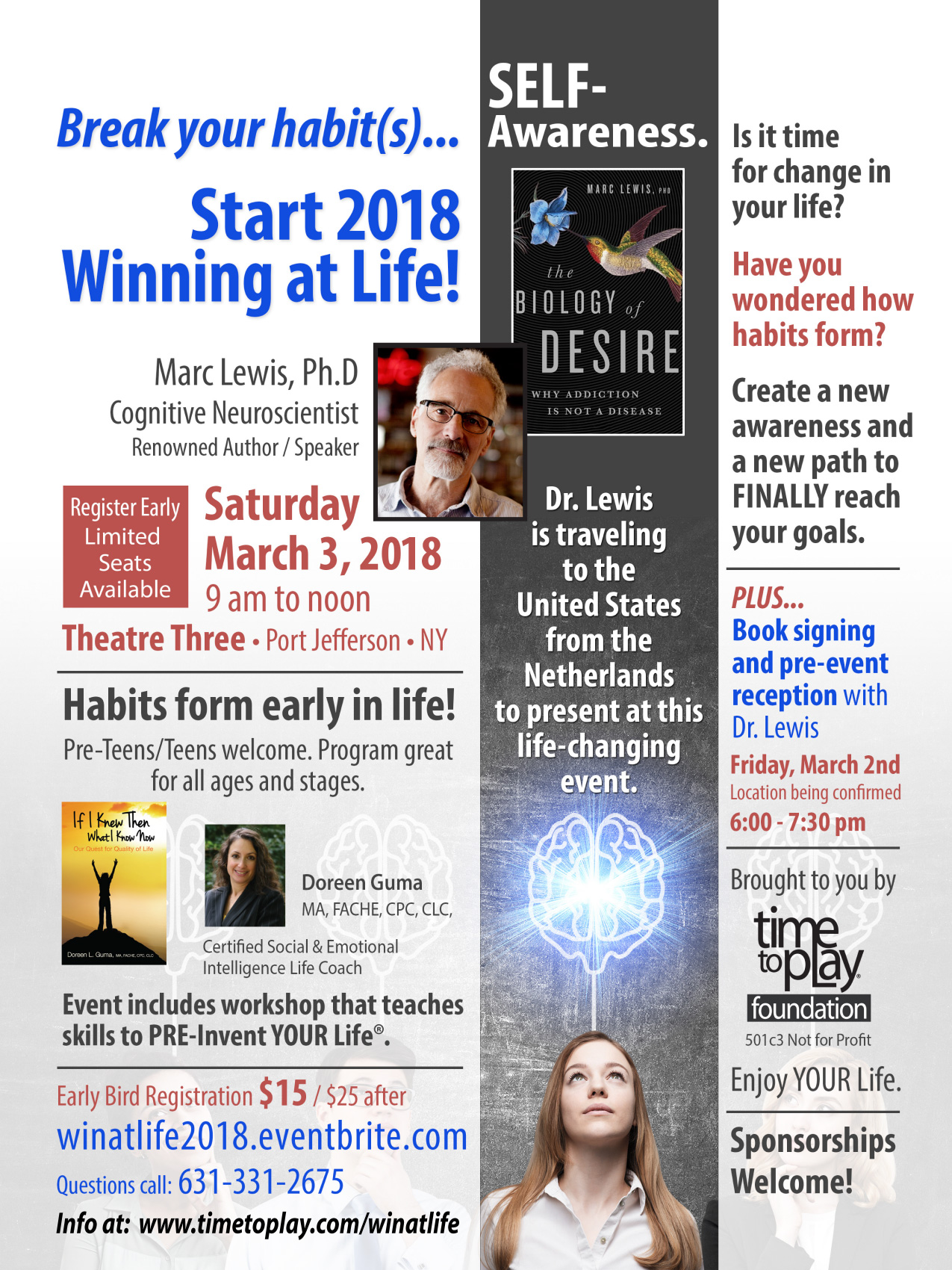 OUR HABITS AND WAY OF THINKING CAN HELP US OR HURT US IN OUR ABILITY TO ENJOY LIFE AND REACH OUR GOALS.
The Time to Play Foundation is proud and excited to announce that renowned author and international speaker Dr. Marc Lewis will be flying in from the Netherlands to speak at Start 2018 Winning at Life to be held Saturday, March 3, 2018 at Theater Three in Port Jefferson Village New York from 9 am to noon.
Dr. Lewis is a professor of developmental psychology and neuroscientist. He has written books and numerous articles on developmental psychology and emotion. His most recent book is The Biology of Desire. More About Dr. Lewis
# # #
WHY THIS SEMINAR WILL CHANGE YOUR LIFE:
We know that our thinking and habits can help us or hurt us in our ability to enjoy life and reach our goals. We also know that different people develop different habits or addictions throughout life due to their life experiences and/or learned behavior or awareness.
At this perhaps life-changing event, Dr. Lewis will share how his research shows that brain changes that go with habits and addiction indicate plasticity in response to strong attractions in a brain that keeps developing. Our brain changes through education, and Dr. Lewis' research will aid attendees in changing their habits through awareness and tools for empowerment, insight and growth.
**Learn how habits and brain pathways are formed will guide you FINALLY to break the cycle and to win at life.**
**Learn the awareness you need to create the habits that will work for YOU!**
# # #
Early bird registration: $15 | $25 after 2/12/18 — register at www.winatlife2018.eventbrite.com
Sponsors Needed: Please call 631-331-2675 for more information
Proceeds from the event after expenses will be donated to the Time to Play Foundation, a not for profit 501c3 advocacy organization with the goal to enrich the lives of individuals and communities through programs, public awareness outreach, events and learning opportunities that further the concept of enjoying life.
No refunds will be provided and will be gratefully accepted as a donation to the Time to Play Foundation in order for us to continue helping others.