Event Information
Location
The Regent Theater
448 S. Main St.
Los Angeles, CA 90013
About this Event
Starset
Transmission received. Starset's new sonic codex, Vessels, builds upon a schema where futurism has become fact and imagination is opportunity. The sophomore release from Starset's aural architect, Dustin Bates, is a data-stream-rendered-in-sound where Bates' plaintive howl becomes the deus-ex-machina in an age of information overload - the wail of a ghost in an increasingly complex yet ultimately human machine.
Starset's 2014 Razor & Tie debut, Transmissions introduced not only Starset but also The Starset Society, a shadowy, anonymous-like group of real-world rooted scientists admonishing the dangers of technology and dystopia gone amuck. Now, just a mere two years later, we are seeing Bates' scientific speculation become science fact. While fully fleshed-out in his recently self-published novel, The Prox Transmissions, Bates' lyrical themes of exo-planet discovery and colonization, coupled with the impact of rapid advances in technology including 3-D printing, are proving Starset a truly visionary multi-media collective.
While Transmissions was indeed a landmark album, selling in excess of a quarter million combined albums, streams and downloads, and propelled by singles including the unforgettable "My Demons" (which spent an unprecedented 43 weeks scaling rock charts), Bates approached Vessels with a singular intent on pushing boundaries.
Once again produced by Rob Graves (Halestorm, Red) and mixed by Ben Grosse (Breaking Benjamin, Filter) the results speak for themselves. From atmospheric opener, "Back To The Earth" to the driving hooks of the album's first single, "Monster" to the catchy, nearly progressive moments of "Frequency," Bates has succeeded in escaping the gravity of formula radio rock. Instead, he has reimagined his genre-defying vision as an arena where Hans Zimmer interfaces with Radiohead and Trent Reznor.
Where Transmissions' over-arching concept focused on a message from the planet Prox a future haven from a dying Earth, Vessels splits its narrative into an interconnected interzone of four separate dangerous visions. From a return to Prox to an admonishment of the dangers of genetic engineering to a near future where advances in artificial intelligence defy convenient notions of
love, life and death, Bates (who is a PhD candidate in electrical engineering and has done research for the US Air Force) has engineered an aural anthology that will challenge the Starset faithful while delivering on the first album's powerful promise.
In addition to shattering convention on record, Starset's live "demonstrations" are slaked on that same alloy of ambition, technology and raw emotion. With over 300 shows logged to date, Bates and his helmeted-and-pressure-suited crew (bassist Ron DeChant, guitarist Brock Richards and drummer Adam Gilbert) have distinguished themselves touring with the likes of Breaking Benjamin and In This Moment, while igniting audiences on major US festivals including Rock On The Range. However, it was four planetarium performances in 2015 including Boulder, Colorado's Fiske Planetarium and Long Island, New York's Vanderbilt Museum Planetarium that brought Starset's live promise into laser-enhanced, telescopic focus.
What began as a near-planetary collision of sound, vision and iconoclastic ideologies inspired by the likes of Nikola Tesla and Ray Kurzweil (AKA: The Father of Singularity) has taken a bold step forward with Vessels. Starset's message has been received and downloaded. Transmission complete.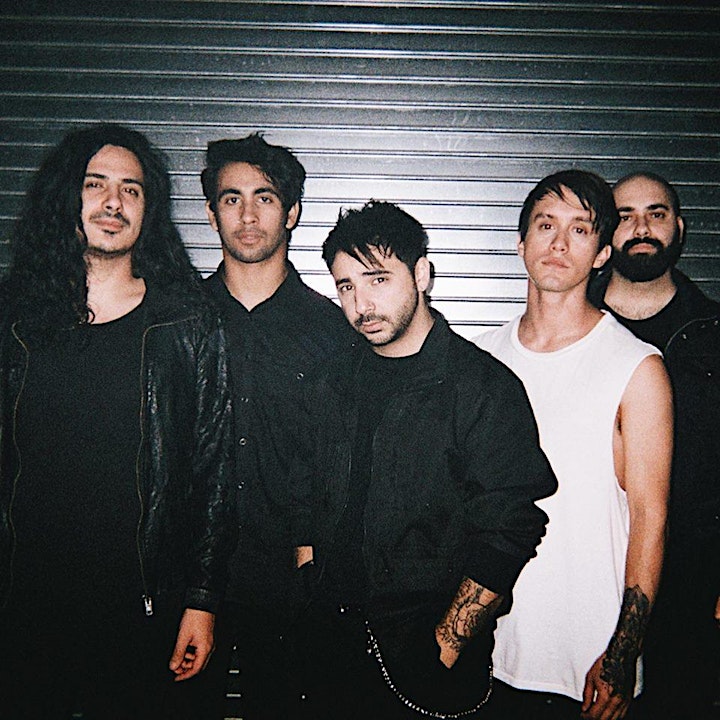 Palisades
When it came time to choosethe artwork for their fourth album Erase the Pain, Palisades landed on an image of the Ouroboros:an ancient symbol depicting a serpent eating its own tail, speaking toan infinitecycle of destruction and rebirth."The idea behind this whole album is that we all experienceso muchpainin life, but it's always possible come out the other side and find happiness," says Miceli. "You don't have to be a prisoner to whatever's happened in your past—you can choose to start over again, and become something new."The most thrillinglyintense releaseyet from Palisades, Erase the Painis pure catharsisin album form. To fullycapture their raw outpouring of emotion, the New Jersey-based band joined forces with Howard Benson (the super-producer known for his work with everyone from My Chemical Romanceto Kelly Clarksonto Head Automatica). Recording at Benson's studio in L.A., Palisades pushed their sound to bold new heights, delivering an album built onbrutal butbeautiful riffs, wildly thrashing rhythms, and soaring vocals that relentlessly channel the hurt and fury withineach lyric.At the same time, Erase the Painfinds Palisadesachieving a greater sophistication in their endlessly melodictake on post-hardcore. To that end, the band embedded the album with inventiveflourishes likehip-hop-inspired beats,as well as intricate texturescrafted with the help of Benson's extensive collectionof synths. In a departure from their 2017 self-titled effort (an album createdwith a host of co-writers), Palisades wrote Erase the Painentirely on their own, purposely bringingan emotional transparencytoeverysong. On thetitle track, that unrestrained honesty takes the form of a darkly charged yet majestic meditation on "being at the ultimate low point in your life, and feeling like there's no way out," according to Miceli. On "War," with its throat-shredding vocals and pummeling riffs, Palisades look at the damaging impact of addiction. "It's about how people get so wrapped up in the things they do to try to numb the pain, they end up destroying their lives and hurting everyone around them," Micelinotes. And on "Patient," Palisades slip into a starkly arrangedand quietly epicballad about a doomed relationship. "It's about being with someone who keeps going back and forth on whether they want to be with you, and how that can feel like sitting in the doctor's office and waiting to find out if you're going to live or die," says Miceli.Elsewhere on Erase the Pain, Palisades reflect onsuch matters as anxiety and depression(on "Run Away," a beat-drivenslow-burner penned by Elgarafter suffering a panic attack on the road) and a friend's thoughts of suicide (on "Fade," a hauntingly
tendernumber that the band is reimagining as a piano ballad for its remix version). But despite its share of heavy-hearted material, Erase the Painalso turns glorious on songs like "Fragile Bones," an irresistibly defiantanthem for staying true to yourself.Throughout Erase the Pain, Palisades infuse each track with an unstoppable energy, revealing the powerful chemistry at the heart of the band. Friends since high school, Adames, Marshall,andRosaplayed together in a series of bands over the years, and crossed paths with Micelion tour in the early 2010s. Within a few months of that meeting, the four musicians teamed up to form Palisadesand soon recorded their self-funded debut EP, which promptly landed them a deal with Rise Records. Making their full-length debut with 2013's Outcasts, the band later completed their lineup with the addition of Elgar, who'd sold merch for Palisades back in their early days.For Palisades, the most memorable moments in the history of the band all center ontheir live performance, including gigsin far-away places like Russiaand appearances alongside legends like Black Sabbath at Download Festival 2016."The shows are always really heartwarming," says Elgar. "We just do our best to connect with our fans while we're up onstage, and after the show we get to hang out with everyone. A lot of times people will tell us that our records havegotten them through breakups or even depression, which is always such a great thing to hear—it's the best feeling to feel likeyou're helping someone with your music."With the release of Erase the Pain, Palisades hope to deepen that connection with their fans, and encourage even more opening-up. "The anxiety of the world is so overwhelming these days, but it's important to talk about what's painful in your life, and that's exactly what we're trying to dowith this album," says Miceli. And as Marshall points out, the making of Erase the Painwas also incrediblytherapeutic for the band itself."Thisalbum helped me get through my own insecurities and depressive moments, and I hope it helps everyone elsetorealize that you don't have to submit to whatever's holding you down," he says. "So if you're going through some hard times and you're doubting yourself, you can just scream along and sing along with all of us,and get back that confidence to take over the world."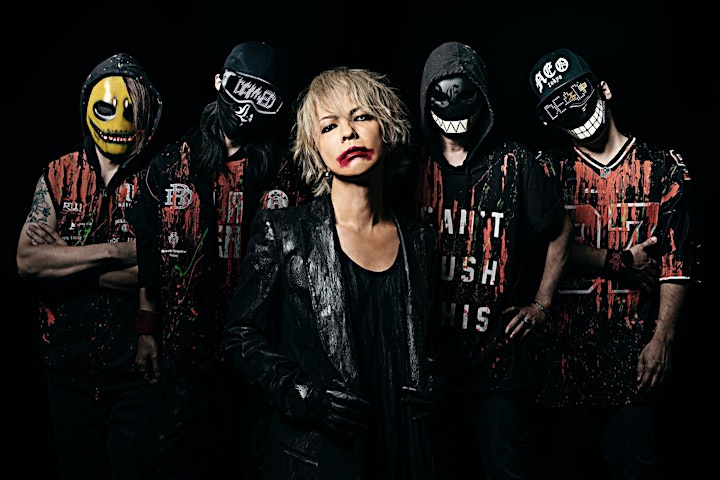 Hyde
HYDE rose to fame as vocalist forL'ARC EN CIEL,a stadium level act and the only Japanese band to ever sell out Madison Square Garden in NYC.L'ARC EN CIEL has released 12 studio albums and 42 singles since the start of their career in the 90's and has sold over 40 million records worldwide. HYDEhas also previously released3 solo albumsverysuccessfully, released ANTI,his first new solo album in 10 years on May 3, 2019 to critical acclaim. Check out this features in Rolling Stoneand on CNN. HYDEwrotesome ofthe new songson "Anti"withDrew Fulk(Crown The Empire, Bad Wolves, Motionless In White) and Nick Furlong(Blink-182, Papa Roach, 5 Seconds To Summer, Diplo),amongst other producers."Afterlight"and "Fake Divine"are 2of those new songs.The album also features focus track "Mad Qualia"from Capcom's video game "Devil May Cry 5". HYDEis known to frequently inviteinternational artists as special guests onto his extensive Japanese tours,e.g.STARSET,IN THIS MOMENT, BUCKCHERRY, HIM, Gerard of MY CHEMICAL ROMANCE, APOCALYPTICA, and SIXX:A.M.to name a few.
A Brilliant Lie
A BRILLIANT LIE is an explosively-energetic alternative rock band from Orlando, FL.
Alongside relentlessly touring the US in support of their current record cycle, the band are working alongside reputable producer, James Paul Wisner (Paramore, Underoath, Hands like Houses) writing and recording their new material.
Having received airtime on many of the Southeast's largest Clear Channel and college radio stations, they're no strangers to the acclamation of the mainstream. Performing alongside the likes of Anberlin, Minus the Bear, Passion Pit and other renowned acts has propelled them to headline performances at the world famous House Of Blues, State Theatre, Freebird Live and numerous sought after music festivals including Sunfest, Florida Music Festival and Rocklahoma.
If they aren't touring in a smelly van, they are probably out giving high fives. Catch A BRILLIANT LIE this year. The hype is REAL.
EVENT DATE, TIME, TICKET PRICE, AND LINEUP ARE SUBJECT TO CHANGE.
The maximum number of tickets available per purchase for each event is the maximum number permitted per customer. Your name, credit card, address, and email address will be verified. Spaceland Presents/The Regent or Eventbrite reserve the right to cancel any orders in excess of the stated ticket limit.
Any tickets suspected of being purchased for the sole purpose of reselling can be cancelled at the discretion of Spaceland Presents/The Regent or Eventbrite.
Performers
Date and Time
Location
The Regent Theater
448 S. Main St.
Los Angeles, CA 90013
Refund Policy