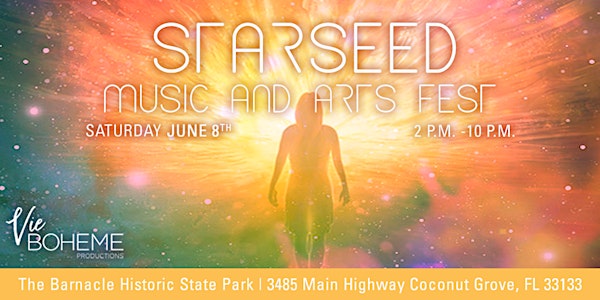 Starseed Music and Art Festival
Vie Boheme Presents Starseed Music and Arts Fest in Coconut Grove
When and where
Location
The Barnacle Historic State Park 3485 Main Highway Miami, FL 33133
Refund Policy
Contact the organizer to request a refund.
About this event
On Saturday, June 8th, Vie Boheme Productions presents Starseed at The Barnacle Historic State Park located in the heart of Coconut Grove. A unique fusion of Artists across multiple platforms. Starseed combines a fully curated art exhibit with a talent-packed live music line-up showcasing our city's best local artists, alongside a beautifully tailored vendor market, local food, installations, and digital creations. Along with the help of our friends @CoconutGroove, this will be an unforgettable experience.
What is a Starseed?
A Starseed is said to be an advanced being that originates from a distant star or far away galaxy and incarnates here on earth. At some point in their existence, Starseeds wake up and remember their earthly mission. So what is their mission and why do they come here? For the same reason many of us do—to assist this planet and all its sentient beings in the awakening and ascension process. We believe music is the key to reaching higher vibrations. Inspired by this concept, Vie Boheme has curated an incredible line-up of artists and musicians that we consider to be our very own starseeds.
Live Music Line-up:
@MeganMorrisonMusic
@RuGracia
@MarquiseFair
@PsychicDove
@TheHoyPolloy
@AlexanderGoldMusic
@JeromeMelo
Electronic:
@PsyRealist
@MarkSalner
@YeshaYahumsc
and more
Art:
@Ocean_man_Arts
@AlvinSurreal
@ArtZelinskaya
and more
Plus 40 unique vendors, delicious food, a beer garden, a botanical bar featuring Cacao, Kava, and other feel good herbs from South Africa. Join us for this growing movement and incredible creative collective!
Connect with us @VieBohemeMiami @CoconutGroove @HistoricBarnacle