Event Information
Refund Policy
Contact the organizer to request a refund.
Eventbrite's fee is nonrefundable.
Have you answered the call? Many Starseeds are waking up to their true nature and love for being an entrepreneur.
About this Event
Starseeds have struggled in the past with trying to fit in. This includes following the masses by having a 9-5 job, told that you have to work hard, in a career they have no passion for, being told that they cannot do what they truly love. I was there too.
Starseed are finally waking up to their entrepreneural selves. We are meant to follow our hearts and do what we love. It's what we came here to do. Many of us may still have fears around, "Can I really do this?" "Is this really the right time?" "How am I going to make this work?"
Others were telling me that there is no way. I knew they were wrong. There was a way. I left a marriage, became a single mom and had zero money to my name. Guess what? I did it!
The passion for what I do burns a constant fire within my Soul. The love for what I do goes into every little detail. This is what I'm meant to do and I trust my Guides with every fiber of my being.
If you're feeling this push, then this is for you. Whether you are just in the thought process or you already have a passion idea in the works. Going with the energetic flow is part of the gig.
Let's step up and shine!
Michelle Weir(Home of Starseeds) is a Lemurian High Priestess, Starseed coach, mentor, channeler, podcaster and the creator & founder of Home of Starseeds. She has been consciously committed to her calling for over 22 years and is here to assist humanity in the Ascension to 5D. Michelle is one of the oldest Advanced Starseeds on Earth. She speaks the language of light & frequency, which brings a very unique style to the way she teaches…spreading love, magic & stardust.
Home of Starseeds - all things Starseed
Starseed School - Starseed Online Courses
All Things Starseed Membership & Podcast
Please read the information below fully BEFORE purchasing your ticket:
IMPORTANT: Please make sure that the name that you use when purchasing your ticket is the same name on your Zoom account for the event. If they are different, you may risk being left out of the Zoom event. If purchasing multiple tickets, please let us know via email all the names of people who are attending.
We ask that all attendees be on Zoom at least 5mins prior to the event start time. If you are late you risk not being let into the event. Under no circumstances will refunds be given to no-show and lates. This course is LIVE and is NOT being recorded.
REFUNDS: Regardless of the reason, we require 48 hours (prior to the event) notice for a refund. If a refund request is made with less notice, no refund will be given.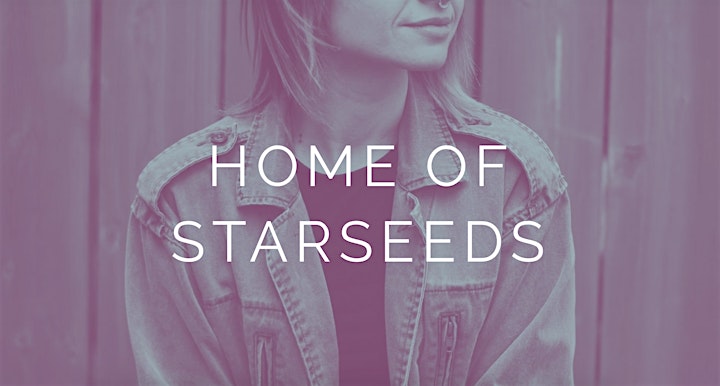 Date and Time
Location
Refund Policy
Contact the organizer to request a refund.
Eventbrite's fee is nonrefundable.