Description


STARS of Santa Barbara & Paso Robles


---
EVENT DATE
______
January 24, 2018


EVENT LOCATION
______
Leica Store and Gallery
8783 Beverly Blvd, West Hollywood, CA 90048


EVENT DESCRIPTION
______
Dedicated to keeping the populous current on the developments growing out of Santa Barbara and Paso Robles, this quality oriented wine tasting event features the namesakes, owners, winemakers, and executives pouring some of the best wine made in California. Paso's continued move upward towards quality oriented wine of place and producer; new sub-appellations demarcated as well as the continued evolution of Santa Barbara with Los Alamos, Santa Rita Hills, Happy Canyon Reds, and all things Rhone in Los Olivos/Santa Ynez. We market this event both for short term gains for the wineries (wine orders) and long term gains for the regions (education, marketing, trips and visits, relationships, and awareness).
Come and meet the winemakers, passionate owners, and the farmers and see why Santa Barbara and Paso Robles deserves a bigger part of your wine budget and why you should plan a number of visits in the months ahead.
SCHEDULE
______
Trade Event:

VIP Trade Tasting: 12:00 PM - 1:00 PM
Trade Tasting: 1:00 PM - 3:00 PM
wineLA will produce a highly effective trade event. Targeting approximate 150 total "quality" attendees. Click here to view a list of previous trade attendees for our past tasting events
Consumer Event / 6:00 pm - 9:30 pm
A high-tier Demo, educationally focused consumer event, reaching out with marketing and PR to our 100,000 consumer audience (combined email and social media). This will be a significant effort and offers the consumers a great value proposition with some of todays' top brands,l a luxary location and a great catering partner.
---
REASONS TO PARTICIPATE
Educate Southern California on the wineries of Santa Barbara & Paso Robles

Efficiency – we bring top trade and consumer audiences to you and you receive contact data post event

Prestigious location and association – we invite the top producers to participate

Wine Audience – we work hard to procure a great wine audience, wine buyers!

Press coverage – magazine partners and possible TV placement of the event

Social Media – we are leaders inside the social media space

Top Trade Accounts – saving time and money in an efficient spend of energy

Benefit charity – your auction item valued at $100.00 or more goes directly to TJ Martell Foundation – Benefiting CHILDREN'S HOSPITAL LOS ANGELES Research efforts towards defeating Children's Cancer –www.tjmartellfoundation.org

T.J. Martell Foundation's federal tax identification number is 51-0180178.
If you need us to pour for you, please plan to send the wine two weeks in advance and notify ian@learnaboutwine.com so we that can properly staff your table with a professional sommelier for a small fee.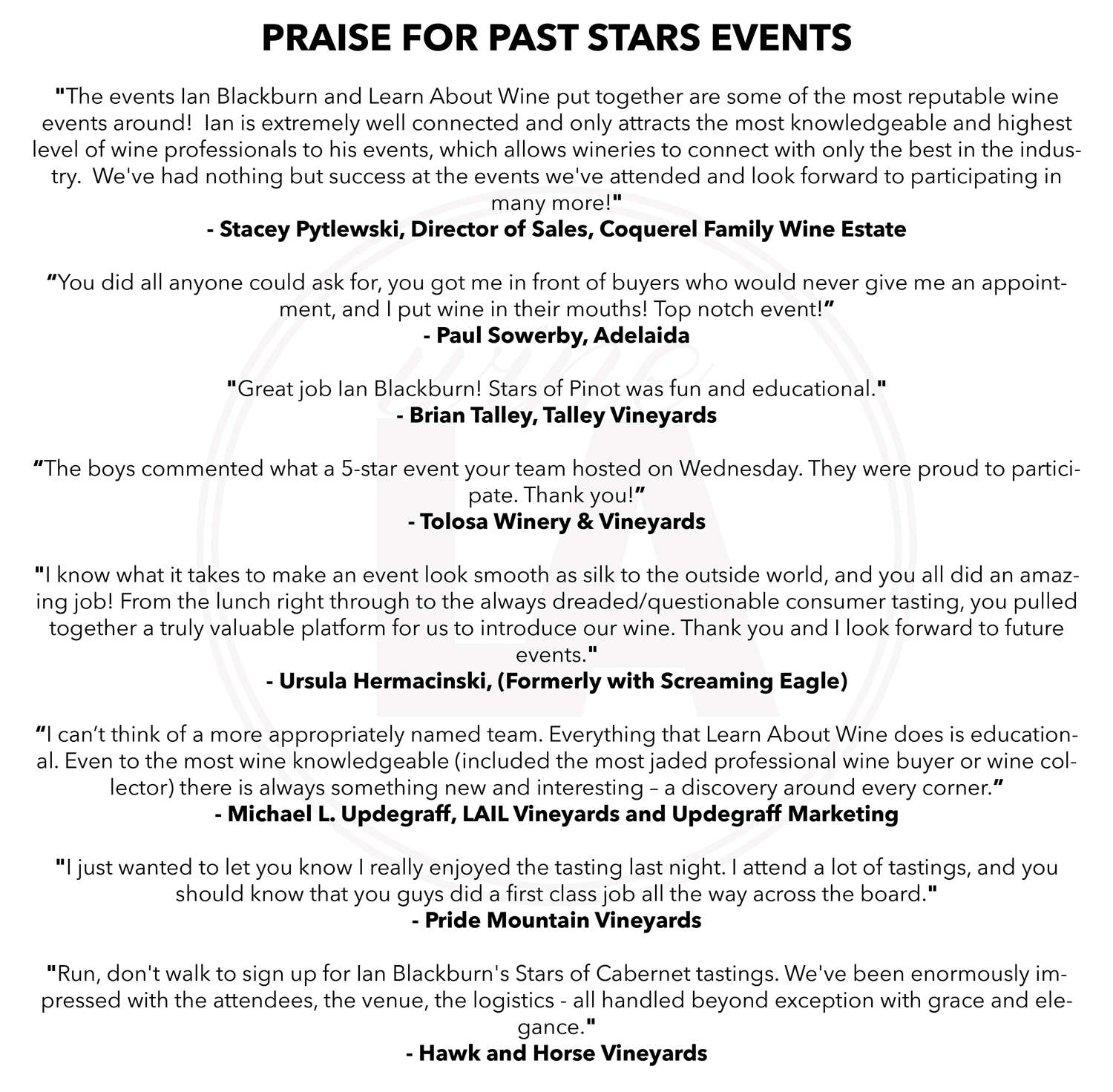 ---
About wineLA
wineLA is about enhancing the wine culture of Los Angeles. To do so, wine must be in rhythm with fashion, music, food and other beverages. It must take advantage of the geography, the architecture and the centers of interest. Los Angeles is a giant playground with an amazing array of venues, spaces, wine bars, restaurants, beaches, roof tops, gardens, and magical views. We want to be a part of the LA lifestyle, the wine lifestyle, and celebrate the people, the place and the passion.
wineLA hosts significant events, occasional classes, and tastings of merit. This is phase two of what we started 20 years ago at LearnAboutWine.com - America's first wine education website and first in wine event creation.