Description
10th Annual
STARS of Cabernet

LA's Greatest Cabernet Gathering

THE BEST IN THE BUSINESS
November 14th, 2018
________________________________________

5-STAR & 5-DIAMOND - PENINSULA BEVERLY HILLS
9882 S Santa Monica Blvd, Beverly Hills, CA 90212

VINTNER SCHEDULE
VIP SOMMELIER LUNCH / 11:15 PM
TRADE TASTING / 1:00 PM - 4:00 PM
VIP ADMISSION / 6:00 PM - 7:00 PM
GOLD ADMISSION / 7:00 PM - 9:00 PM
9:00 - Winerys depart - after party starts
INVITED TRADE ALL DAY

(QUALITY - NOT QUANTITY)
HIGH VALUE - DTC CONSUMERS AT NIGHT
LA's BEST Venue
Limited to 36 Vintner Tables
________
OUR PROMOTIONAL SPONSOR
Returns for the third year running



EVENT DETAILS



OPPORTUNITIES TO CONSIDER
1. If your winemaker or ownership can attend: We will add value marketing for your brand by including them on our ads, it will also improve the guests interest in the event.
2. Proprietors, Proprietor working family member, winery executive or winemaker to pour/ work the event please… the trade and consumers are coming to meet your brand.
3. Know your pricing, know the difference between wholesale and retail pricing - wine sales on paper are an opportunity for each winery to maximize.
4. You can opt to do trade only or consumer only - there are also options to send wine and have our team of professional Sommeliers pour for you.


VIP

6 PM

EXPERIENCE
ALL INTERESTED WINERIES TO PARTICIPATE

ONE SPECIAL RESERVE WINE

(1 wine, 1 bottle or mag) to be poured:

Older Vintage - Large Format - Barrel Sample - Whatever works for your brand. We will be listing this list on the website and adding it to our social media.
- TAKE A LOOK AT LAST YEARS VIDEO BELOW -
---

100% of the silent auction event benefits
TJ MARTELL FOUNDATION for Children's Hospital Los Angeles


EFFECTIVE AND EFFICIENT
Use this day to reconnect face to face with trade - to meet with your distributor - Find needed Brokers and Distributors? Over 400 new restaurants in LA in the past two years… 4 new hotels this year alone!

Connect with LA's affluent, high-end, wine drinking audience

How much time does it take to see 20-30-40 accounts? How much is your time worth?

DTC wine sales encouraged

We give you the trade and consumer attendee contact data! (priceless)

QUALITY OF ASSOCIATION
LA's #1 Hotel - 5-Stars and 5-Diamonds

INVITE ONLY WINERY LIST - quality of association (see who has signed up already?)

Excellent social media and marketing, telling the world "more" about your brand… even if they are not at this event! We work to promote you to a large wine audience.
T.J. Martell Foundation's federal tax identification number is 51-0180178.
If you need us to pour for you, please plan to send the wine two weeks in advance and notify
ian@learnaboutwine.com
so we that can properly staff your table with a professional sommelier for a small fee.
---
2017 PARTICIPANTS
Addendum Napa Valley, Arrowood Vineyards and Winery, Bernardus Winery, CAMi Vineyards, Clos Du Val, Cornerstone Cellars, Derenoncourt (Montesquieu Winery), Duckhorn Wine Company, Dunn Vineyards, Ehlers Estate, Folio Fine Wine Partners, Frank Family Vineyards, Frog's Leap, Gamble Family Vineyards, Garden Creek Ranch Vineyards Winery, Guarachi Family Wines, Hawk and Horse Vineyards, Hertelendy Vineyards, Hess Collection, Hestan Vineyards, JH Collection, La Sirena by E. Barrett, Metaphora Wines, O'Shaughnessy Estate Winery, Oakville Ranch Winery, Rocca Family Vineyards, Silverado Vineyards, Smoking Gun Wines, Mt. Brave Wines, Spottswoode, Pilcrow, St. Supéry Estate Vineyards & Winery, Stanton Vineyards, ZD Wines


---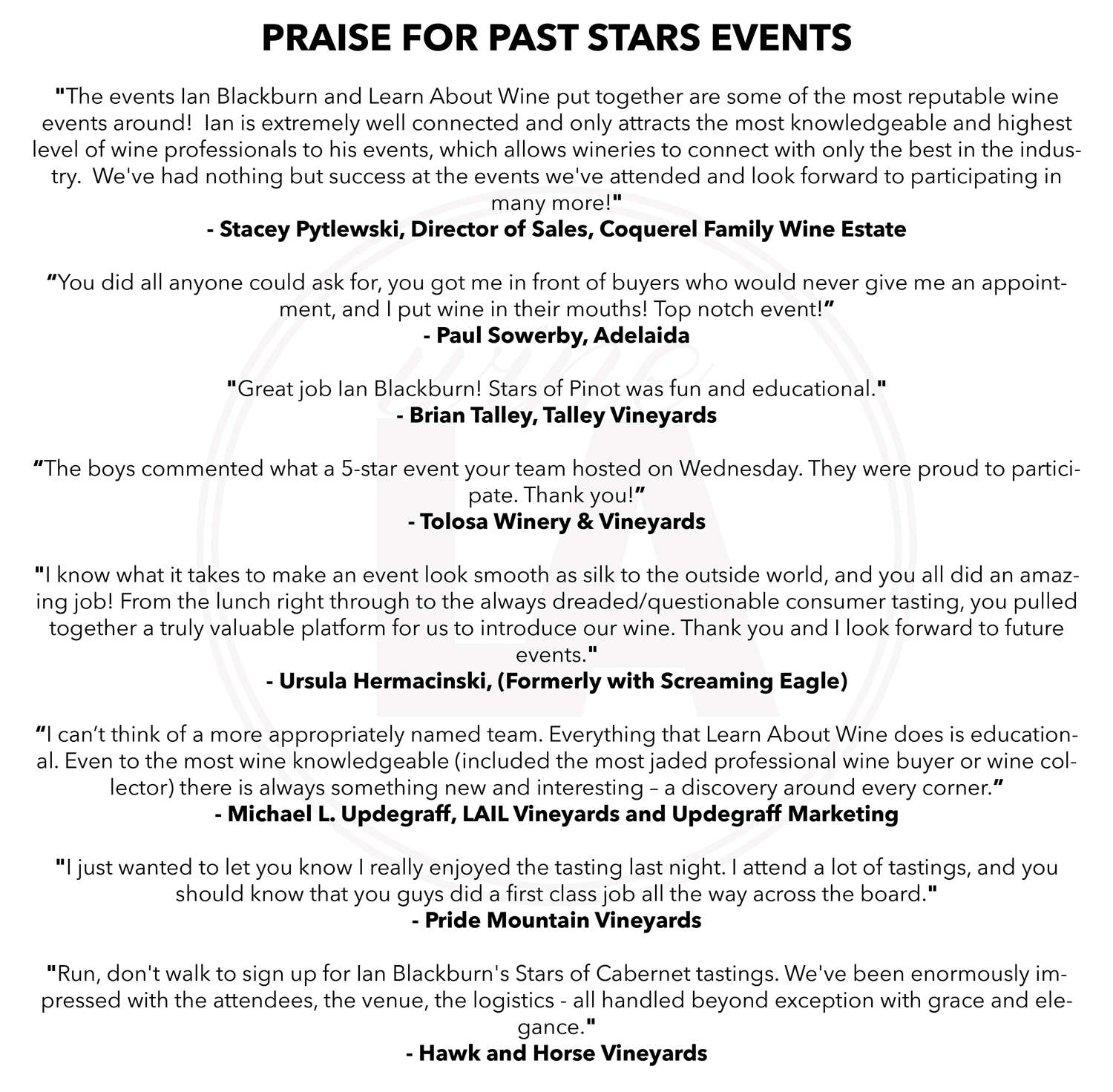 UPCOMING 2018 EVENTS