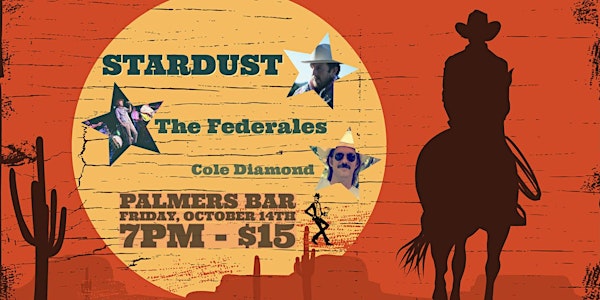 STARDUST, The Federales and Cole Diamond
Well strap your boots on and come kick it with these kick-ass bands! Guaranteed hootin' and hollerin' at this swell Friday night jamboree!
When and where
Location
Palmer's Bar 500 Cedar Avenue Minneapolis, MN 55454
Refund Policy
Contact the organizer to request a refund.
Eventbrite's fee is nonrefundable.
About this event
"Daniel Schiltz has been writing songs since he can remember. His solo endeavor STARDUST is a telling account of the most personal events of the singer-songwriter's life from the past several years. From stark self-effacements to honest reflections on the world as he perceives it, Schiltz is telling the story of his life as it unfolds and of his own, personal understanding of life itself, through classic singer-songwriter song structures preformed in a style that blends folk, country, rock and synth. With influences ranging from classic songwriters like Jackson Browne and Bruce Springsteen to more contemporary artists like Angel Olsen and Weyes Blood, STARDUST attempts to forge a little worn path in music by telling a side of the story of humanity not often sung about in contemporary music - speaking from a place of personal inadequacy, existential uncertainty and political and sociological disillusionment."
Fiddle + guitars + sweet harmonies + a fun dive bar vibe — it all adds up to The Federales, a Minneapolis-based collaboration between six longtime friends and players. Since 2012, fans in the Twin Cities and beyond have lined up for this band's infectious take on old-school country music.
It began some years back, when guitarist James Gould (The 4onthefloor) and songwriter Ben Miller started running into each other at parties and found that the talk inevitably turned to Townes Van Zandt, Gram Parsons or the Flying Burrito Brothers. They sought out like-minded musician friends (including a few high school pals and one-time Federales superfan Jay Scabich who took up the fiddle shortly after the band formed) and in 2012 formed The Federales. The band captures the warm sonic textures of the '60s and '70s recordings they're drawn to. Think a boisterous Bakersfield dance hall or a music-basted Austin barbecue circa 1975.
Mixing up an unlikely concoction of vintage rock & roll and outlaw country, Cole Diamond is, depending on when you ask, either the stage name for singer/songwriter Ryan Otte or the collective handle for Otte and his Band. For years Otte spent most weekends behind a drum kit playing with too many bands to list. In the few years since "Cole Diamond" was conceived he has released an EP, received airplay on 89.3 The Current, and opened for national acts such as Corb Lund. Drawing on influences that range from Waylon Jennings and Doug Sahm to Roky Ericson and Creedence Clearwater Revival, Cole Diamond delivers a modern take on a classic sound.
Visit our website for details on our Covid Policy before purchasing tickets.