Description
Elysium welcomes you to a night of drinking, dancing, delights and more as we celebrate the world of Star Wars at May The Fourth Be With You: Gungans Just Wanna Have Fun! Burlesque, Pole Dance, Go-Go, Vendors, Special Themed Drinks, Raffle with Amazing Prizes, Music, Black Lights, Cages and Fun!!

Visit a plethora of shops and stands and peruse the offerings of some of the finest smugglers from the outer rim:

Rainbo's Designs Jewelry and fine accessories
Mystic Starlight Tarot will tell your future or give you advice, and it's better than you're gonna get from any Nightsister, let me tell you-
The Muse's Wardrobe handcrafted horns and head decorations. Never let on that you're not a real Zabrak. 10% off if you show your Smuggler's Guild membership card.
Gemmi Galactic will be bringing her signed cosplay pinup 8x10 prints, Gemmi Galactic Designs- handmade geek and horror jewelry and accessories, and Frisky Business Burlesque Merchandise- shirts and shot glasses.

Envelop yourself and your guests in a fantastical world of alien and human performers alike with amazing imported performers:

Aetheria Lovecraft is gonna chase you down cause she's the best bounty hunter in the galaxy!
She's the absinthe drinking, fire bending, glass walking, cinderblock smashing daughter of darkness that puts the "witch" in Dunwich horror and she's here to show you just how dangerously sexy financing a vette can be for a Mandalorian bounty hunter. Straight from Frisky Business Burlesque, Aetheria's tribute to her favorite trilogy can best be described as "Star Wars on acid."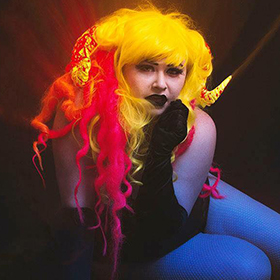 Rynice Hanson a Twi'lek you'll never send to the Rancor! She has been a singer, musician, and general theatre nerd for most of her life, and 7 years ago she added pole dancing to her repertoire. Her love of sci-fi and fantasy has led her to create performances that often involve capes, weapons, and extensive makeup jobs. In 2015, Rynice won the amateur comedy division at Pole Theatre USA with a pole version of Raiders of the Lost Ark, complete with a giant boulder rolling across the stage. When she's not performing, she's usually at home playing with her sword collection, which is a step up from her childhood endeavors, when she would break all her mother's telescoping curtain rods pretending they were lightsabers which she used to battle the Empire's minions (otherwise known as couch cushions). Rynice has previously appeared on the Elysium stage as Ms. Oogie Boogie, the White Owl of Labyrinth, and as various other ghouls and goblins. This May the Fourth she'd like to introduce you to Cyrian, the twi'lek pole dancer!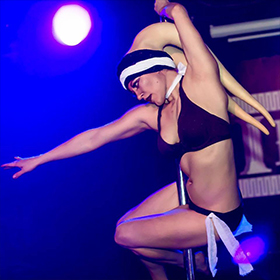 Joannie Wu will fly right into your heart... and then convert you to the dark side! She is one luscious pole maven. Whether she's dancing barefoot, in sneakers, or in sky high stripper heels she loves creating memorable performances for her audiences.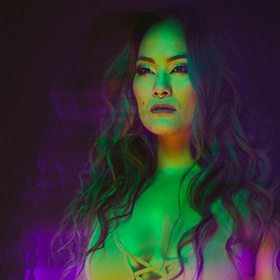 Amelie Ahmose with a fantastic forbidden escape! As her name, Ahmose, translates from Egyptian to "born of the moon" to pay homage to her Egyptian cabaret background, Amelie Ahmose is the bad moon risin', as she puts the ass back in blasphemy. While using her belly dance, singing, and burlesque skills, she is a member of vaudevillian, sideshow burlesque troupe, Frisky Business and a regular cast member of the theatrical burlesque shows of Mistress of Musicality productions. She has also been a longtime company member and occasional producer of the variety dance company, Innovation Performance Co.
Amelie has been a Star Wars fan most of her life (Expanded Universe FTW!) and is thrilled to be performing this particular number again for a May the Fourth be With You show. Fun fact: as a wee child she was actually inspired to dance (and later as an adult to make certain wardrobe choices) by watching a Twi'lek slave girl named Oola dancing in Jaba's palace in Return of the Jedi. While you will not be seeing her as Oola on May the Fourth, you will be seeing her embody another lady who is regularly in the Hutt's employ!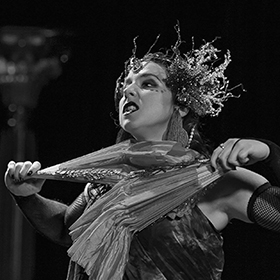 Gemmi Galactic knows you love her, and she'll break your heart in under 12 parsecs! Inspired by a mix of Jerry Lewis's physical comedy, his own experience as a dorky adolescent, and sleazy ladies' man raunch, Gerry "Geronimo" Galactic is a big ego in an awkward frame. "The Geek with Gusto" has been stealing hearts all over Texas as the Drag King of Frisky Business Burlesque.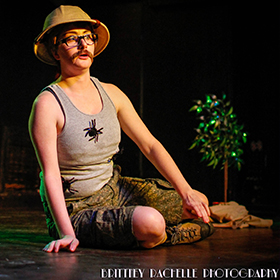 DJ Crescendoll will be spinning all night with lots of your favourites and some new out of this world tunes from the 80s, 90s and now!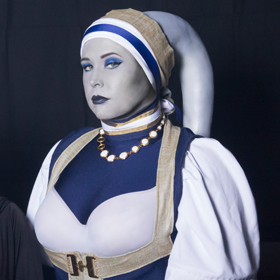 A special drink menu will be offered including but not limited to; Tatooine Blue Milk, Corellian Sunrise, Bantha Blaster and the Rancor Blood shot if you're brave!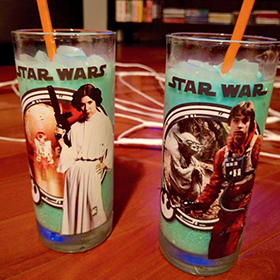 The raffle will be held at 11:45. Every entry ticket purchased for the event receives one raffle ticket. Additional raffle tickets can be bought for 1$ at the DJ Booth. Look for the lit up jar. Prizes include but are not limited to:

1 Millennium Falcon YEE-HAW 22" x 34" poster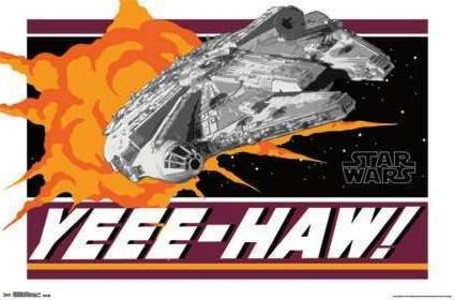 A 12" Plush BB-8 Droid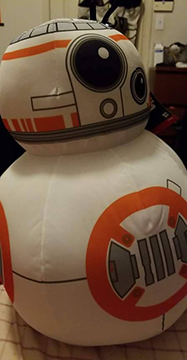 2 Three Day Passes for Anime Austin!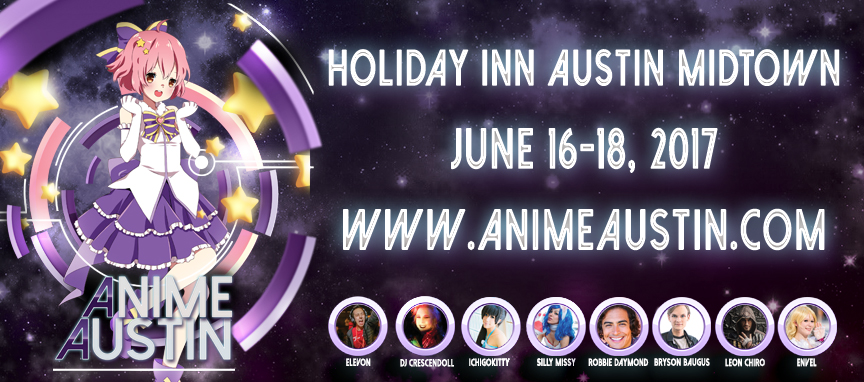 A 25$ Gift Certificate to Rainbo's Designs!
And 2 tickets to Revenge of the Frisk on May 5th at Elysium!



Costumes welcome and encouraged! Elysium welcomes Just BeCos: Meet and Greet 33!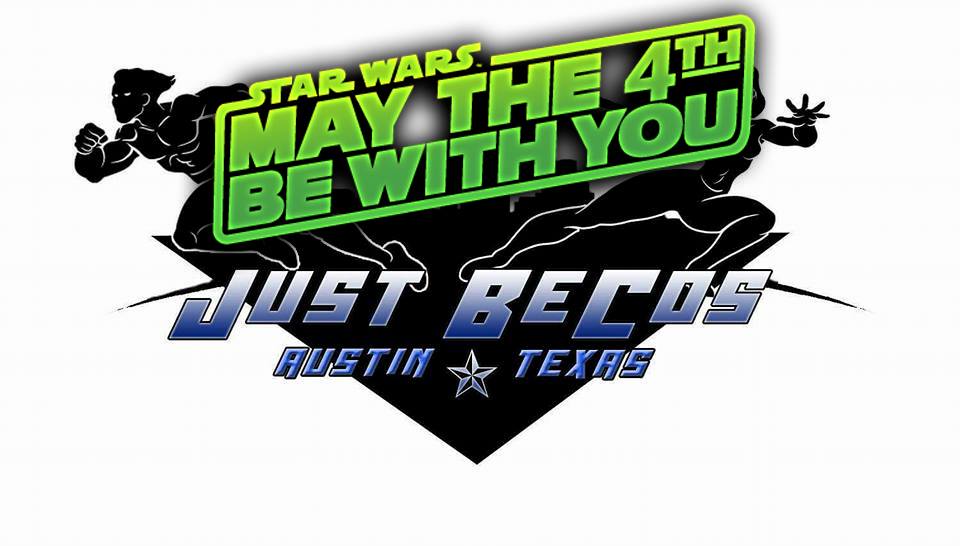 May the Fourth be with you would like to thank Anime Austin for being our sponsor this year and donating so many amazing prizes to our raffle!

Elysium Austin
705 Red River St
ATX

Valid govt issued ID required for entry
Cover at the door 7$