Description
The new Star Wars Destiny League starts July 11th at HobbyTown Lincoln!
From July 11th to August 15th (6 weeks), come in to HobbyTown Lincoln at 6pm to play in the Star Wars Destiny League. You will receive 1 League Point for every game you play during the league, and 2 additional points for each game you win.
New players will receive 2 points the first week they play (this includes everyone). You will also receive 1 bonus point for each new player you bring (i.e. someone who has not played in a HobbyTown League before)!
You can also receive additional points by earning League Achievements (once per achievement)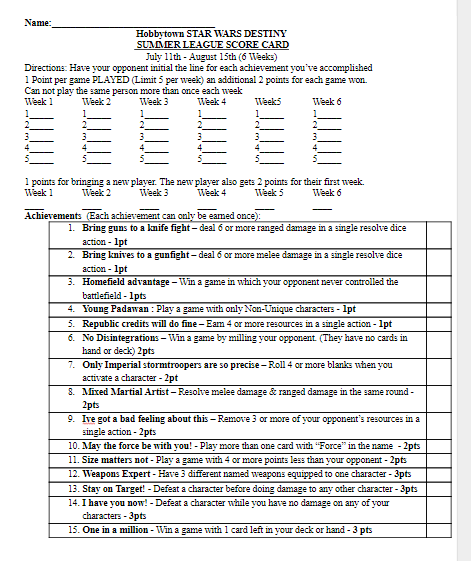 (Printable copy at https://docs.google.com/document/d/1ViCoFYmTJS7_kbFPjlUXrkUfXH86xWKoc5RN-FW6LGI/edit?usp=sharing ; we will also have printed copies available in-store during the league)

At the end of the league, prizes will be distributed based on points earned!
Entry Fee: $20 initial entry (includes 8 booster packs to build your deck), $5 each week thereafter (adds one pack to your pool and one to the prize pool)

Deck Building: You will receive 8 packs upon entry to construct a 20 card deck to use during the first 2 weeks. Each week you will add one more pack to your card pool and work your way up to a 30 card deck for weeks 3-6. You be allowed to use any characters (from your own personal collection or anything opened in the packs), but all other cards must be from you league pool ONLY. Each player will record their League Pool each week and the lists will be kept at HobbyTown.
You may freely switch uo characters and cards in your deck in between matches.
There are no restrictions on the number of a card you put in your deck since this is sealed (e.g. if you pull 3 of a card you can play all 3 in your deck), but all other deck building rules will be in place.