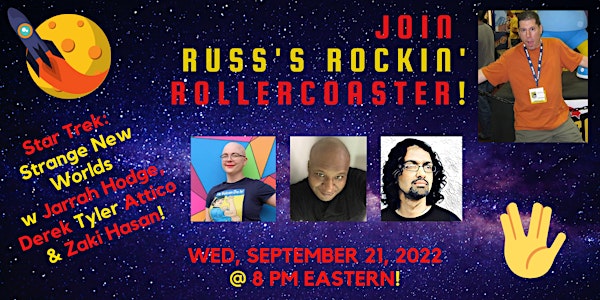 STAR TREK STRANGE NEW WORLDS w Derek Tyler Attico, Jarrah Hodge, Zaki Hasan
Author Russ Colchamiro hosts a live panel discussion about season 1 of Star Trek: Strange New Worlds
About this event
JARRAH HODGE is an award-winning feminist blogger and co-host of Women at Warp: a Roddenberry Star Trek podcast. She has appeared on NPR, CTV, CBC and on convention panels across the US and Canada discussing the representation of women in Star Trek.
DEREK TYLER ATTICO is a science fiction author, essayist, and contributing writer to the Star Trek Adventures role-playing game. He is the winner of the Excellence in Playwriting Award from the Dramatist Guild of America and two-time winner of the Star Trek Strange New Worlds anthology,.
Having studied under the tutelage of legendary DC Comics writer and Batman editor Dennis O'Neil, he created the homage comic, Batman: The Orphan. A personal tribute to the Dark Knight, and everything he learned about comics and storytelling from one of the masters.
A native New Yorker and photographer, Derek can be found capturing images of the city one frame, and story, at a time.
ZAKI HASAN is a professor of Communication and Media Studies and member of the San Francisco Bay Area Film Critics Circle. His reviews and analyses have appeared in venues such as The San Francisco Chronicle, IGN, and Philly Weekly, and he is co-host of the MovieFilm Podcast. He has also contributed to books on the Star Wars, Planet of the Apes, and Blade Runner franchises.
RUSS COLCHAMIRO is author of the Sci-Fi mysteries Crackle and Fire, Fractured Lives, and Hot Ash, the ongoing series featuring intergalactic private eye Angela Hardwicke. Russ is also the author of the rollicking time travel/space adventure, Crossline, the SF/F backpacking comedy series Finders Keepers: The Definitive Edition, Genius de Milo, and Astropalooza, is the editor of the Sci-Fi mystery anthology Love, Murder & Mayhem, and co-author and -editor of the noir anthology Murder in Montague Falls.
Russ has also contributed to several other anthologies including PRISM, Tales of the Crimson Keep, Pangaea, Altered States of the Union, Camelot 13, TV Gods 2, They Keep Killing Glenn, Thrilling Adventure Yarns, The Phenomenons, Footprints in the Stars, Devilish and Divine, Badass Moms, and Brave New Girls.
Russ is a member of The Mystery Writers Association, The Private Eye Writers of America, and the author collective Crazy 8 Press. He also hosts and produces his Russ's Rockin' Rollercoaster podcast, where he interviews best-selling and up-and-coming Sci-Fi, fantasy, crime, mystery, and horror authors.
For more on and Russ's books and his podcast, visit russcolchamiro.com, and follow him on Facebook, as well as Twitter and Instagram @AuthorDudeRuss.
He lives in New Jersey with his wife, two ninjas, and black lab, Jinx.