Description
Email: startrek.tos.tour@gmail.com
EFFECTIVE September 26, 2016:
Tour NOW Closing at 3PM Each Day Sets Open.
NOTE TOURS RUN BETWEEN 10AM-3PM! TOURS LAST ABOUT 40 MINUTES TOURS WILL COMMENCE ABOUT 1 - 5 MINUTES PAST THE CURRENT HOUR!!
EXTENDED AUTUMN WEEKEND HOURS!!! Open these days 10A - 3PM, for Tour and/or Star Trek Merchandise and Gift Items.
****************************************************
1st Tour
Star Trek super-fan James Cawley is honoring the 50th anniversary of the iconic franchise with the opening of his meticulously designed Star Trek: The Original Series set tour. Located in historic Ticonderoga, New York and under license by CBS Consumer Products, the set tour brings memories to life by allowing fans to boldly go and tour the sets of the legendary Starship Enterprise.
Recreated exactly as they were laid out on the "Desilu" (now Paramount Pictures) Stage 9 in Hollywood for the original run of Star Trek, guests will be able to step onto the soundstage and be transported directly back to 1966. Starting this July, visitors can receive guided tours, photo opportunities and an immersive experience into the world of the classic television series.
"To me there is no other franchise around that is more enjoyable and more socially relevant than Star Trek," said James Cawley. "I'm very thankful for all the support I've received on this project and can't wait to begin welcoming my fellow fans this summer."
Coming Soon . . .

So a couple of old friends joined James Cawley for lunch and will become part of a new exhibit at Star Trek: Original Series Set Tour!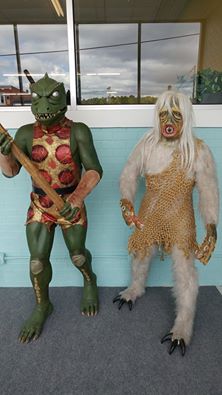 Date and Time
Location
Star Trek Original Series Set Tour
112 Montcalm Street
PO Box 448
Ticonderoga, NY 12883