Description
FREE AND OPEN TO PUBLIC:

STAR MAPS, EARTH CODES
An experimental play by Danni Wei Based on archaeoastronomy research
Department of Physics and Astronomy UCR
Department of Arts UCR


Arts & University Honors student Danni Wei has created and is presenting an artistic performance based on the skylore of ancient civilizations. The experimental play is a mixture of digital content, puppeteering and a narrative on the interpretation of constellations by different cultures. The work was supervised by Prof. A. Hartman [UCR], Dr. M. De Leo [UCR] and Prof. G. Canalizo [UCR] and funded through the National Science Foundation through Prof. G. Wilson [UCR].


***THIS EVENT IS BY APPOINTMENT ONLY***
LIMITED 30 SPOTS
5 Days - Click Register for times:

December 5, Saturday
December 6, Sunday
December 7, Monday
December 8, Tuesday
December 9, Wednesday

RSVP by clicking on Register and select your time.
Phyllis Gill Gallery, RM 245, 2nd floor, Arts Building, UC Riverside
Information: danniwei.artspace@gmail.com
Suggested Parking: $1.25 in Lot 24 - no fee with UC permit
Information: text (562)484-4175 : danniwei.artspace@gmail.com
------
Facebook Page
https://www.facebook.com/events/1085285024847903/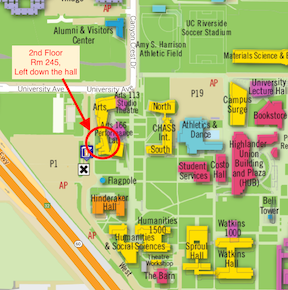 PHYLLIS GILL GALLERY is located in RM 245, on the 2nd Floor of Arts Building (down the hall to the left)
Organizer of Star Maps, Earth Codes
Danni Wei is currently a graduating senior from University of California, Riverside, majoring in Art and minoring in Statistics. She is interested in conducting interdisciplinary research and aims to construct experiences that stimulate alternative perceptions and means of communication.