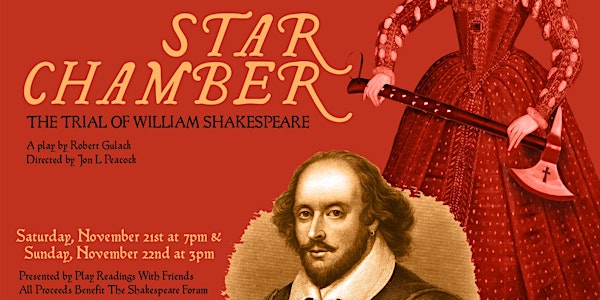 STAR CHAMBER: The Trial of William Shakespeare
Riots, bloodshed, treason against Elizabeth I, & at the heart of it all is William Shakespeare. A new play to benefit The Shakespeare Forum!
About this event
"STAR CHAMBER: The Trial of William Shakespeare" is a new 40-min. play looking at the noble uprising against Queen Elizabeth I in 1601, which used Shakespeare's RICHARD II to incite the people to riot against the Queen.
Looking at what Shakespeare's trial might have been, this online presentation is to benefit The Shakespeare Forum of NYC, which brings free arts and theater education to underserved students in New York.
SATURDAY AND SUNDAY ARE LIVE PERFORMANCES.
THE FRIDAY (NOV 27TH) PERFORMANCE IS TO GET TICKETS TO THE EXCLUSIVE STREAMING LINKS OF THE TWO LIVE PERFORMANCES (ONLY FOR THE WEEK AFTER). FRIDAY IS THE LAST DAY YOU CAN ACCESS THOSE RECORDED PERFORMANCES.
IF YOU CANNOT MAKE THE WEEKEND PERFORMANCES LIVE, GRAB A TICKET TO THESE STREAMING LINKS WITH THIS "PERFORMANCE DATE."
Starring:
Tyler Bunch*
Cynthia Granville*
J.T. O'Connor*
Jon L Peacock*
Director: Jon L Peacock*
Playwright: Robert Gulack
Stage Manager: Alana Rader*
Composer (original music): Randi Driscoll
(* indicates member of Actors' Equity Association)
The Arts are needed now more than ever, as it directly impacts young minds with the understanding of empathy, community, and shared goals and achievements. Help us bring these needed experiences to those who would not normally have the opportunities; help us benefit the wonderful impact The Shakespeare Forum has upon the children of New York City and beyond!
The presentations will stream for one week after the event, and links will be EXCLUSIVELY available to ticket holders, so even if you cannot make the live performance, you can still enjoy the show while giving generously to help give Arts Education to underserved children!
We wish to express our gratitude to the Performers' Unions:ACTORS' EQUITY ASSOCIATION,
AMERICAN GUILD OF MUSICAL ARTISTS,
AMERICAN GUILD OF VARIETY ARTISTS,
SAG-AFTRA,
through Theatre Authority, Inc. for their cooperation in permitting the Artists to appear on this program.