Description
WELCOME TO STANFORD ULTRAFEST 2019
Stanford's Ultrafest is open to all medical students. It is a FREE event that started at University of California - Irvine, which promotes and teaches point-of-care ultrasound to students. We have been hosting an Ultrafest at Stanford annually since 2013!
Over the years experts from various specialities including Anesthesia, Cardiology, Critical Care, Emergency Medicine, Internal Medicine, Nephrology, OB-GYN, Ophthalmology, Orthopedics, Rheumatology, Sports Medicine, Urology and many more have been present to share and teach point-of-care ultrasound and it will continue again this year!
Come meet our fantastic staff, new peers, and learn a valuable skill set in a fun way!
Space is limited, so register TODAY!
TENTATIVE SCHEDULE
8:00am Registration
8:30am Welcome & Keynote speaker
9:00am-1:00pm Morning Sessions (#1-#4)
1:00-2:00pm Lunch Provided
2:00pm-3:00pm Afternoon Session (#5)
3:00pm-4:00pm Ultrafest Olympics
4:00-4:30pm Closing Remarks
TENTATIVE WORKSHOPS
Abdominal: Aorta, Renal, Gallbladder
Cardiothoracic: Echo, Lungs, IVC
Crisis Resource Management with Simulation Training
Critical care US
Extended Focused Assessment of Sonography in Trauma (EFAST)
Muskuloskeletal
OBGYN
Orbital
Pediatrics
Procedures - Central and peripheral lines
Sonosim - Case based ultrasound
*UPDATE*
A few logistical items:
BREAKFAST / COFFEE - ☕️



There IS Lunch at 1pm, but there is NO breakfast or coffee available for the medical students at this FREE event. There are a few vending machines in the buliding. There are several options on campus (e.g. hospital cafeteria - Stanford Hospital and Packard Children's hospital) and nearby (e.g. Town & Country Village https://tandcvillage.com/ with Peet's Coffee & Tea). So please plan your morning accordingly.


REGISTRATION -

Registration is from 8:00am - 8:30am
8:30 am we have a welcome address by TBA



PARKING -





Parking is free on Campus on the weekend in most locations (but NOT free at the hospitals). Be sure to heed parking signs.





The most convenient parking structures will be:



Stock Farm Garage (greater availability)


360 Oak Road




Stanford, CA 94305





- OR -



Roth Way Garage


375 Roth Way




Stanford, CA 94305





CHANGE OF PLANS?



If you can't make it, please cancel your ticket or email us to let us know.


This will help your colleagues get the sessions they want.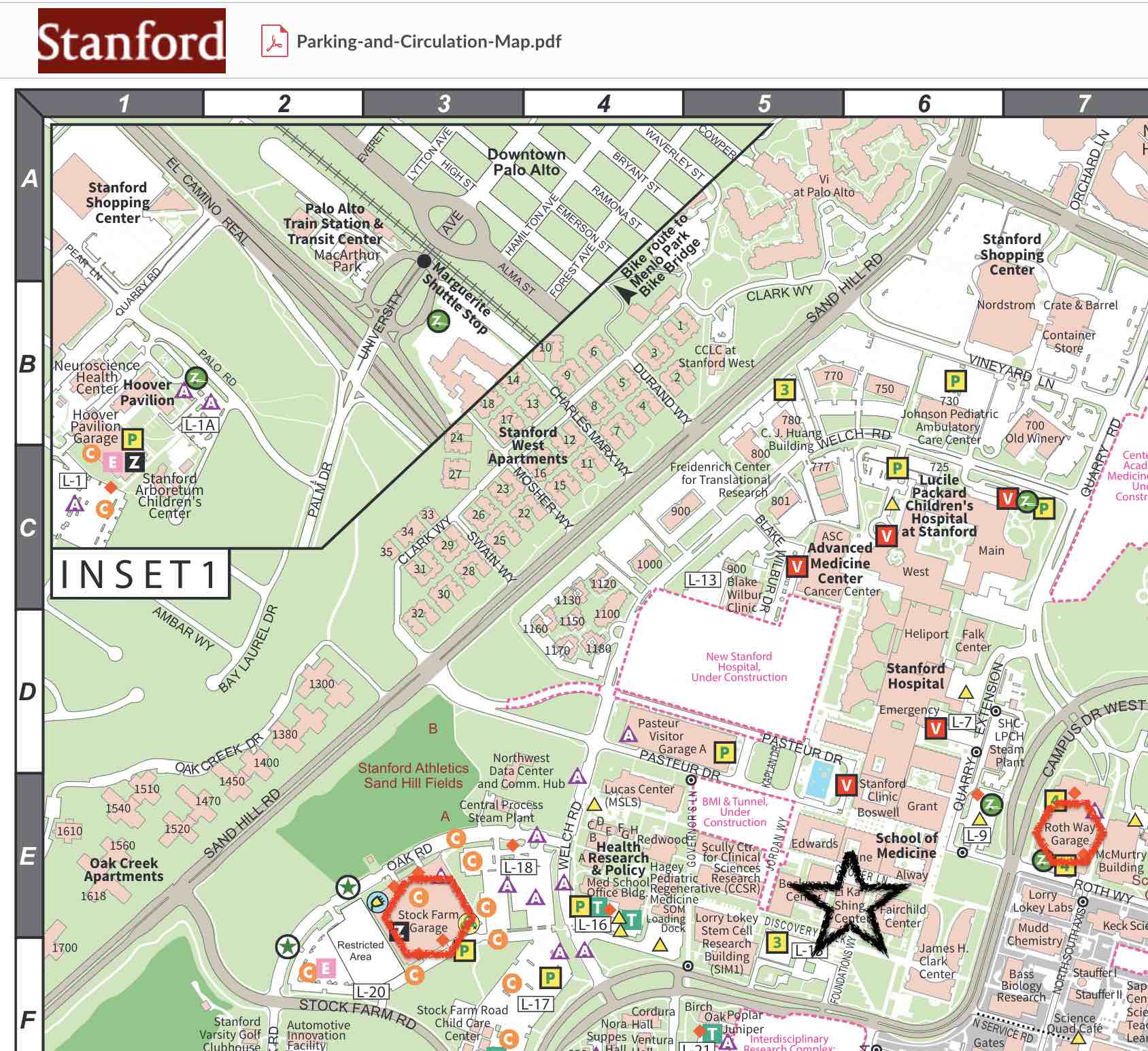 ★ = LiKaShing Building 291 Campus Drive, Stanford, CA
= Parking Garages (links above)
Come get your scan on!