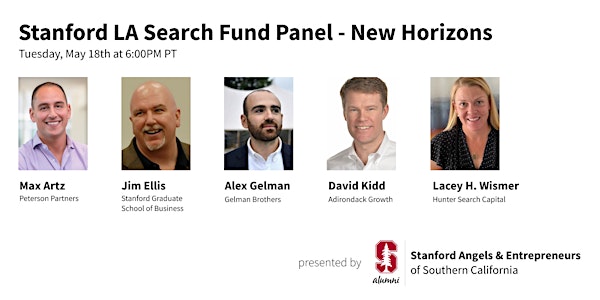 Stanford LA Search Fund Panel - New Horizons
Join experienced Stanford searchers, funders & academics as they discuss Entrepreneurship Through Acquisition / Search Funds.
By Stanford Angels & Entrepreneurs of Southern California
Date and time
Starts on Tuesday, May 18, 2021 · 6pm PDT
About this event
Entrepreneurship Through Acquisition (ETA) / Search Funds is an exciting asset class. This panel brings together very experienced Stanford searchers, funders, and academics.
Format will provide a discussion of the search fund model, discussion of recent trends in the sector, the pros and cons of search funds for investors/targets/searchers, and Q&A.
We look forward to seeing you!
Zoom link on Event details page / via email when you RSVP. Haven't officially registered with our group? Sign up on our website so you'll never miss an event.
Panelist Bios
Max Artz
Max is a Principal at Peterson Partners. Prior to joining Peterson Partners, Max worked as Chief of Staff at Flow Commerce. Prior to joining Flow, Max was the General Manager of China at The Aromatherapy Company, a New Zealand home goods company, based in Shanghai. Max began his career with The Royal Bank of Scotland in the International Banking division. Max received an MBA from the Stanford Graduate School of Business and a B.S. from Babson College.
Jim Ellis
Mr. Ellis is a Lecturer in Management at the Graduate School of Business at Stanford University. He is currently teaching two strategic management courses that center around the early stages of the entrepreneurial process. These courses include Formation of New Ventures (S353), and Managing Growing Enterprises (S355). Mr. Ellis takes a personal interest and enjoys participating in and contributing to the learning process faced by each of his students.
Prior to coming to Stanford, Mr. Ellis held a number of positions with both large and small companies. In 1995, Mr. Ellis cofounded Asurion with Kevin Taweel to provide value-added solutions for the wireless communications industry. Previously responsible for Asurion's sales and marketing efforts, Mr. Ellis is an active member of the company's board of directors. Mr. Ellis has also held positions as a research associate at the Graduate School of Business at Stanford University and as a consultant with IMG and Cresap, McCormick, and Paget. He is a member of a number of Boards of Directors including BUILD, Asurion, Service Source Inc., Memento Press, Half Moon Bay Brewing Company, and Southern California Risk Management Associates. Mr. Ellis holds an MBA from Stanford University and a bachelor's degree with high honors in economics from Dartmouth College. He is also a recipient of Ernst and Young's prestigious Entrepreneur of the Year award.
Alex Gelman
Alex is the Managing Partner of Gelman Brothers. Universally regarded as the more attractive Gelman Brother, Alex runs all day to day operations of the office, including website copy.From 2015-2020, Alex was the CEO of mTab, the premier business intelligence tool for market research. Alex founded mTab LLC in 2015 which subsequently acquired Productive Access Inc in 2015, GAMMA in 2017, and Slideworx in 2018. Under Alex's leadership, mTab grew from a 17-person company in California to a 140-person company with offices in California, Detroit, the UK, Poland, Japan, and China. mTab was sold to Milestone Partners in 2018.
Prior to joining mTAB, Alex was an Operating Executive at Kohlberg Kravis Roberts (KKR), a private equity firm. Prior to KKR, Alex worked as a Consultant at McKinsey & Co in New York and Sydney.
Alex received a Masters in Business Administration (MBA) degree from the Stanford Graduate School of Business (GSB) and bachelor's degrees in Economics and Philosophy from Dartmouth College.
​Alex sits on the Board of Dooblo, an Israeli market research technology company.
Alex lives in Los Angeles with his dog, Boomer.
David Kidd
David Kidd is the Managing Partner and Founder of Adirondack Growth Capital. He is responsible for all investment decisions, and he is involved in the leadership and day-to-day operations of Adirondack's companies. Under David's leadership, Adirondack has achieved returns that rank among the top ten percent of similar investments and its companies have averaged annual revenue growth in excess of 30%.
​David is currently President of Adirondack owned Nova Flex LED, a rapidly growing LED lighting company that serves the commercial, residential and national account markets. He was previously CEO of Midwest Supplies, the largest ecommerce supplier of homebrewing and winemaking products in America. After doubling revenue in two years, David led the sale of Midwest Supplies to Northern Brewer, its largest competitor, creating a clear industry leader.
​Prior to founding Adirondack David was a Vice President at Lincoln International, a middle-market investment bank based in Chicago, where he completed 26 transactions in five years. Before joining Lincoln, he was a management consultant at A.T. Kearney based in Alexandria, Virginia.
​David earned an MBA from Stanford University where he was an Arjay Miller Scholar. He holds a BS in Accountancy and a certificate in Technology Management from the University of Illinois, graduating with Highest Honors and Bronze Tablet distinction. David is an Eagle Scout and avid supporter of Scouts BSA. He currently resides in the southwest suburbs of Minneapolis with his wife, son, daughter and golden retriever. In his spare time David enjoys playing hockey.
Lacey H. Wismer
Lacey Wismer is the founder and Managing Partner of Hunter Search Capital. Previously, Lacey spent ten years managing private equity investments with an emphasis on search funds for Hunter Trust, during which time she made over 40 investments in the search fund space. Lacey is a Co-Founder of Women's Search Network, a group formed to encourage more women to consider entrepreneurship through acquisition as a viable career path and to support female searchers and CEOs achieve the highest levels of success.
Prior to joining Hunter Trust in 2009, Lacey was a healthcare investment banker at Deutsche Bank with an emphasis on M&A in healthcare services. She was also a consultant for the Center for Entrepreneurial Studies at the Stanford Graduate School of Business (GSB). Before attending business school, Lacey worked in corporate sales and athlete management for a sports management firm.
Lacey received a B.A. with Honors from the University of Colorado in 1999 and an M.B.A. from the Stanford GSB in 2004. Lacey has held various board roles for non-profits, including currently as a Private Equity Committee Member for the Stanford Business School Trust Board and an ongoing Alumni Admissions Interviewer for Stanford University. She resides with her husband and their three children in Park City, Utah.
About the organizer
Stanford Angels & Entrepreneurs of Southern California (stanfordaandeofsocal.com) is a Stanford Alumni Association group that seeks to unify and enrich the startup ecosystem by facilitating investment, education and mentorship opportunities for entrepreneurs and alumni investors around Southern California. Learn more about us at www.stanfordaandeofsocal.com.