Stanford International Weekend - Sunday Visit - The Promenade Plantée: The...
Description
You may have caught glimpses of this wonderful garden walkway in films, but on our stroll, you will see its secret treasures and smell the petals and perfumes of its flowers. The Promenade Plantée, which locals call La Coulée Verte (the Green stream), stretches for nearly three miles from the Bastille area to the Bois de Vincennes. It's an old railway converted into a series of small gardens and promenades, like a green ribbon running through & over tunnels, trenches, slopes, and viaducts. We'll begin below ground, along the train tracks that once brought food and flowers into the city. From this wild vegetation, we will emerge to street level at the Jardin de Reuilly. We'll wander over the park bridge, which gives you the opportunity to admire the mosaic of trees & flowers from above and then we'll walk among flowering pergolas, fruit trees, rose bushes and fragrant shrubs to the restored Viaduc des Arts, where you'll find yourself reaching new heights … above the tree line … and enjoying architectural elements often invisible from below.
Meet at 10:00 am at the exit of the M° Bel-Air, in front of the building at N°15 blvd de Picpus (follow exit out of the metro for the ODD numbers – côté numéros impairs, blvd Picpus, Hôpital Rothschild). We will end the visit at the M° Bastille at noon. As always, wear comfortable shoes and layers of clothes, and bring the omnipresent Parisian parapluie.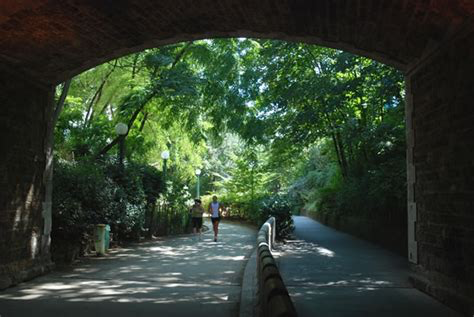 About the guide, Amy Kupec-Larue: Originally from upstate New York, I did my undergraduate studies in Boston, before moving to Paris in 1989. I then spent a year at the Sorbonne learning the French language and falling in love with both the way of life and the beauty of Paris. Having worked first in advertising and then in retail, I orientated my career towards my passion for flowers, and began my floral decorating business in 1994 with such clients as Ladurée and the U.S. Ambassador's Residence as well as a private clientèle within the expatriate community. I extended my career into guided garden walks in 2006, by giving botanical tours for the Parks Department of the City of Paris in their many wonderful public gardens in both English and French. Since then, my business has expanded and I now offer tours for travel agencies, groups and individual private tours of the parks and landscapes of Paris and environs.