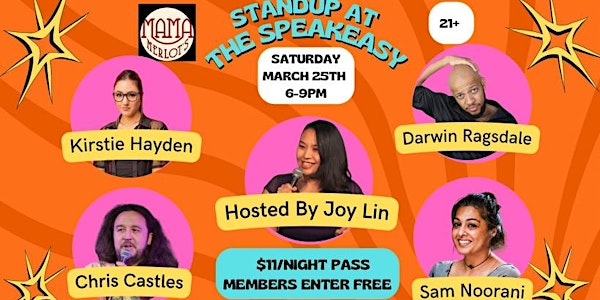 Standup Comedy at The Underground Speakeasy Bar
Standup Comedy at the Speakeasy Bar! Great Food & Drinks!
By Doc's Drive In Theatre
Date and time
Saturday, March 25 · 6 - 9pm CDT
Location
Mama Merlot's Speakeasy 1510 Satterwhite Rd Buda, TX 78610
Refund Policy
Contact the organizer to request a refund.
Eventbrite's fee is nonrefundable.
About this event
Come join us for Standup Comedy in our Underground 1920's Speakeasy bar.
Enjoy amazing Food and Hand-Crafted Cocktails, while having a good laugh!
Come see our SECRET entry way!
March 25th, 2023
6-9pm
$11 per ticket (Members are FREE)
Hosted by: Joy Lin
Performances by: Kristie Hayden, Darwin Ragsdale, Chris Castles, and Sam Noorani
Mama Merlot's is a Member's Only Club. The ticket price includes your Day Pass. There is a 2 item minimum per person.
If you are interested in becoming a Member, please contact us at 512-960-4460 or email us at info@mamamerlots.com to hear about all the perks!
Please read our waiver before purchasing tickets. You will be asked to sign before entering.
.
.
.
.
.
.
.
RELEASE AND WAIVER OF LIABILITY
The individual named below (referred to as "I" or "me") desires to enter the property owned and operated by Mama Merlot's LLC, Christopher Denny and/or Sarah Denny (collectively, the "Owner"), known as "Mama Merlot's" (the "Facility"), located at 1540 Satterwhite Road, Buda, Texas 78610. In consideration of being permitted by the Owner to enter the Facility, and in recognition of the Owner's reliance hereon, I agree to the terms and conditions:
I AM AWARE AND UNDERSTAND THAT THE FACILITY IS A PRIVATE MEMBERSHIP CLUB AND IS NOT SUBJECT TO THE REGULATIONS OF THE AMERICANS WITH DISABILITIES ACT (the "ADA") THAT WOULD OTHERWISE REQUIRE THE FACILITY TO PROVIDE CERTAIN TYPES OF ACCESS TO THE FACILITY. THEREFORE, CERTAIN PORTIONS OF THE FACILITY MAY BE DIFFICULT TO NAVIGATE OR INACCESSIBLE TO PERSONS WITH DISABILITIES.
I AM AWARE AND UNDERSTAND THAT ACCESSING AND USING THE FACILITY MAY INVOLVE CERTAIN HAZARDS, INCLUDING THE RISK OF INJURY AND/OR PROPERTY DAMAGE. I ACKNOWLEDGE THAT I AM VOLUNTARILY ACCESSING THE FACILITY WITH KNOWLEDGE OF THE RISKS INVOLVED AND HEREBY AGREE TO ACCEPT AND ASSUME ANY AND ALL RISKS OF INJURY AND/OR PROPERTY DAMAGE ARISING THEREFROM, WHETHER CAUSED BY THE ORDINARY NEGLIGENCE OF THE OWNER OR ANY RELEASEE OR OTHERWISE.
I hereby expressly waive and release any and all claims, now or hereafter known, against the Owner, and its managers, employees, agents, affiliates, members, successors, and assigns (collectively, "Releasees"), on account of injury or property damage arising out of or attributable to my being at or using the Facility, whether arising out of the ordinary negligence of the Owner or any Releasees or otherwise. I covenant not to make or bring any such claim against the Owner or any other Releasee, and forever release and discharge the Owner and all other Releasees from liability under such claims.
This Release constitutes the sole and entire agreement of the Owner and me with respect to the subject matter contained herein and supersedes all prior and contemporaneous understandings, agreements, representations, and warranties, both written and oral, with respect to such subject matter. If any term or provision of this Release is invalid, illegal, or unenforceable in any jurisdiction, such invalidity, illegality, or unenforceability shall not affect any other term or provision of this Release or invalidate or render unenforceable such term or provision in any other jurisdiction. This Release is binding on and shall inure to the benefit of the Owner and me and our respective successors, assigns, heirs, executors, and personal representatives. All matters arising out of or relating to this Release shall be governed by and construed in accordance with the internal laws of the State of Texas, without giving effect to any choice or conflict of law provision or rule (whether of the State of Texas or any other jurisdiction). Any claim or cause of action arising under this Release may be brought only in the federal and state courts located in Travis County, Texas, and I hereby consent to the exclusive jurisdiction of such courts.
BY SIGNING, I ACKNOWLEDGE THAT I HAVE READ AND UNDERSTOOD ALL OF THE TERMS OF THIS RELEASE AND THAT I AM VOLUNTARILY GIVING UP SUBSTANTIAL LEGAL RIGHTS, INCLUDING THE RIGHT TO SUE THE OWNER.