Description
You have a personal brand, whether you know it or not. It's your image and the true, authentic story you want to tell. In a crowded professional landscape, developing a personal brand that stands out is a part of being seen among the crowd. Many of us have helped build a client's brand — now it's time to turn those same skills to design how we want to be seen by the world. Building a personal brand that captures you is not an easy task. It'll take a lot of introspection, planning, and time. But when it's done right, it can lead to enormous opportunities and recognition.
AIGA DC is excited to have a panel discussion about personal branding. The moderator and panelists are all local creative leaders and expert strategists ready to discuss personal branding. Through the panel discussion, we hope to answer questions such as:
How you can go about branding yourself?
What kind of strategies you can use to stand out from your peers?
What are the opportunities or channels through which you can tell your story?
Event Panelists:
Torie Partridge, Owner and Creative Director of Cherry Blossom Creative.
Brandon Groce, Designer & Brand Strategist for Fortune 500 companies.
Frederique Stephanie, Stylist and PR consultant working in the fashion and lifestyle industry.
Panel moderated by:
Victor Nguyen-Long, freelance Creative Strategist, activist, and pop culture glutton.
Space sponsor
Corcoran School for the Arts and Design
The Corcoran School of the Arts and Design dates back to 1869 when William Wilson Corcoran founded the Corcoran Gallery of Art and has only grown over the decades. We've moved into the historic Flagg Building, expanded collections, collaborated with diverse faculty, and become a part of GW and its Columbian College, all while teaching and supporting talented students, the key drivers of our success.
Location: The location is Metro-accessible (Farragut North station is the closest) and metered parking is available on the neighborhood streets. The New York Avenue entrance is wheelchair accessible.
Design Continuum Fund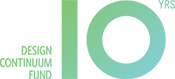 A portion of the proceeds from this event goes to the AIGA DC Design Continuum Fund (DCF) scholarship. DCF is celebrating 10 years of fostering the next generation of designers through helping local design-minded and underrepresented students as they pursue their education.