Multiple Dates
Standing Firm When Your World Is Shaking
Event Information
Refund Policy
Contact the organizer to request a refund.
Eventbrite's fee is nonrefundable.
Standing Firm When Your World is Shaking! Starts May 21st! 5:00 pm PT Presented by Janis Richman and Continuum. Hosted by ElderPride.
About this Event
Note: This is a four-week program series beginning May 21st. When registering, please select the May 21st date, which secures your registration for all four dates.
Standing Firm When Your World Is Shaking is a four- week program to help you transform a traumatic, "Dark Night" experience into a new beginning. We will be looking at possibilities and potentials and how we can have our circumstances without allowing them to have us.
We are all adjusting to new roles in this time of "social distancing." COVID 19 is causing us to stay home and isolate. This gives us an opportunity to reflect and turn up the volume on what we know matters most in our lives: our health, our loved ones, and our reason for being alive on this planet at this time.
To support you during these challenging times, we are offering this program for anyone wanting some extra support right now. This is especially for you if you have been feeling:
• NOW is your time to prioritize and up-level your wellness practices, relationship tools, and work-life harmony.
• COVID 19 is causing extra stress and you would love some support and personal coaching to navigate all the many changes in your life right now.
• You want some tools and strategies to help boost your positive mindset and stay calm, confident, focused, and be your most resilient self during these turbulent times.
Week One – The Dark Night – In the first week, you will learn to use your Dark Night of the Soul as a forward-momentum builder. You will look at all the ups and down and find ways to relate to it that is empowering to you.
Week Two – The Hero's Journey – In this week, you will learn the three major phases of the hero's journey and discover opportunities and gifts to be received from the dark night.
Week Three – Harvesting The Good – This week you will learn to choose empowering perspectives and tools to neutralize the emotional charge of your dark night.
Week Four – An Opportunity for a New Beginning – In the final week, you will learn to transform your dark night experience into a new beginning and recognize when life is signaling you to get back on course. You also create a support structure for the changes you would love to implement in your life.
No more waiting
No more putting everyone else's needs in front of you own
Now is your time to put yourself on the front burner
Janis Richman is certified by Mary Morrissey, global thought leader and personal development expert, and is offering this powerful content to address current day events and support you in navigating today's challenges.
Janis is a masterful coach, facilitator, and educator and has been guiding people for over 30 years. She works with individuals, groups and corporate teams to pinpoint their goals and clarify their visions and master the process of positive change.
Janis has masters' degrees in Clinical Psychology and Health Services Administration. She is a certified Life Mastery Coach, a certified Conscious Aging Facilitator, and a Licensed Spiritual Practitioner from the Centers for Spiritual Living. She is a student of neuroscience and has a certificate from the Neuroscience Academy and is a student of Joe Dispenza.
By combining her background in psychology, neuroscience and her expertise in learning methodologies with the proven Life Mastery technology, Janis offers highly effective, unique approaches that help her clients achieve extraordinary results in accelerated time. She provides content-rich interactive workshops that take participants on a journey in which they design, define, test, and experience a crystal-clear vision of the life they would love – a life that is in alignment with their highest purpose.
Janis' soulful, yet practical approach supports clients in realizing their full potential — moving beyond their limitations — to present their best selves. Her clients learn to create the life and work they love with clarity and authenticity. She loves helping people to transform their lives and close the gap between the life they were living, and the life they would LOVE to live.
For more information: janis@continuumlifecoach.com or www.continuumlifecoach.com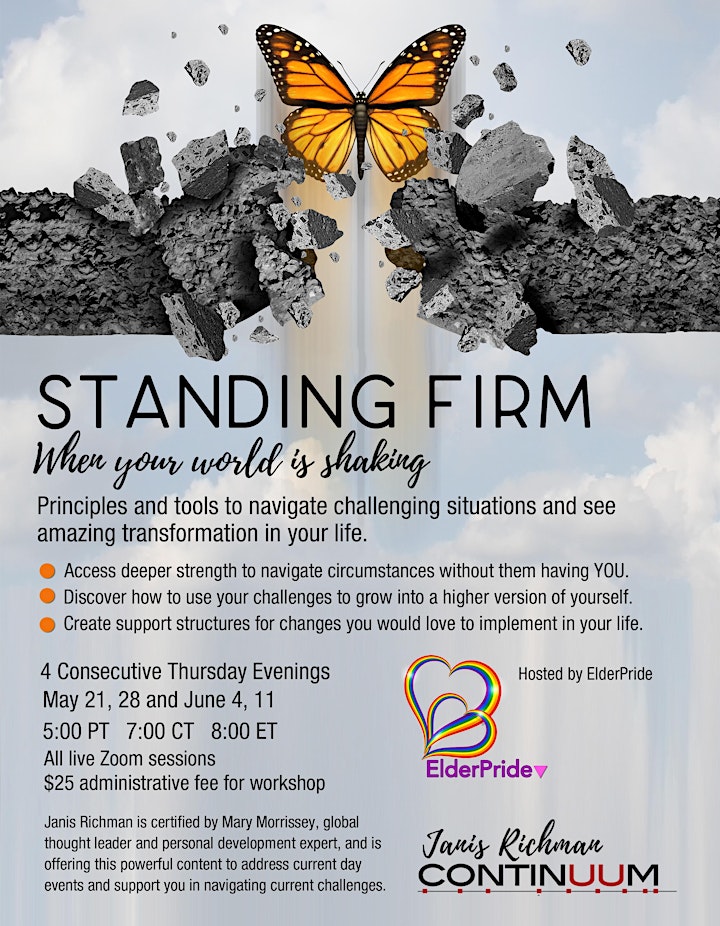 Location
Refund Policy
Contact the organizer to request a refund.
Eventbrite's fee is nonrefundable.