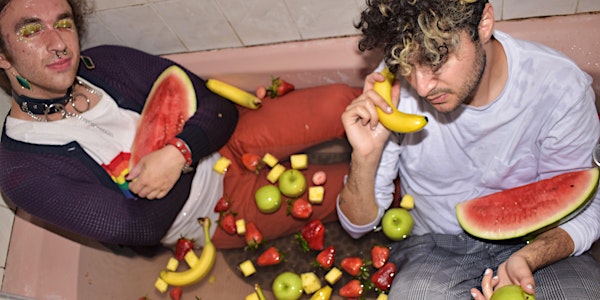 Location
DC9 Nightclub
1940 9th St NW
Washington, DC 20001
About this event
Proof of Vaccination REQUIRED
DC9 will require proof of vaccination for entry. Physical card or digital photo will be accepted. Proof of vaccination must match name on photo ID and will be checked at the door.
You can find more information HERE.
Things change quickly and we are all in the same boat trying to navigate and do our best to keep our concerts and communities safe. We appreciate your patience and understanding with our staff as we navigate this together. Thank you for your cooperation & continued support!
This is an ever changing situation and we reserve the right to change these policies at any time.
Standards

WEBSITE | FACEBOOK | INSTAGRAM | TWITTER | SPOTIFY

Led by exuberant guitarist Marcos Mena, standards is a math rock duo all of its own. Rounded out by Cam Mitchell on drums, the pair boast a fruitful combination of musical chops and catchy guitar-driven melodies. For almost five years, their instrumental compositions have captivated audiences all over the world as well as in their hometown of Los Angeles, California. Proclaimed as an interesting, new talent by Guitar World magazine, standards is poised to have their biggest year yet after signing with indie label Wax Bodega as well as embarking on their second European tour. As the band enters this new chapter, there is little doubt that they will continue to defy expectations of what an instrumental rock duo is capable of.

Glacier Veins

WEBSITE | FACEBOOK | INSTAGRAM | TWITTER | SPOTIFY

Glacier Veins is a Portland, OR-based dream punk group grown from the vision of vocalist/guitarist Malia Endres. With Kyle Woodrow (bass, vocals), Jason Espinoza (guitar), and Jesse Beirwagen (drums), the band makes their 2021 return with new single "Cover Me." Since the project's 2015 conception, Glacier Veins continues to create energetic and emotional music while evolving their sound, focus, and presence as a band through the members' individual and collective experiences and interests. After signing to Equal Vision Records in 2019, the band released their debut album 'The World You Want To See' in February 2020. Supporting Have Mercy on their farewell tour, along with appearances at the Vans Warped Tour, Bled Fest, and Treefort Fest, are highlights of the band's performance history. With gratitude for these past opportunities, Glacier Veins continues to dream of and work toward expressing themselves and connecting with others through their music and performances.