Paint kits can be picked up from the B & C studio, or shipped to you!
About this Event
This fabulous kit is literally perfect for any age. The supplies have been tested and used by all ages.
Save now during our SUPER-ART-KITS-TO-GOOD-HOMES SALE! Originally priced at $35/kit. MAKE ART BECAUSE IT'S FUN!
This kit includes:
A 30 page 9″ x 12″ watercolor sketch pad
A well-supplied watercolor set with vibrant colors
Sturdy brushes
Oil pastels
2 pencils
A pencil sharpener
Kits can be picked up at the B & C studio in Sonora, CA at no charge, or shipped to your home via USPS for $10 each.
Digital instructions sold separately.
Limited Quantity, while supplies last.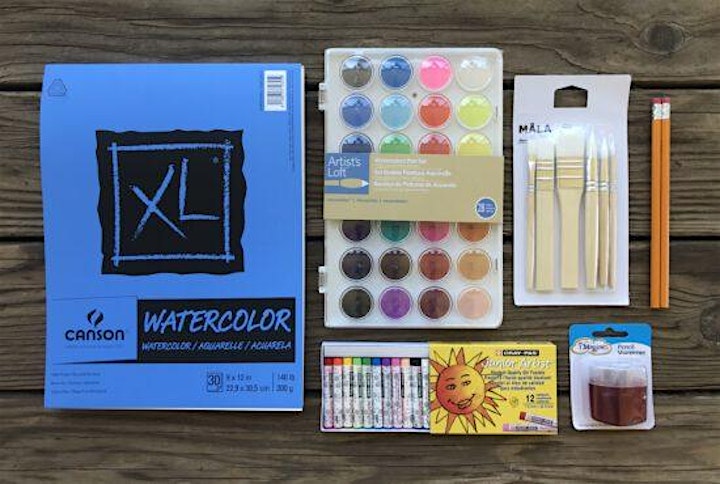 If you'd like a printable workbook with fully illustrated and written instructions for TWELVE drawing and painting lessons, check out the Deluxe DIY Art Kit.
Or, you can add the following digital workbooks to your Standard DIY Art Kit to download and print at home:
Buy Lessons 1-6: $50 (Regular Value of $10/lesson)
Buy Lessons 7-12: $50 (Regular Value of $10/lesson)
Buy Lessons 1-12: $95 (Regular Value of $10/lesson)