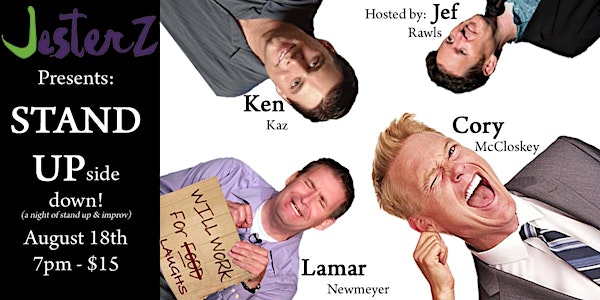 STAND UPside down with Cory McCloskey, Ken Kaz, Lamar Newmeyer & Jef Rawls
When and where
Location
JesterZ Improv Comedy 1061 North Dobson Road #114 Mesa, AZ 85201
Description
We are turning our improv shows UPSIDE DOWN to share the stage with the time honored tradition of STAND UP comedy! (see what we did there with the "up"? Good Job Jef!)
Lamar Newmeyer, Ken Kaz and Cory McCloskey all present a CLEAN comedy routine that fits just perfect for JesterZ all-ages shows.
Jef Rawls hosts the frivolity of these hysterically genius gentlemen!
Lamar, Ken and Cory will then showcase their skills at improv. And if you are a regular at JesterZ, you know that they are already masterful at the art of improvisation!
* * * * ALL AGES WELCOME * * * *